T-2 Days: Part 1; Part 2; Part 3
T-1 Day: Part 1; Part 2; Part 3; Part 4
Wedding Day: Part 1; Part 2; Part 3; Part 4; Part 5; Part 6; Part 7; Part 8; Part 9
I turned to Ken, and tried not to move my lips much as I said, "Oh.My.God. Look at those cakes." Ken turned and looked at the cakes. Then turned back and said to me, "Well, huh, how about that. That's not even close to what we ordered. Another thing the coordinator messed up."
There wasn't much we could do about it, so we just continued on. We turned on the microphone while up on the stage and once folks started to notice we were there, they all started to applaud. We welcomed them to the wedding. We told them that if they got too chilly, that they could head to the Mess Hall just about 200 feet away and warm up in there and that we had some beer, wine, other beverages, games, and a photobooth in the Mess Hall. We also pointed out the board games that were on the table next to the cakes, and where the kids table was.
The "dinner" music was playing, but dinner wasn't scheduled to start for another 45 minutes or so. It was time to mingle with our guests!  The photographers went off to take some detail shots of our rings, bouquets, and lego ring bearer box.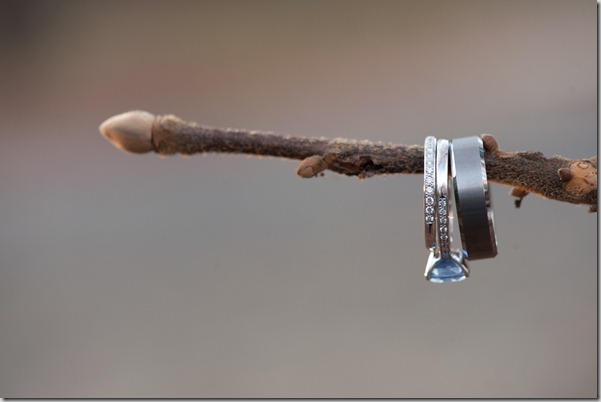 I LOVE this photo of our rings on top of s'mores ingredients!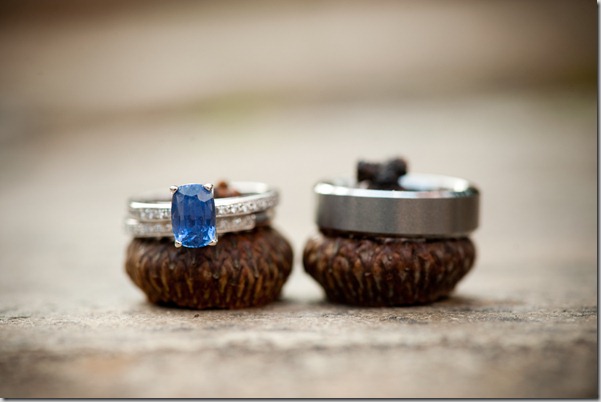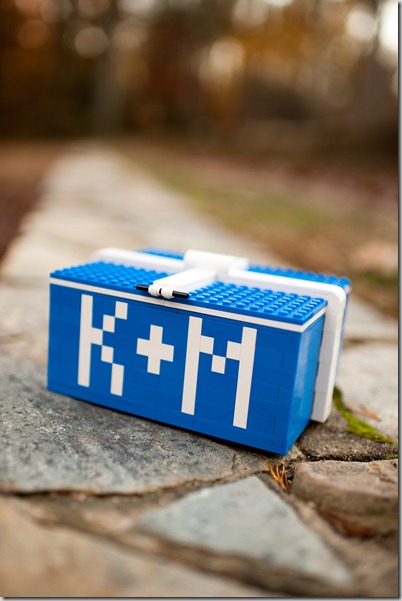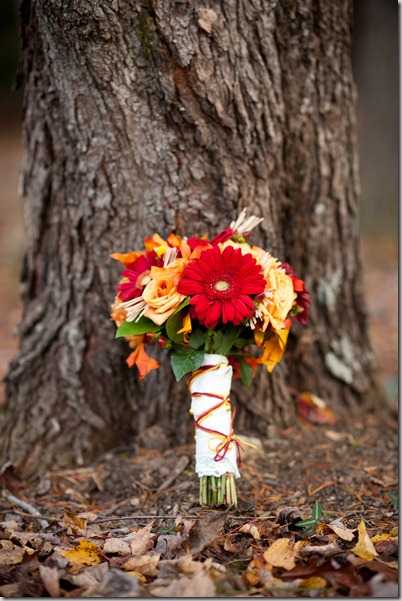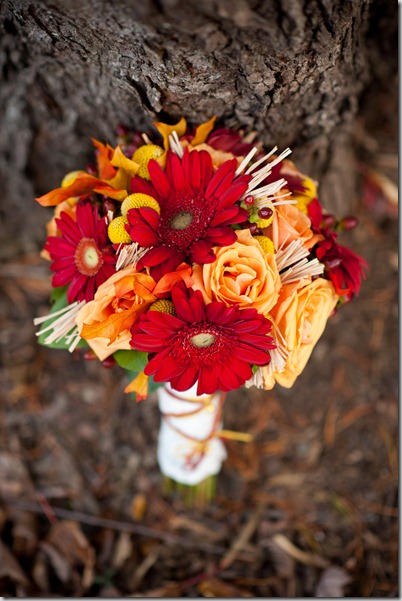 I had read in so many different places online that your wedding day, especially the reception, is a complete blur and that it goes by so fast. I was really cognizant of both these issues, so I had made two decisions. Try to be completely "present" in each moment at the reception. For instance, when interacting with guests, I would completely focus on them. Not wave to people in the distance, not worry about how our first dance would go, not worry about our incorrect cakes.
I also made the decision not to drink any alcohol at the reception.
Here's the thing about me and alcohol. When I drink, it tends to be for relaxation purposes, not for "fun purposes." I become relaxed when I drink (or when I drink too much, I get sleepy and boring), not fun and animated. Like the previous night when I started drinking before the rehearsal, it was so that I could relax. And earlier in the morning at the hotel when I was getting ready, I drank to relax.
There was no more need for me to relax! It was time to have fun! I did get a glass of wine just so I could carry it around with me as I interacted with guests, but I never actually drank any it. I also realized that by not drinking alcohol, perhaps the wedding would be less of a "blur" like many people describe it as.
So, I would definitely NOT describe our reception as a "blur." But there were a lot of things that happened that I can't necessarily remember the sequence.
One of the first things, I think, remember happening to me after our little introductions is a little girl coming up to me with the card that had our table "number" description. She was sitting at the Betta Fish table! Our description card had told the story about how Ken and I have a fish tank at home, and we even had a betta fish that lived for more than two years. The little girl, who was probably 8 or 9, proceeded to tell me the story that she had a betta fish that lived for more than THREE years!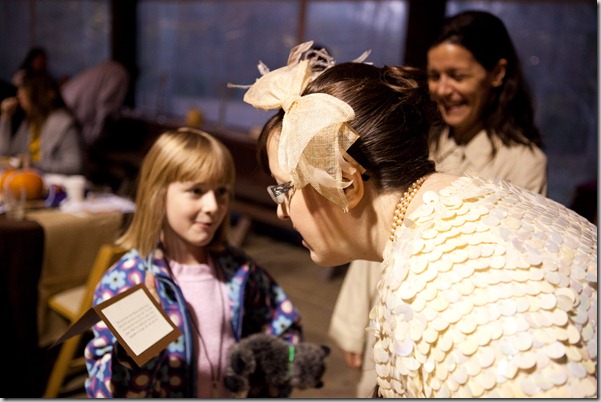 This was a really poignant moment for me for some reason. First, the fact that little kids almost always find weddings miserable, and she was just really excited about everything, especially telling me all about her betta fish. Second, the fact that folks were actually reading our table postcards and learning more about us!
I walked around, sometimes with Ken and sometimes without, mingling with all the guests.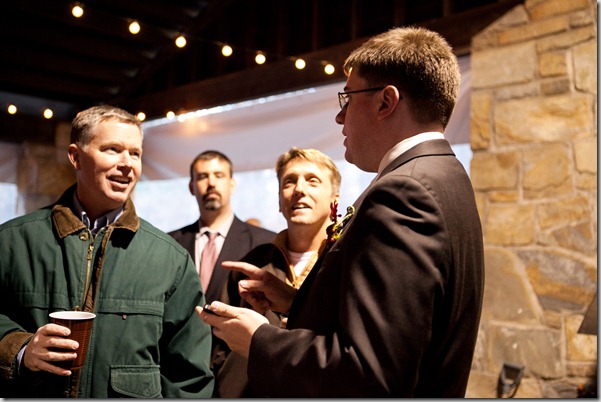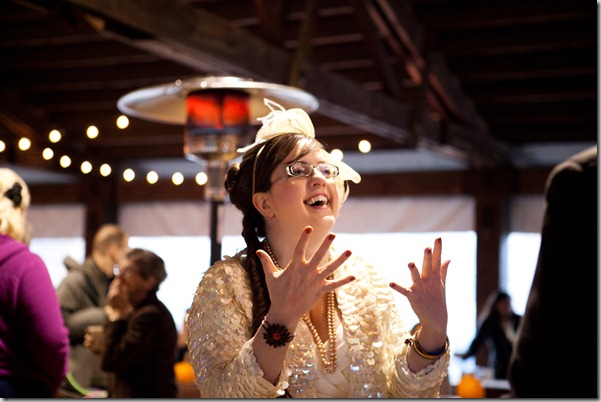 I'm not sure what story I'm telling here, but it looks like a good one!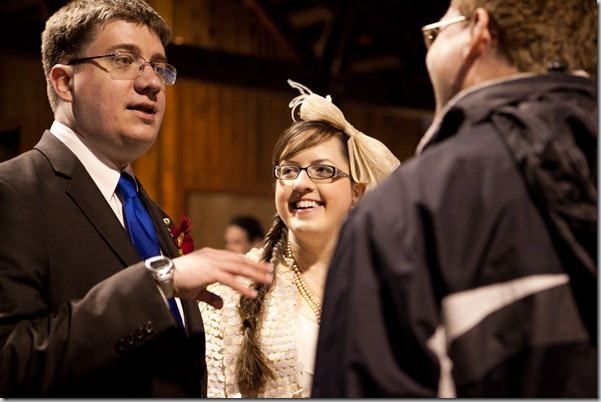 There were already folks making s'mores in the fireplace.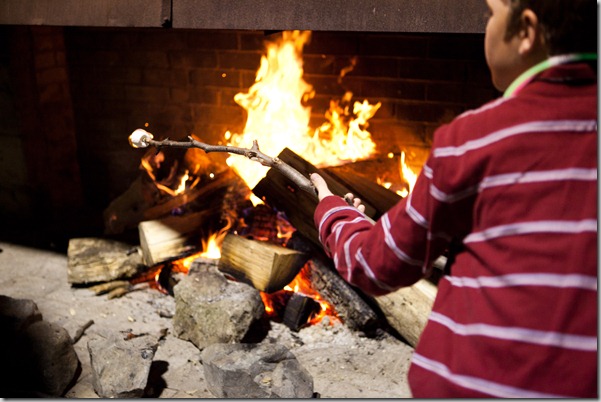 Before I knew it, dinner was ready to be served and folks started lining up for our BBQ buffet. Then my mom came up to me (I think it was my mom) and said, "isn't the pastor going to do a blessing?" Oh, right. Yep, that was on our wedding timeline! That our COORDINATOR had in her possession. But, oh well. I saw the pastor and asked if he would go up to the microphone and give a quick blessing. So he did.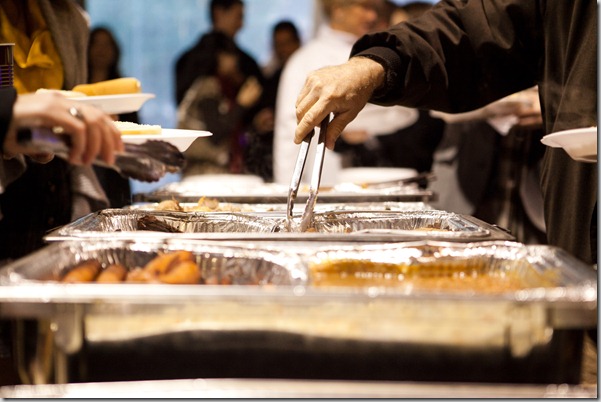 Everything was just so amazing. Sure, the weather was chillier than we had hoped, and it was especially annoying because that was the only day below 60 that entire week, but folks didn't seem to mind that much. They had all dressed accordingly and looked stylish with their jackets. And the kids were running around like crazy, so that was keeping them warm.
Before we knew it, dinner was over! Ken and I hadn't even eaten anything! It's okay though, with all the excitement, I don't think I could've eaten anything if I had wanted to!  Plus, interacting with our guests was much more important to us than eating.