T-2 Days: Part 1; Part 2;  Part 3
T-1 Day: Part 1; Part 2; Part 3; Part 4
Wedding Day: Part 1; Part 2; Part 3; Part 4; Part 5; Part 6; Part 7
** Unless otherwise noted, photographs in this post were taken by our awesome professional photographer, Debi Parker **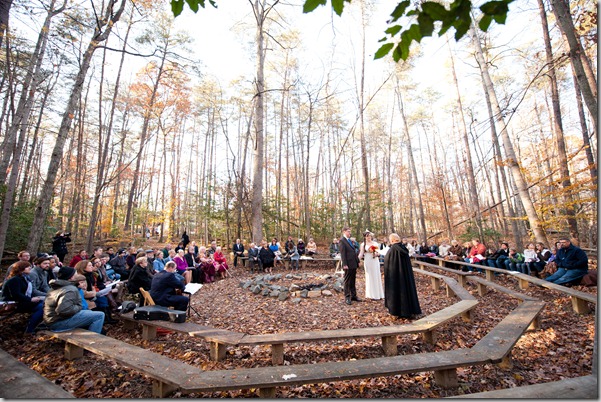 We kicked off the ceremony with a very well-kept secret. Only the pastor knew. We called it our "camera ceremony."
Photographs are very important to me and Ken. We both have digital SLRs and we just love taking pictures. I had the idea very early in the wedding process to photograph our guests. Because, while the professional photographers would take pictures of our guests, they'd never be able to photograph the guests from our perspective of standing there in front. Ken and I wanted to make sure we captured that moment, from our own perspectives, forever.
I also realized that I'd probably be paying no attention whatsoever to where different guests were seated and such. So, Ken and I decided that it would be a great idea to take pictures of our guests! We had provided language to the pastor and he read it at the very beginning of the ceremony:
"As Melissa and Ken stand before you this afternoon, they're probably a bit nervous but undoubtedly excited.  They want to make sure they never forget this moment and all of its details. Therefore they could like to capture this moment, from their perspectives, forever."
I then signaled to my sister, who had been holding both of our cameras. Even she had not been let in on the secret, although later she told us that she thought we might be doing something since we made such a big deal about her holding our cameras.
She stood up and brought us both our cameras. We lifted the cameras to our faces and began snapping photos of all our guests. We then turned the cameras towards each other and took photographs of each other. There were lots of giggles and laughs coming from our guests!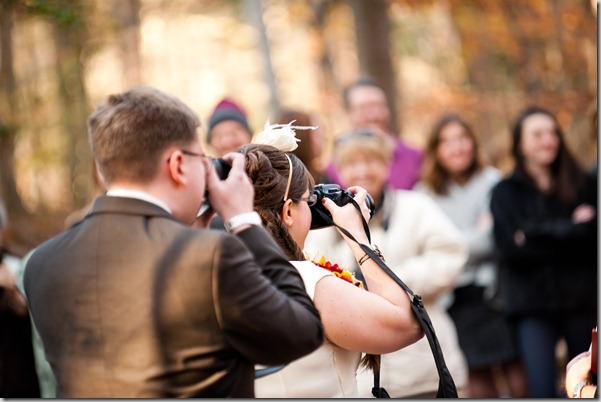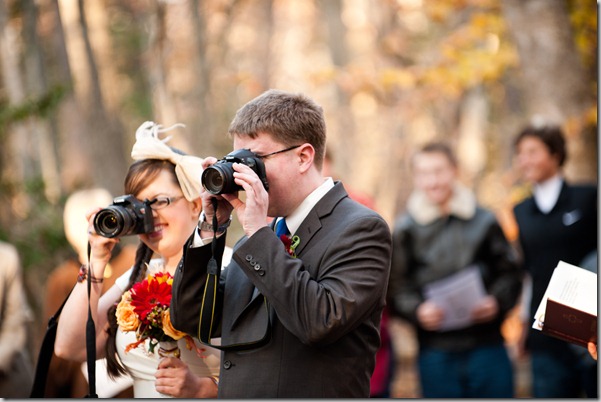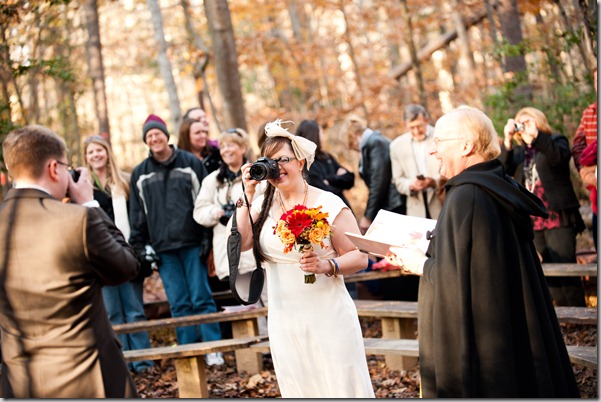 We stitched together the photographs to create a panorama of our perspective. This was the end result
(personal photographs)
Ken's Perspective:

My Perspective

Here are the photos we took of each other. Again, these are our personal photographs: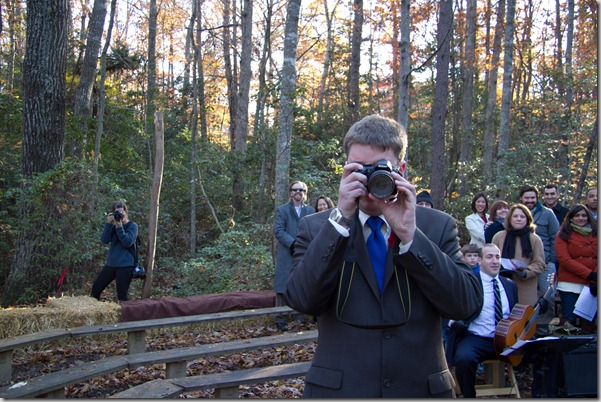 I love the professional photographer in the background. You can tell she's smiling behind her camera!
The rest of the ceremony is a bit of a blur, but I'll do my best to recap the things that stood out in my mind.  Some very talented relatives that sang songs during the ceremony.
Ken's stepdad, sister, and my sister all delivered readings. When my sister came up to give her reading, I signaled to her that I wanted my jacket, a vintage Oscar de la Renta ivory sequin jacket I had bought from an Etsy seller for $34. She helped me put on the jacket and then she read her reading.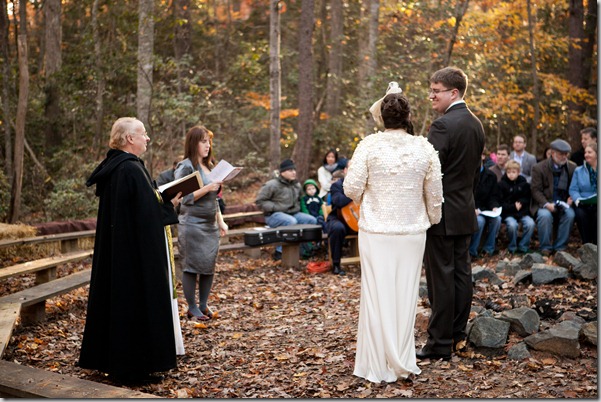 The homily was short, as I had hoped. I had asked Ken if we should ask the pastor to ditch the homily since it was going to be fairly chilly outside and I didn't want the guests to have to sit out in the cold for so long. But it was nice and short. I can't be sure, but perhaps even less than 2 or 3 minutes. I'm used to those Catholic homilies. Ugh! He started out his homily with "As you can tell, pictures are very important to Melissa and Ken. Do you remember when you first got their invitation?"
He then continued to "paint a picture about God" or something like that. 
I was very cognizant of not jumping the gun during the promises like I had during the rehearsal (which led to me saying, "Oh Shit!" very loudly during the rehearsal).  During the vows, Ken started to get choked up. I just squeezed his hands and smiled at him. I made it through my vows without so much as a voice waver. I guess I had gotten it all out of the way the previous night at our rehearsal when we practiced our vows in their entirety.
I had been really worried that my hands would be shaking so much that I would drop Ken's wedding ring or something as I put it on his finger, but there was no shaking. Just like my nephew as ring bearer, I was as cool as a cucumber. Something I never, ever expected.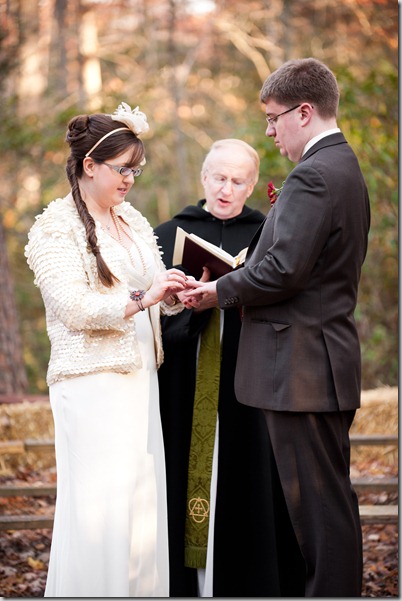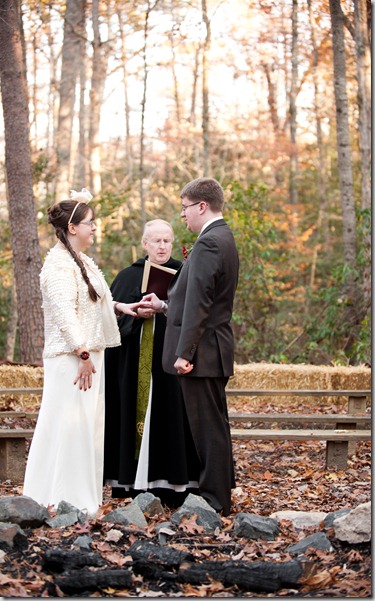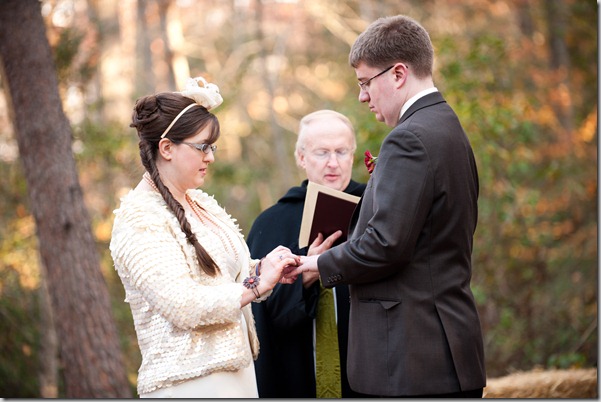 Our sand ceremony went beautifully, although the sand took longer for the sand to go through the funnel than I expected and I tapped the funnel a few times to make all the sand go through the funnel.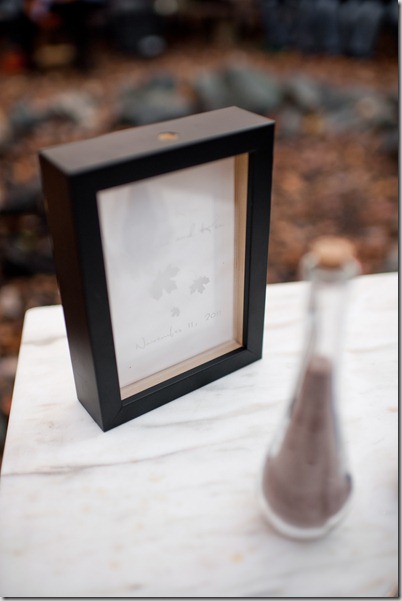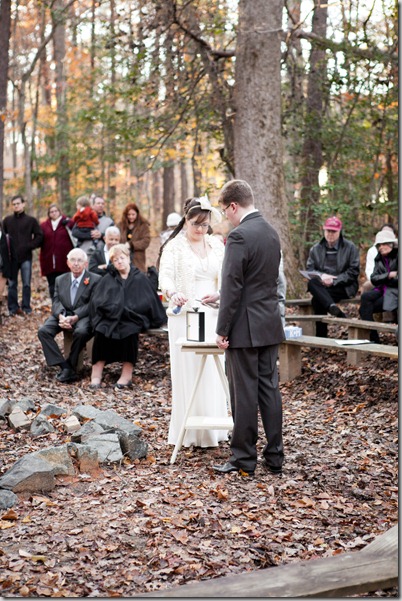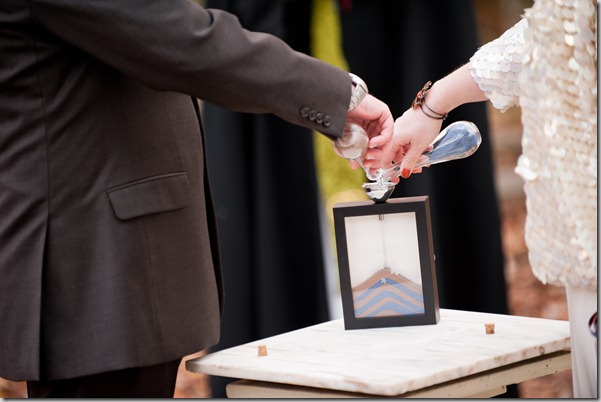 When we were pronounced husband and wife, I could barely stop smiling long enough to close my lips for the kiss! It had been such a lovely ceremony! We were very cognizant of our 1-one-thousand, 2-one-thousand kiss length that we practiced. Long enough for folks to capture photos, short enough to not be mistaken for a gross public makeout.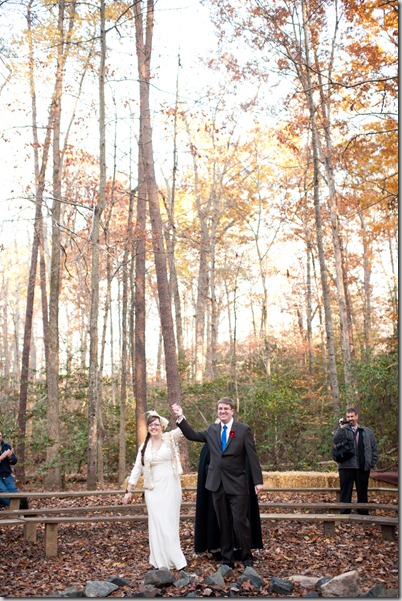 The guitarist played our processional song, "Here Comes the Sun" by the Beatles, and we walked up the "aisle."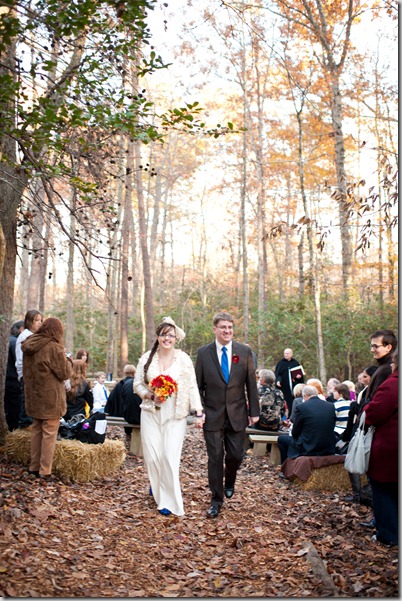 And that was it! We were married. At the top of the "aisle," the pavilion was just a few feet away and I could see that everything was set up and ready for the guests. Although I still hadn't been inside of it to see everything clearly and in its entirety!