We left off in the previous post with our family and some family friends hard at work at our helper stations!
Once we had too many people at the Mess Hall, it was difficult to have that same focus Ken and I had earlier that day. Too many people asking too many questions. If I could have added one thing to the helper stations, it would have been a notepad and pen. I would have requested that they wrote down any questions they had in the notepad, and that Ken and I would check in with them about once every 45 minutes and we could answer all their questions at once. I also wish I would've worn noise cancelling headphones to improve my focus and ignore their questions (at least until a time it was more convenient for me to answer them).
My five-year-old nephew was also really excited about everything and was trying to "help." He also spotted the marshmallows that I had purchased to make s'mores at the wedding and kept asking if he could have them. I finally relented and let him roast some marshmallows in the fireplace in the Mess Hall.
As things got completed over at the "helper station" side, I would move it over to the "Ready for Coordinator" side of the room and put a post-it note on it with instructions. Unfortunately I never took a photo of things that I set aside for the coordinator, but, for instance, after all the galvanized buckets for the s'mores supplies had been washed, I moved the buckets, chocolate bars, graham crackers, and marshmallows over to a table on that side of the room, and write a post it note that said "put marshmallows, chocolate, and graham crackers into labeled buckets and put on table next to fireplace in pavilion."  (We had purchased little vinyl decals to label each of the buckets.)  Or, after I labeled our chalkboard A-frames, I put a post it sign on one that said "put at intersection to entrance of park," and on another I put a post it note that said, "put near entrance to parking lot."
Although there were definitely additional distractions after family and friends arrived, they definitely helped get a lot of things done, like filling more than 100 white paper bags with sand for luminaries.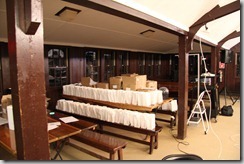 Yep, those are 100 paper bags filled with a little bit of sand on the bottom
My mom was pretty worried about my grandmother being by herself in the hotel room, (she hadn't wanted to call to check in, in case my grandmother had fallen asleep), so my family left after a few hours.
Ken and I agreed that we would leave by 11PM to go back home. Once we got to a good stopping point, we were ready to go home.
This is what the Mess Hall looked like when we left it that evening: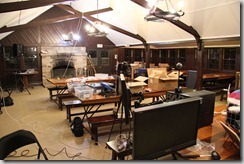 Middle row of tables. The table in the foreground was home to Ken's DIY photobooth setup!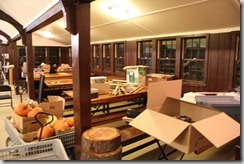 The right side, a.k.a, the "ready for coordinator" side of the Mess Hall. Those pumpkins in the little carts were going to be for the tables in the mess hall!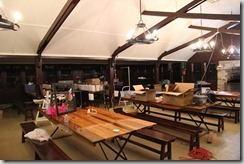 The middle side again, and the left side in the background, a.k.a, the "helper station" side.
It had been a long, but very, very successful day. We determined that hiring the movers was an excellent decision and had really set the tone for a great day. We weren't tired by the time we arrived at the venue, so we were able to really focus our efforts on the important stuff.
Since we had driven separate cars to the venue earlier that afternoon, that meant we had to drive separate cars back home for the nearly 20 mile drive. Typically not a big deal, but we had been doing our own thing all day, it would've been nice to catch up with Ken during the car ride home.
Unfortunately, we hit a ton of traffic on our way home. Since it was late at night, there was a lot of road construction and lane closures. It took probably close to an hour to get home.
When we finally arrived at home we just kept talking about how absolutely perfect of a day it had been. All our planning and organization had paid off. The only two hiccups of the day had been forgetting the frozen pizza at home, and not being able to get as much done when we had friends and family at the venue. But I still think that was a net gain considering how much work they managed to get done while they were there.
We fell asleep pretty fast after going to bed, although, (I'm having a hard time recalling at this moment, now 13 days post-wedding day as of the time that I'm drafting this section – even though it won't be published until later) I woke up in the middle of the night and had a hard time falling back asleep.
There will be several posts recapping the next day, (the day before the wedding), Thursday November 10. That day, if you recall from my wedding-day morning post, was filled with absolute craziness.