We left off in our previous post when the movers had finished unloading all our items at our campground wedding venue!
We had several hours before family and friends would start to arrive that evening. Since the campground had several heated cabins that Ken and I were offering free-of-charge, a handful of adventurous folks would be staying there.  We had initially asked family and friends (and our day-of coordinator) to arrive early on Wednesday to help us unpack and get other things done, but about two weeks before the wedding, we realized we would get a lot more done uninterrupted and with no one else around.
We were expecting some handymen to arrive at 3:15 to help us with a few manual tasks so we had just a short amount time to get other things set up until they arrived. Ken set up the deejay equipment in the Mess Hall (we purchased two sets of deejay equipment, one for the pavilion and one for the Mess Hall) and it started without a hitch. I started unboxing things and setting up our helper stations. Ken seriously got the deejay equipment set up within like five minutes, so he started playing music when the movers were still unloading stuff. The first song to play was "I Gotta Feeling" by Black Eyed Peas. And that song got us (and the movers) really pumped! We had music play for the entire rest of the evening.
On one side of the mess hall, I set up the helper stations.
On tables on the other side of the Mess Hall, I started stations labeled as "ready for coordinator" to indicate things that would be ready to be set up on the actual wedding day by our day-of-coordinator (somehow I never took any photos of the "ready for coordinator" tables).
The handymen arrived right on schedule at 3:15PM. We needed them to rearrange twenty 400 lb tables in the pavilion, our reception site. We also needed them to hang string lights from the pavilion ceiling, not a a task that Ken or I wanted to tackle and risk falling from a ladder a few days before the wedding. Ken and I took turns supervising the handymen in the pavilion and getting other things set up and organized in the Mess Hall.
We were getting things set up very quickly and everything was working great!
The handymen took a while longer than we expected, but it was fairly complicated to string the lights from the pavilion rafters. Also, the bulbs on the string lights were SO fragile, that several of the bulbs broke. Luckily we had extra bulbs though. One of the string light sets broke and it took some troubleshooting to figure out what was wrong with it. Initially we thought it might have been the extension cord or the outlet, but we finally discovered that the entire string was just completely broken. It wasn't a big deal though, we had plenty of other strings. Funny enough, I had purchased those string lights from another couple who had gotten married at the same venue (our caterer also catered their wedding, and gave me their contact information). And that couple had purchased the lights used from ANOTHER couple who had gotten married at the venue.
(Useless fact: I purchased the lights from the couple – well, just the husband, on the day of the DC earthquake. He told me where he worked, which was just two metro stops from my office, so I went to his office to buy the lights. After buying them from him, I grabbed some lunch and went back to my office. Literally just as I sat down to eat my lunch, the earthquake hit.)
There was zero cell service at the wedding venue. Zero. We tried both AT&T and Verizon phones and there was no luck. But, we discovered that we could send a text message if we stood in one particular place near the pavilion, but you had to send it like five times before it would finally go through. So, Ken and I both texted our families with the phone number to the landline in the Mess Hall (since the landline wouldn't allow long distance calls, texting was the only way to let them know the phone number).
A few hours later, my parents called to say that they had arrived at the hotel, but they probably were just going to stay there for the night and not come to the venue. I'm not sure what time that was, but it was probably about 7:30. I was kind of pissed. They said that my grandmother didn't want to come to the venue. But, Ken and I said that we were hungry and asked if they would pick us up some food. Our original plan was to bring a frozen pizza with us and cook it in the industrial kitchen at the Mess Hall. But we had forgotten the pizza at home. So, my parents ordered a Domino's pizza and finally came to the venue and left my grandmother at the hotel.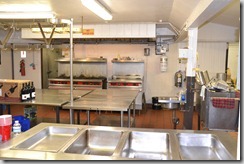 The industrial kitchen in the Mess Hall
Family friends (a woman and her adult son) also arrived very shortly after my parents arrived with the pizza. The family friend was going to help make the rehearsal dinner on Thursday night. Both she and her son were staying at the campground. Luckily they both also have a wood burning fireplace in their house, so they were able to get the fireplace roaring in the Mess Hall very quickly, which was a good thing because it was getting chilly in there. About two hours later, my sister, her husband, and her five year old son arrived. By that time, my parents and our family friends were already hard at work at our helper stations: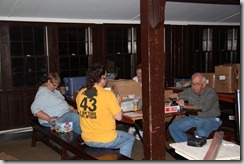 There will be one more post detailing the T-2 Days until the wedding. Look for it next Wednesday!