T-2 Days: Part 1;   Part 2;  Part 3
T-1 Day: Part 1; Part 2; Part 3; Part 4
Wedding Day: Part 1; Part 2; Part 3; Part 4
All photographs in this post are from our amazing wedding photog, Debi Parker
We had arrived at the venue! We parked in the small parking area next to the Mess Hall. I walked inside the mess hall and there were a bunch of people in there enjoying some snacks that our family friend had made. The fireplace was roaring. And there was Ken. Still in his jeans and t-shirt! Quite a few of the folks made playful comments about the bride and groom not seeing each other before the ceremony! Of course, that was silly, we had seen each other all morning and were about to have our pictures taken together.
I said, "Ken! Go get dressed!" He got up right away and went to the cabin where he had put his suit so that he could change. He was back within like 3 minutes. The joys of being a guy. He sat down at the computer we had set up for the photobooth. He said that it kept crashing. The same photobooth that had been working for 2 days straight wouldn't work, and he didn't have time to troubleshoot it.
Oh well. We had lots of technology projects, and we came to an agreement long ago that if one of them malfunctioned, we wouldn't freak. It wasn't the end of the world. Anyway, it was still partially working. Instead of it automatically taking pictures when someone walked in front of it, people now just had to press a button to get it to take the photos.
Then came the comedic process of 1) Finding someone that knew how to tie a tie, because Ken doesn't know how, and 2) figuring out how to put on boutonnieres and corsages. Ken must've walked to about three male family members before his stepdad managed to tie his tie correctly.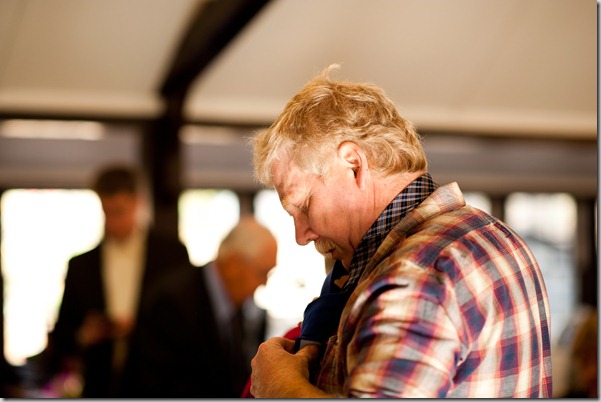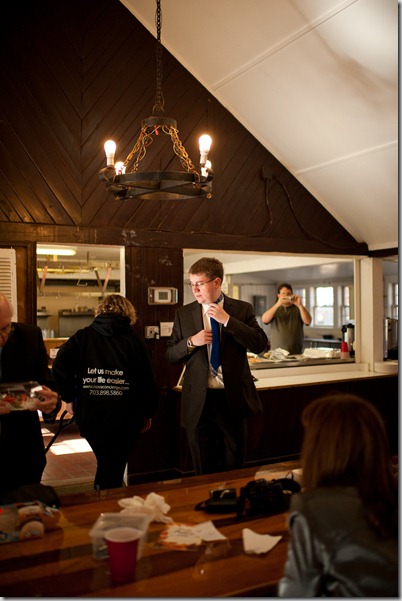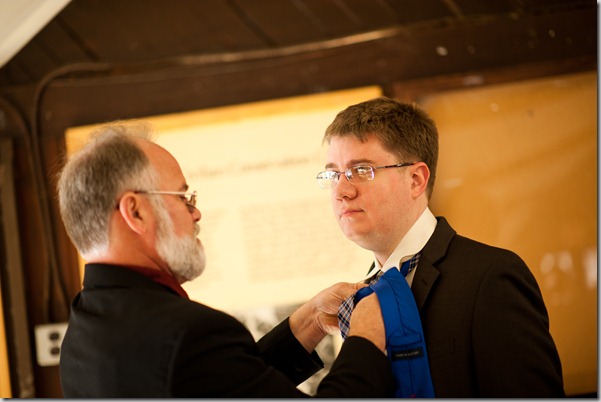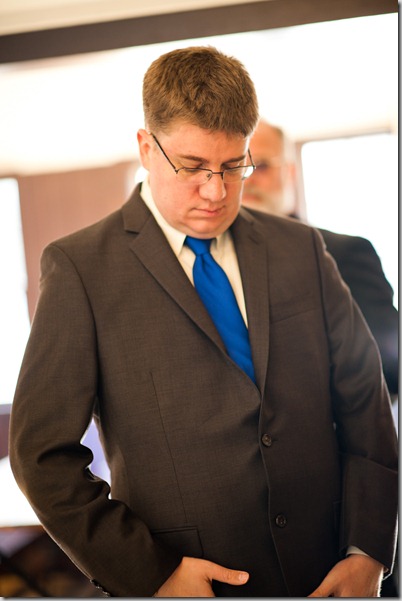 I buttoned the cuffs of Ken's shirt.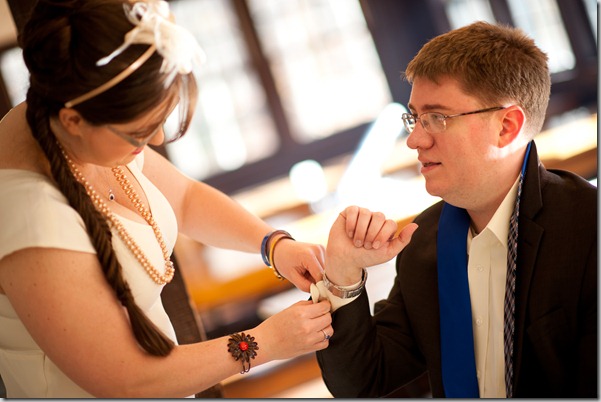 And my dad's cousin was doing a pretty good job of getting the corsages and boutonnieres on everyone.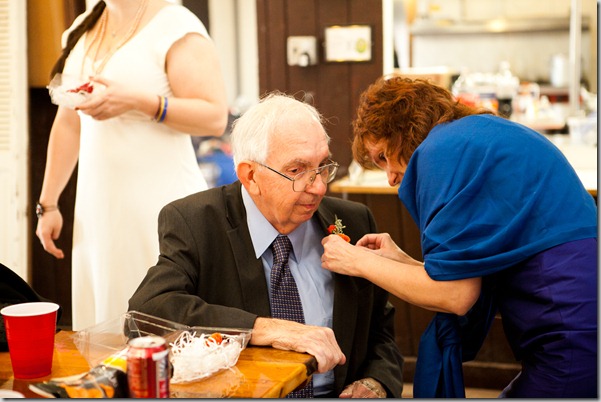 I explained to my nephew what a boutonniere is.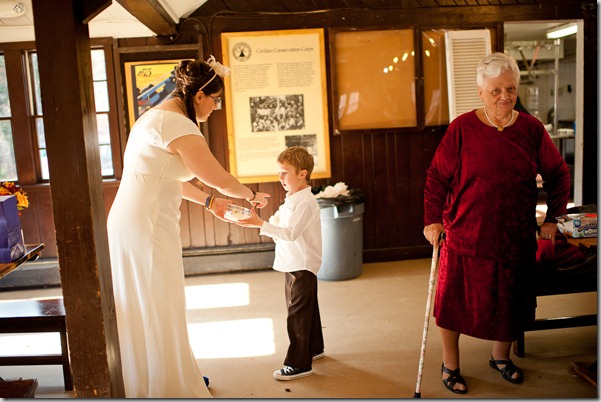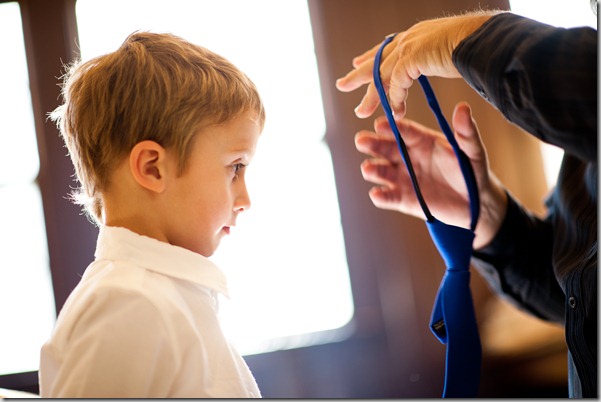 We were having a bit of a hard time getting my nephew's boutonniere on properly, and the photographer even offered to help. The photographer got it pinned on him.
About 60 seconds later, my nephew was tugging at my dress and pointing to his boutonniere. "Melissa, I don't like this. Can you take it off please?" It was such a cute way he asked. It was like he knew not to make a scene or start yelling that he didn't want to wear it (although he's typically not like that in general anyway, he's a well behaved little boy). I figured there was no need to force him to wear it if he didn't want it. I took it off of him and set it on a table in the mess hall. 
My sister remembered that I had not yet put the sixpence coin in my shoe. The sixpence is a family heirloom that generations of women in my family had worn on their wedding day. She said she would go track down a piece of tape to tape it to the inside of my shoe. Wanting to get started with the pre-ceremony photographs, I said, "No, just put it in my shoe, it will stay in there just fine."
Ken and I set out with the photographers to have our "first look" photos taken. Although I guess by that point "pre-ceremony" photos probably would've been more appropriate, because Ken and I had already had our "first look." The photographer directed us to a good place to have some photos taken.
As we were taking photos, we could see our guests walking down the pathway from the parking lot. We would wave to them, and I wondered if they had ever heard of a bride and groom having their photos taken before the ceremony, because from what I understand, it is a more recent trend (or at least has become more common recently). I couldn't stop smiling. We actually did a "fake" first look, where Ken stood facing one direction and I walked up behind him and tapped him on the shoulder and we feigned extra super excitement. We must look like doofuses in that picture (as of the time I'm drafting this section, it's 18 days post-wedding, and we haven't gotten back our pro photos yet, so I can't say definitively that we look like doofuses. Update! We have our wedding photos since I first drafted this, and yup, we look like doofuses)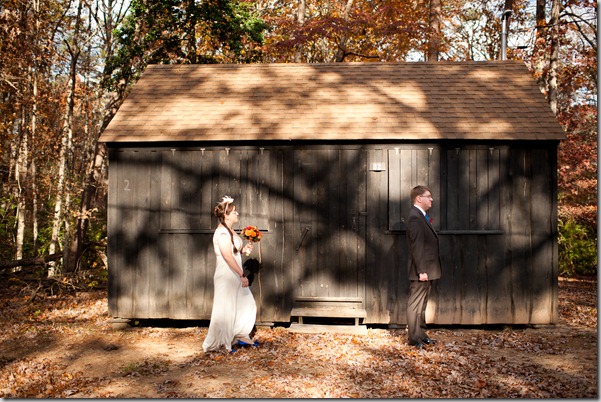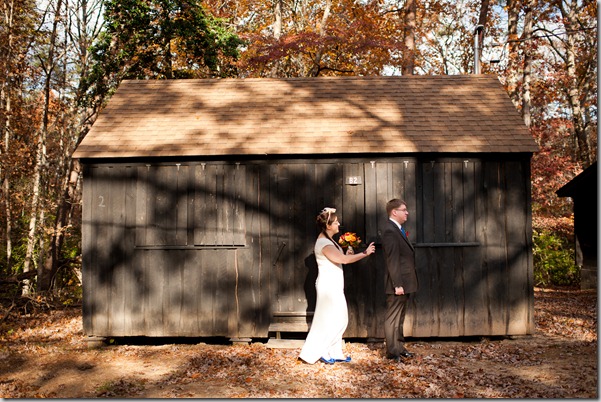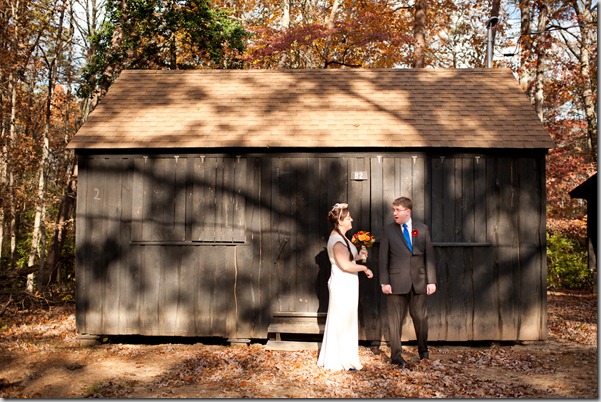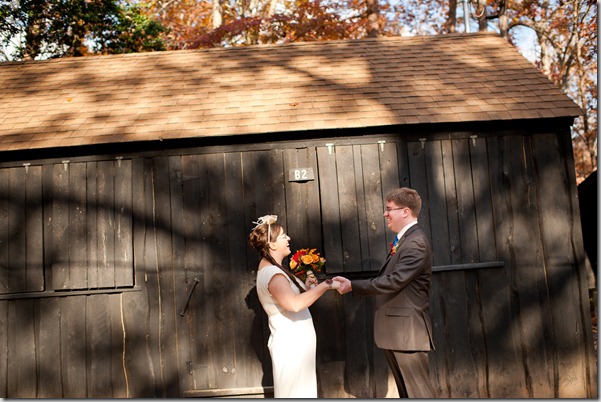 I could see the pavilion, where our reception was going to take place, but the plastic walls, although they were clear, made it difficult to see the setup and the details. I was so anxious to see the inside! But, there was no time.  It was funny, we had allotted about 40 minutes for first look photos. I would just like to say that that time FLEW by. We wanted to walk to a nearby lake at the venue, probably no more than a four minute walk, but it was about 2:40 at that time, and the ceremony was starting at 3PM. I was determined to have the ceremony start on time. Ken and I had gone to an outdoor wedding on a HOT day back in June that started more than 30 minutes late. We took a few more photos. As we were walking through a grassy area, a bunch of leaves got stuck in my shoe, so I took my foot out of my shoe and shook out the leaves. Here are a few of my favorite first look photos: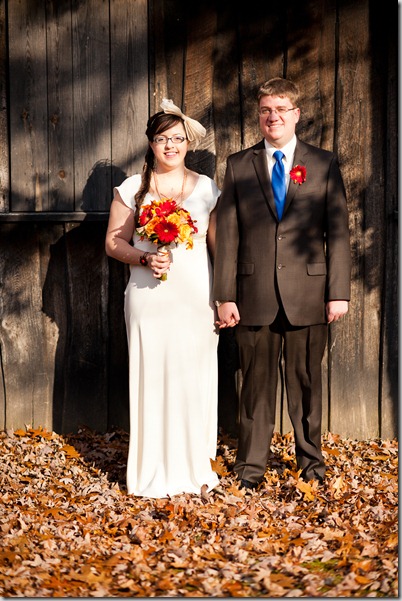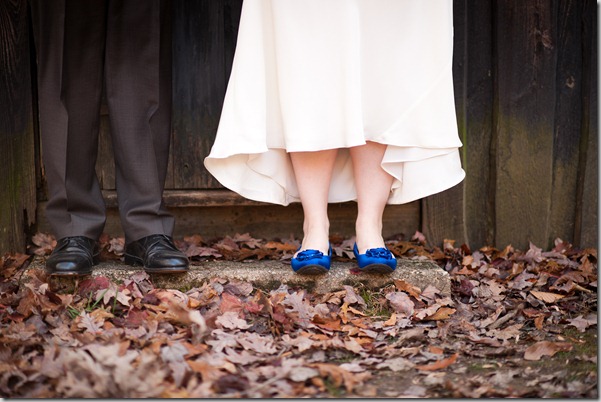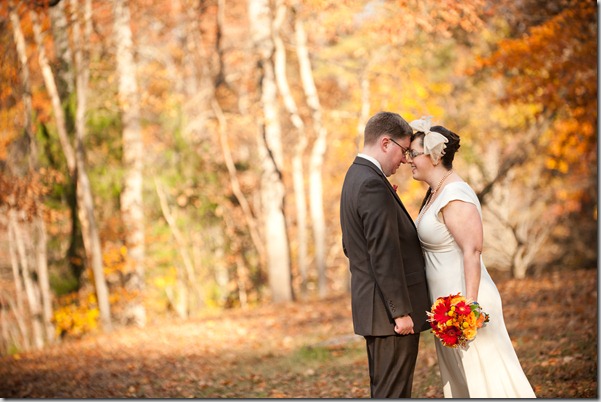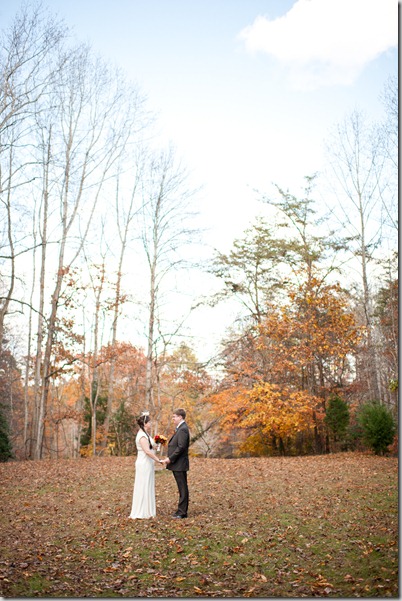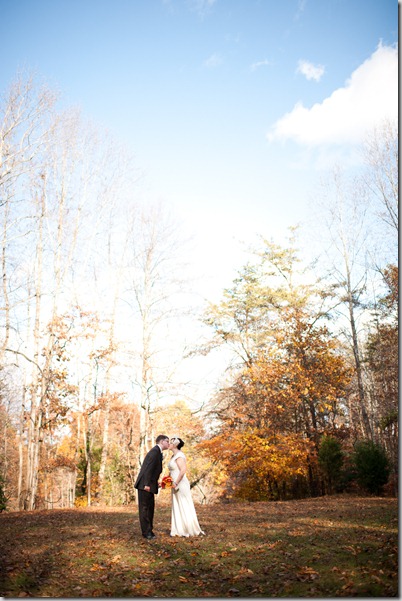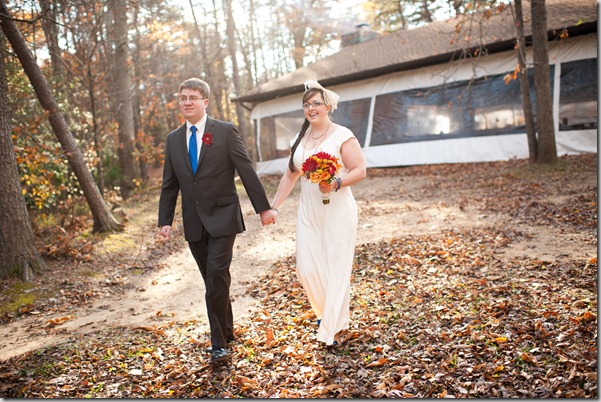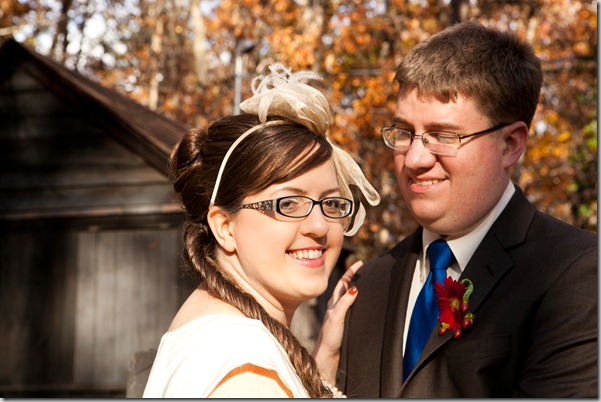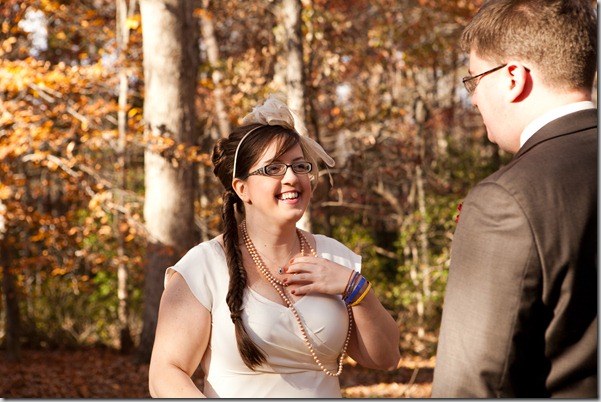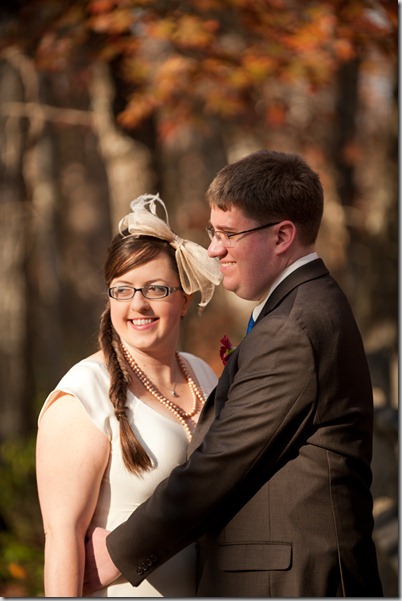 At some point, and I'm not sure when, and it might have even been before the first look photos I mentioned the fact that we were going to have the ceremony in the pavilion to protect the guests from the wind (I'm now 21 days past the wedding as I'm drafting this. Happy 3 week anniversary to me). I'm not even sure who I said it to, but I think it was the coordinator's assistant. No one seemed to know what I was talking about. I wasn't too worried.
It was amazing. After all the worry and panic earlier that morning, in fact, just like 8 hours earlier, the little things were just rolling right off my back. Photobooth not working properly? Oh well. Ceremony site still not decided? Well, we'll figure it out.
Nothing else mattered. We were getting married that day regardless of where it took place at the campground and regardless of whether the photobooth was working. 
I mentioned to Ken about having the ceremony in the pavilion. He said no, that he never told anyone that we were having it in the pavilion. I asked him about our phone conversation earlier when he said we should have it in there because it was so windy outside. You know, that conversation when I was barely paying attention to what he was saying? He said that that was never a final decision. I felt kind of silly for a moment because I had even posted to our wedding Facebook group that our ceremony would be in a different location. Oh well!
We wrapped up our first look photos and the photographers headed to the pavilion to take some detail shots. Ken and I headed back to the mess hall to round up everybody. It was TIME.