T-2 Days: Part 1;   Part 2;  Part 3
T-1 Day: Part 1; Part 2; Part 3; Part 4
Wedding Day: Part 1; Part 2; Part 3; Part 4; Part 5
The precious few minutes before we headed to the ceremony site were spent looking for mints.
See, here's the thing. Ken gets this weird gagging cough thing any time he is either A) Really Excited, B) Really Nervous, C) Really grossed out, or D) in really cold weather. Only one thing helps soothe his weird gagging cough. Those little round starlight mints. Since A and B were definite possibilities for the ceremony, he wanted to make sure he ate a mint before the wedding. He even specifically brought an entire bag of mints with him to the wedding venue when we arrived on Wednesday. They had been sitting on the same table in the Mess Hall for the last two days. But in those minutes before the ceremony, we couldn't find the mints. We looked everywhere in the Mess Hall, but no one found them or remembered moving them.
Although I didn't articulate it, I was kind of concerned. I realize this sounds very selfish, but I did not want Ken cough-gagging during the entire ceremony. This had been a worry, albeit minor one, for quite some time. Because once he starts to do it, the cough just gets progressively worse and frequent unless he has a mint. But, there was nothing we could do. The mints were nowhere to be found. Ken's mom offered him a Hall's cough drop from her purse. He took it in the hopes that it could have the same soothing effect on his cough as a starlight mint. He walked to the ceremony site with the Halls in his mouth. The next time I would see him was when I would be walking down the aisle!
Everyone except me, my dad, and my sister started walking to the ceremony site.  I walked to the restroom with my clutch purse to freshen my lipstick and lipgloss. Actually, the single restroom in the Mess Hall was occupied, so I had to walk to actual restrooms "building" adjacent to the Mess Hall. I put on my lipstick, but somehow it was a different color than the one I had put on at the hotel. As of today (the time I'm drafting), I still have no idea what happened to that lipstick. Once again, oh well. I put on the different color and walked back to the Mess Hall to meet up with my dad.
We started the approximately 400 foot walk to the ceremony site (the council circle, not the pavilion). My sister was taking pictures with my camera as we walked. She also had Ken's camera on her other shoulder. We had told her to make sure she held both our cameras during the ceremony. We emphasized it as a very important point.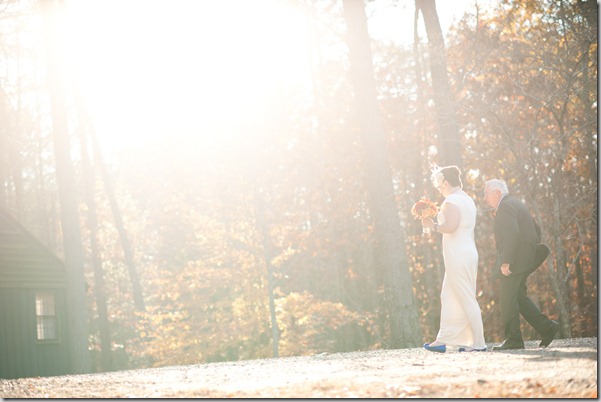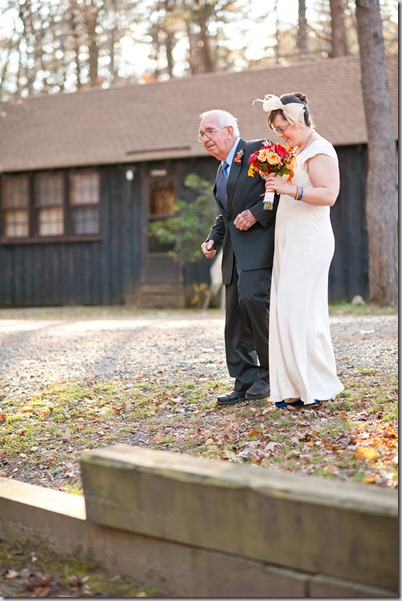 For like the millionth time that day, I couldn't believe that the day was actually here. I was about to get married. The day had been unfolding beautifully. 
As we walked, my dad started to get really choked up. I just squeezed his arm and said, "It's a happy day, not a sad one!" He said, "I know. It is a happy day."
I couldn't believe how non-crying-emotional I had been all day. Considering that I was practically a blubbering mess simply reciting our vows at our rehearsal the night before, I had not shed even a single tear since Ken and I's joint cry in the hotel very early that morning. The only emotions I had felt for the last 8 hours or so had been excitement with a few jitters mixed in!)
We reached the top of the gentle slope "aisle" that would lead us to the ceremony. There were several folks standing there. My mom, my brother-in-law (who would be escorting my mom down the aisle), Ken's mom and Ken's stepdad (Ken's stepdad would escort Ken's mom down the aisle), Ken's grandmother and Ken's Uncle (Ken's uncle, i.e., his grandmother's son/mom's brother, was escorting his grandmother down the aisle), and my nephew (the ring bearer), and Ken's niece (the flower girl). The wedding coordinator's assistant was also standing there. She had on a black headset, a walkie talkie, that she was using to communicate with the coordinator who was standing at the actual ceremony site just 100 feet away.
I started to wonder if the ceremony musician, a classical guitarist, was there. Because at the top of the "aisle," I couldn't hear any music. In one of my more recent "wedding disaster" dreams, I dreamt that the ceremony musician didn't arrive until hours after the ceremony. So I asked the coordinator's assistant. She said that yep, he was there. Funny, I thought the music would be louder. He said he was bringing an amp with him. This might be a good thing. Anytime I would listen to my processional song, Pachebel's Canon in D, I would cry. So if I couldn't hear the processional song well, maybe I wouldn't cry as I walked down the aisle, something I had been afraid of.
It was SHOWTIME!