T-2 Days: Part 1;   Part 2;  Part 3
T-1 Day: Part 1; Part 2; Part 3; Part 4
**All photos in this post are courtesy of our amazing wedding photographer, Debi Parker**
My mom and sister helped me put the wedding dress over my head. I donned my long thick robe and was ready to get my hair done. It was perfect timing. As long as the photographer was on time, she'd have plenty of time to get shots of me getting my hair done.
I sat down on the chair to get my hair done. Holy shit. This was like IT. I was getting my fucking hair done for the wedding. What.the.fuck. It was beyond surreal. My sister and mom were still in the room.
At some point, while getting my hair done, two things happened, although I can't remember the specific order. The florist arrived and the photographer arrived.
I am completely blind without my glasses. We're talking -8.00 eyeglass and contact prescriptions. We're talking "optometrist-tries-to-convince-me-of-lasik-every-visit" type of blind.
The photographer arrived first, pretty sure. Both the photographer and florist were scheduled to arrive at the same time, noon. I remember apologizing to her in case I was like looking at her forehead instead of her eyes or something because I didn't have my glasses on while getting my hair done.
Then the florist arrived (again, that's the order I think it happened. As of the time I'm drafting these words, I'm now 13 days post-wedding. The florist showed me the bouquet. I apologized, once again, because I didn't have my glasses on and couldn't see the bouquet. If I recall correctly, I put my glasses on briefly to look at the bouquet. Although flowers were never a wedding-day priority for me, so I was please pretty quickly with what I saw.  Gerber daisies. That was my only request. And I saw plenty of gerber daisies, so I was happy with my bouquet.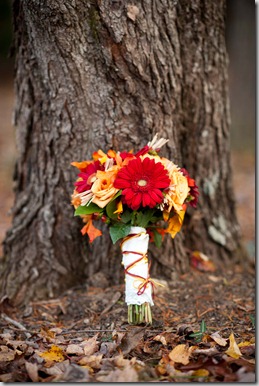 While getting my hair done, Ken called me from the venue. He told me that it was really windy outside and that we may want to have the ceremony in the pavilion, which now had plastic siding, instead of having it in the council ring outdoors, like originally planned. I said that that was fine. I wanted our guests to be comfortable. We also had a quick phone call concerning our U-Haul van rental transporting all of our stuff home the next day. Although we had scheduled the van pickup for the day after the wedding, the U-Haul store asked if we could pick up the van that day, our wedding day, at no additional charge.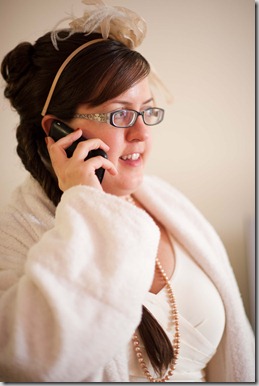 I have to be honest, I was barely listening to what Ken was telling me. I was so excited and nervous that I just kept saying, "Yep, that's fine."  So apparently Ken had told me all the details, but I just didn't remember them. What I later found out was that Ken sent his brother-in-law to pick up the U-haul van. Ken was trying to explain all this to me, but I just wasn't understanding, mostly because I just wasn't listening to anything he said. Not in a mean way, but just in a "I'm nodding my head and saying yes in agreement type of way but have no idea what I'm actually saying."
I remember Ken saying, "No, this is a good thing we can start to get the car loaded tonight!"
Getting my hair done actually took longer than I expected. But I was glad that the hair stylist really took her time. After my hair trial about two months earlier, the hair style started to fall collapse in the back after about four hours. I sent her a picture of how it collapsed, so she was pinning it extra tight.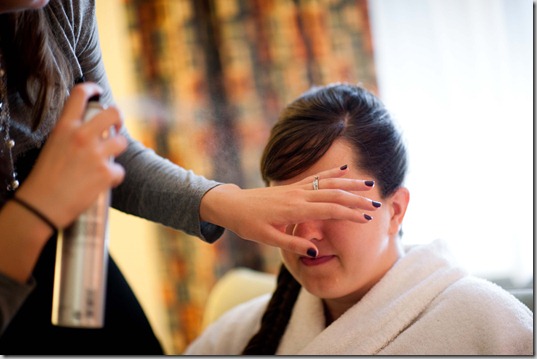 The photographer was taking pictures, but I felt really barefaced. I was wearing no makeup at all, and since I love makeup, that was really odd for me! I kept wondering if I would hate those barefaced photos when we got them back from the photographer.
The hair stylist finished up my hair and packed up her things. I was one step closer to getting married! I was scheduled to leave the hotel by 1:20, but I really wan't keeping a close eye on the clock. But I knew I was still running on schedule, as long as I didn't mess up anything while doing my makeup.
I reorganized things on the desk in the hotel room. I had originally had organized all my makeup on the desk early that morning, but the hair stylist had moved some things around to make room for her supplies.
I started doing my makeup. I wrapped the huge robe tightly around me so that not a single inch of my dress was visible. I was afraid of getting blush powder or dropping a mascara wand on my dress. I was taking my time so not to mess up, and I was applying everything slightly heavier than I typically would, since my normal everyday type makeup doesn't show up well in photographs, especially my blush. (I learned this after inspecting my engagement photos more closely).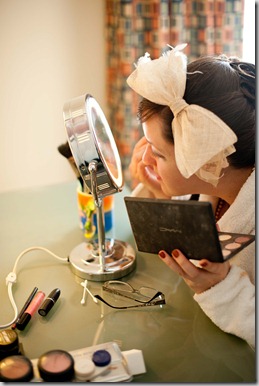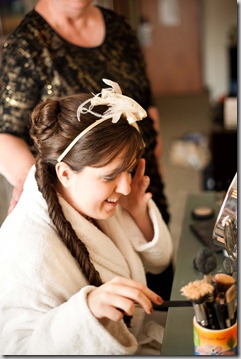 As I did my makeup, it felt kinda weird. The photographer was taking pictures of me, so I felt like I was on show while doing my makeup, but she was so nice about it.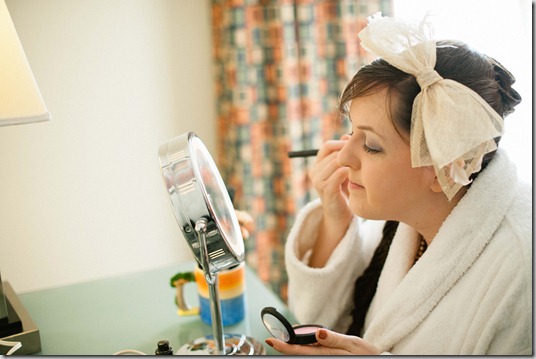 Luckily, there were no major screwups while doing my makeup. I was so afraid that I wouldn't be able to get my eyeshadow to look even, or that I would drop an open mascara wand on my dress, even though I had covered up with my robe. The only thing I should've been a bit more careful about was moving my bangs while applying foundation to my forehead. Since they had been hairsprayed into place, they separated a bit too much when I moved my bangs out of the way.
That was it! I was done with my makeup! At some point, my dad came into the hotel room. In fact, all during the time of getting my hair done and doing my makeup, there was a constant stream of folks coming and going, including my mom, my dad, my sister, and my dad's cousin (the same one who wouldn't rent a car, so she had to ride with us to the wedding). But I'm pretty sure that when I was done doing my makeup, it was just my mom and dad who were in the room (and the photographer).
It was almost time to leave. I had a few more sips of wine. I was feeling much more relaxed compared to the full-on heart-pounding panic attacks of just five hours earlier. I took the robe off and revealed my dress!