T-2 Days: Part 1;   Part 2;  Part 3
The mayhem was over. My grandmother was at the hospital and doctors were running tests on her.
Our rehearsal was scheduled to start at 4PM, and the dinner, made by family and family friends, would follow shortly thereafter. The temperature was lovely, but it had started raining earlier when the ambulances were there, and we started to worry. 1) We probably would not be able to have the ceremony rehearsal outdoors, and 2) We hoped things would dry up enough to have the ceremony outdoors the next day and so that the venue wouldn't be a big muddy mess.
Everyone was working on different projects. The tent walls company had arrived earlier in the day and was installing plastic siding on the pavilion, where we'd be having our reception.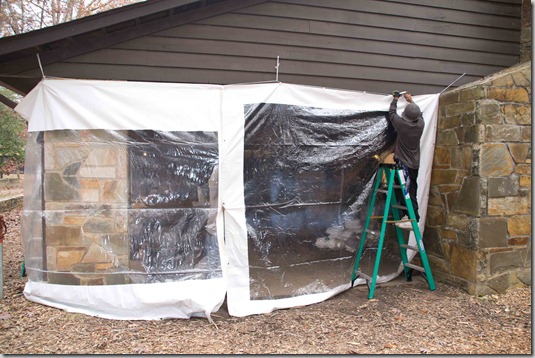 The coordinator's assistant was there (who had arrived during all the craziness), and the coordinator arrived shortly afterwards. I gave them an overview of my system, and showed them the "ready for coordinator" side of the Mess Hall. After I talked them through all of that, they started to assemble the centerpieces.
My brother-in-law, Ken's brother-in-law, and a family friend were all helping Ken get various wires and extension cords set up all throughout the campground for a local area network we were setting up for various technology-oriented things we were having at the wedding. They were also assembling patio heaters we had purchased to keep the pavilion a bit warmer.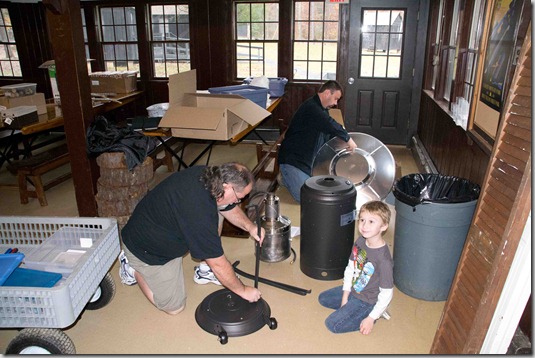 Another family friend was cooking for the rehearsal dinner, and Ken's sister had gone to the supermarket to buy ingredients for things she was going to make for the rehearsal. She was gone for HOURS. And I don't know why she didn't buy everything ahead of time. But when I learned of her plan months ago (that she would just buy the ingredients near the venue – they only live 60 miles away), Ken just reminded me that some people aren't the same type of compulsive planners that we are.
During all this, the drizzle that had started earlier was now a slow but steady rain shower. Although the forecast for the next day, our wedding day, was supposed to be sunny, We were starting to worry that the ground would be a big muddy mess for the wedding the next day.
At one point, Ken started to set up our DIY photobooth. We had most of our supplies in one bin. Some of our supplies included these sand bag weights so that the lightweight photo backdrop would not tip over. As we unpacked the box, things smelled badly and were coated with some sort of mildew or mold! Totally gross! That bin included all of our fabric backdrops we were going to use for the photobooth! They all smelled really badly. We weren't sure how that bin had gotten moldy. We had packed away all those photobooth supplies more than two months earlier, but I speculate that the moisture in the sandbags caused mold or mildew in the sealed bin. We tried to figure out how we would salvage our photobooth, but then figured we could just wash the backdrops back at the hotel laundry facilities and we would just throw away the sand bags.
By 3:30PM, the officiant had not yet arrived and my parents were not back from the hospital. We had gotten a few updates from my family, but mostly that doctors were still just checking out my grandmother. She apparently had a urinary tract infection, something that can cause serious complications in elderly people. We learned that the officiant, who was driving in from Baltimore (he's a long-time friend of Ken's family) was stuck in gridlock traffic. Rain brings everything to a standstill in the DC-Baltimore area. I was fine with the fact that he was running late because I thought that would give my parents more time to make it back.
In the meantime, Ken and I continued to work on projects. It was MUCH harder than yesterday though. Too many people around and too many people asking questions and serving as distractions. I could feel myself getting pretty close to that nervous breakdown stage, something I wanted to avoid as a bride. Something that I always made fun of all along during the wedding planning process. Those brides that stress themselves out to the point of flipping out on their loved ones during a time that should be filled with happiness and celebration instead. And so, what I always made fun of, was about to happen to me, it was just a matter of time.
Ken's sister, who I typically get along with just fine, was irritating the shit out of me. She kept saying, "Wow, how much longer till we get to see a bridezilla?" and, "Oh man, she's so organized, maybe she won't become a bridezilla." I was feeling stressed after all the day's events and I think folks could tell that things were weighing on me heavily, including the prospect that my parents were going to miss the rehearsal. So she kept announcing to all our other friends and family that I was probably about to become a bridezilla. It was almost like she was trying to provoke a bridezilla moment.
Here's some advice if you are the friend or family member of a bride. The best way to have a bride become a bridezilla is to keep asking her when she's going to become a bridezilla. Because I was about to go bridezilla on her ass at ANY moment.
Others looked at me in pity. Every time I walked past Ken's grandmother, she reached out her hand and touched my arm in support. My sister kept asking me if I was okay every two minutes, which while appreciated, was getting annoying.
My parents continued to call with updates about my grandmother. My sister relayed to me a phone call she just had with my mom.  Doctors wanted to admit my grandmother to the hospital, but my parents disagreed. They said that they would take her out of the hospital so that she could go to the wedding tomorrow, or even stay in the hotel room (by herself!) and that they would all leave first thing Saturday morning back for Pittsburgh and check her into a hospital there, closer to her home.
I about flipped. I started yelling at my sister, "Did you tell mom and dad that that's a TERRIBLE idea? That she NEEDS to be in a hospital right now? That they are not DOCTORS and that they should respect the decision of the professionals???" My sister just said, "I know, I know. But they really want Grammy to be at the wedding."
At that point, I started to think very selfish thoughts. I started to wonder how my wedding day might be "ruined" if my grandmother got sick again, EMS had to come, and my parents had to leave my wedding. I was so torn between not wanting to be some selfish bridezilla who didn't seem to care about her grandmother being at her wedding, versus wanting her there and wanting my parents to be happy. Because I knew that if my grandmother was not at the wedding, my mother would have been very sad.
I tried to vocalize my concerns in the nicest way possible. So I said, "I would feel much better and be much happier if Grammy was in the hospital tomorrow, because at least that way I would know  that she was being well taken care of. We weren't even sure if she was actually going to even come to Virginia for the wedding, so if she misses it, it's not like it would be much different."  But my sister was not listening to me. I told her that if she talked to mom and dad again that they should not check her out of the hospital and that it's what I wanted.
I opened some white wine and started drinking it out of a plastic cup. I instantly felt better. I drank more. And then a bit more. Finally, I was feeling friendly and relaxed.
The pastor finally arrived around 6PM, more than two hours past our planned rehearsal time. We were all hungry so we decided to have our rehearsal dinner before the actual rehearsal for the ceremony. It was dark outside, and it had been raining, so we couldn't hold the ceremony rehearsal outside in our intended ceremony location, but we still walked the pastor down to the ceremony site using a flashlight. We were going to hold the actual rehearsal inside the Mess Hall.
My original plan had been to go to the hotel around 2:30PM and change around and get freshened up for the rehearsal. Although my rehearsal dress was in the car, I just didn't have the energy to change. So I made the decision to wear the same jeans, Semester at Sea t-shirt, black windbreaker, and gray flip flops that I had been wearing all day long. I was okay with that. I figured it would make for a good story later.
After showing the pastor our intended ceremony site in the dark, we walked back to the Mess Hall. Family and friends that had been cooking all day set out the food and we all sat down to eat. However, since Ken's sister had been gone for so long earlier shopping for everything she needed, her food wasn't even close to being done. But we started to eat the other food anyway.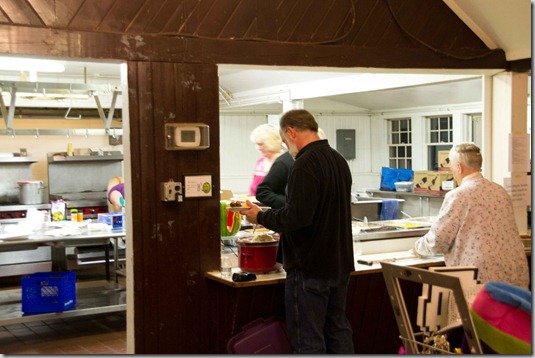 One family friend even carved this AMAZING watermelon!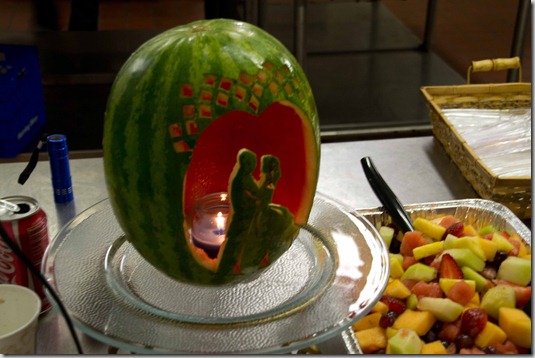 There was only one problem. I couldn't eat. I'd eat one bite and then realize a task I had to take care of. And then eat another bit and then stand up to work on another task. I had some au gratin potatoes and fruit salad. It was like those tiny bites of food just ran right through me and I had to run to the bathroom (gross, and TMI, sorry). There were SO many yummy options but just nothing looked appetizing to me in my jittery state, regardless of how much wine I had had to drink.
It was time for the rehearsal ceremony to start. Ken and I were getting anxious to get everyone out of the Mess Hall so that we could have some peace and quiet to focus on the tasks on our seemingly never-ending punchlist. So we knew that the sooner we had the rehearsal, the sooner folks could leave. We made a loud announcement that it was time to start the rehearsal ceremony.
We practiced the order of procession and when it was my time, I still had a plastic cup of white wine in my hand, and I was nearly overcome with emotion. I almost lost it. My DAD should have been there to practice walking me down that aisle. My mom should've been there giving my dad unsolicited advice about standing up straight. But neither one of them were there. They were both still at the hospital with my grandmother. I told myself to pull it the eff together. That, all things considered, my situation was not that bad. Brides have to make it through much worse situations.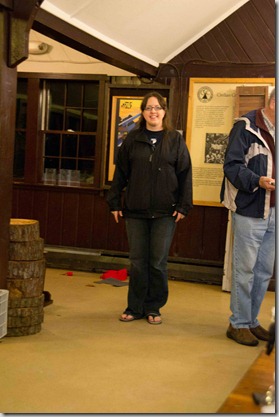 But, in my selfish state, I barely held it together. I started to think about how I restricted their involvement all along our wedding planning process. And when I finally wanted their involvement and even needed their involvement, they couldn't be there.
I put down the plastic cup of white wine and started my procession down the "aisle." When I got to the front, the pastor demonstrated how my dad would take my hand and put it in Ken's hand. Moment #2 of nearly losing it. Why is the pastor doing this and not my dad?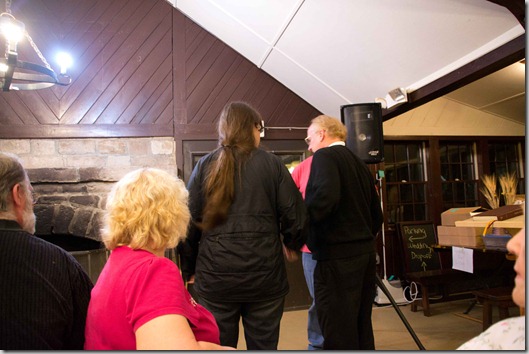 The pastor started the rehearsal. Our readers practiced their readings. The pastor ran through his Gospel, and then the vows and promises practice began.
That part included him saying the first part, and then saying, "yada, yada, yada," which I was fine with. But Ken asked him to go through the promises and vows in their entirety. I had no idea why he asked that. I found out right after that Ken had asked him to go through everything completely to make sure that the pastor remembered to exclude the words "submit to" in my vow to Ken. After all the day's craziness, I had completely forgotten about that issue which had me all worked up just over a month earlier.
When Ken and I were practicing the promises and vows, we were both getting SO choked up. I couldn't believe it! This was just the rehearsal! I was going to be a blubbering mess tomorrow during the ceremony! Tissues. Must remember to put tissues in my purse.
Then came a great moment of comic relief. The pastor was saying the "promises" part, and I thought he was done, jumped the gun a bit, and said, "I will." He said, "not yet!" Then loudly enough for the entire room to hear, I blurted out, "Ah shit!"
Everyone started laughing and laughing, including me! The pastor told a brief anecdote about how one time during a church service, a soloist messed up and blurted out those exact words into a microphone in front of a full congregation. I then commented too about how I was happy we were running through everything in its entirety!
Then came the time for the sand ceremony practice, and we realized he didn't bring a copy of the sand ceremony language with him! Oops. Oh well, I said that I'd print it out later  that night in the hotel's business center.
And that was it! The rehearsal was over. I was not wearing my designer blue dress I had worn the day that Ken and I got engaged. Nope, I had just had my wedding rehearsal wearing jeans and a t-shirt with my hair in a ratty ponytail.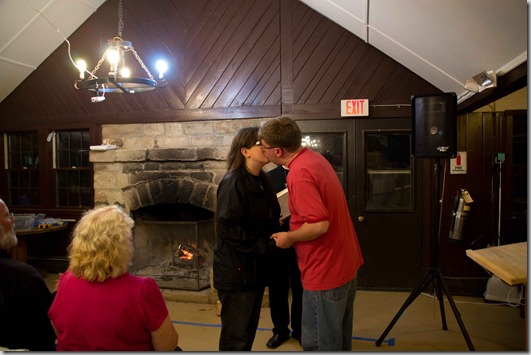 Right after Ken and I practiced the recessional, my sister walked up to me. She had just gotten off the phone with my mom and dad. They had checked Grammy out of the hospital and were heading back to the hotel.
That nervous breakdown I had been feeling coming on for the last few hours finally arrived. I broke down into tears and ran outside into the pitch black dark. Ken ran outside after me.  I was sobbing uncontrollably, saying how I can't believe my parents checked my grandmother out of the hospital and that never did I think that my own parents would miss my rehearsal dinner or that I would be at my own rehearsal wearing such shabby clothing. While I had not envisioned the rehearsal nearly as much as the wedding day, all of these circumstances were certainly not part of what I envisioned. I pictured my wedding dresses probably all wrinkled since they had been sitting in the back of my car all day long.
I cried for a few moments longer, pulled myself together, and went back inside the Mess Hall.  Ken and I told everyone that we needed some quiet to wrap up our final projects and so everyone left. It was about 9:00PM and I knew that I'd have to stay at the venue at least another two hours. Not only because I had some things to finish up, but also because I was pretty drunk, or at least tipsy, and Ken and I had to take our separate cars back to the hotel. I needed at least two or three hours to sober up.
Enjoying the quiet, we resumed our projects. Ken continued to work on the photobooth and local network, and I finished writing instructions for our day-of-coordinator.
We got more done in those few hours than we had almost all day.
Next week, the day before our wedding ends with even more craziness.