And here I thought wedding-related projects would stop after the nuptials! Wrong! If you follow me on Pinterest, you know that I've been pinning a ton of "leftover wedding item"-type projects. I'm super excited to incorporate some leftover wedding items into our home décor!
I'm a big fan of incorporating personal elements into our home décor instead of just buying stuff at, for instance, Home Goods or Bed Bath and Beyond (not that there's anything wrong with that, as I sit here and stare at candle holder from Yankee Candle). On the walls of our home, for instance, you'll see framed tapestries I've collected from my travels (I love buying tapestries!). You'll also see other little items from my travels proudly displayed, including a houka pipe from Egypt, a crystal bell from Waterford, Ireland, a bottle of sand from South Africa, frames of foreign money and coins, and various fake flowers – a wooden tulip from Holland, a ceramic flower from an artist store in New Orleans, and a hand blown glass flower from Florence – used as a permanent centerpiece in our dining room.
So these projects will incorporate items leftover from the wedding, like my bouquet flowers, the dried items we used as centerpiece flowers (wheat and craspedia), leftover wedding programs and bulletins, wedding invitations, wedding and shower cards, and the ribbon and fabric from our DIY Escort Card display. This is in addition to our super awesome guest "book" we had (actually a 20×30 cork display covered in fabric that people pinned messages to using different scraps of paper. Slightly different than our original idea for a guest "book."
What to do with leftover wedding programs
1.  We'll frame one in a frame with two glass panes so that you can view both sides easily (our program was printed double sided on a full 8 1/2 x 11 sheet of paper.
2.  We'll make a few Christmas ornaments from them, like so: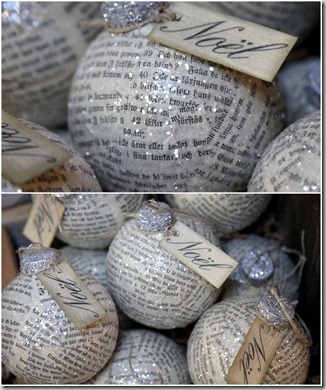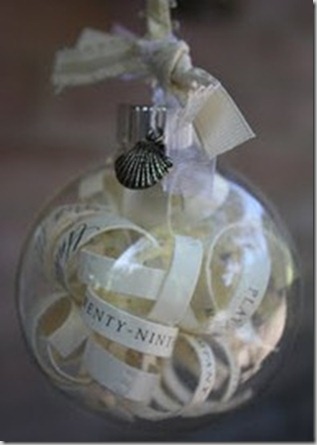 via Christy Robbins
3. Try a few coasters with leftover programs, and maybe even with a few photographs (to give as gifts to my parents and grandmother).  Like so: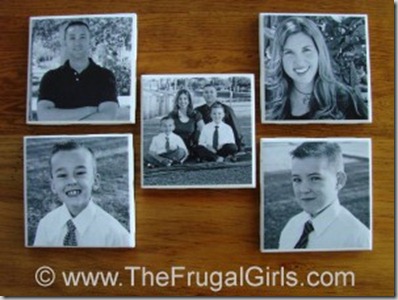 via The Frugal Girls
What to do with leftover ribbon and fabric
I'm going to take the ribbon and fabric we used on our DIY Escort Card holder and make a display of 1's, since our anniversary is 11-11-11. Mine will be a slightly modified version of this.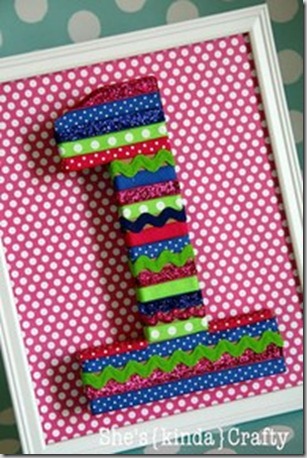 via She's Kinda Crafty
I have a different idea for what to do with ribbon that was on our wedding and shower gifts. For that, I'm probably going to wrap fabric around a piece of foam core (framed or unframed, I'm not sure yet), and simply wrap the ribbons around the foam core in a random pattern. Boom, instant art using ribbon from gifts.
What to do with wedding flowers
I watched several tutorials on YouTube for how to press and or display flowers. (Which no doubt makes me an expert on the matter!) My bouquet flowers have been drying using two methods: Half are sitting in silica gel, while the other half are being pressed between newspaper covered with heavy books. (I opted for two methods in case one doesn't work. I also opted not to try the microwave method.)
Anyway, I haven't found any photo inspiration for how I want to display the dried flowers, but I can picture it perfectly in my head. It will be a shadow box or other frame, maybe 12"x12" and I'll cover a piece of foam core with burlap leftover from the wedding. Then I'll display each flower nice and neatly. It's hard to explain, but I'll be sure to do an entire post on it when I do it! Most sites I read recommended allowing your flowers to press and/or dry for at least 4-6 weeks, so mine are still sitting undisturbed in their respective drying/pressing locations.
For our wedding table centerpieces, we used dried wheat and dried craspedia. Here's a crappy cell phone photo of our centerpieces when I created them back in September: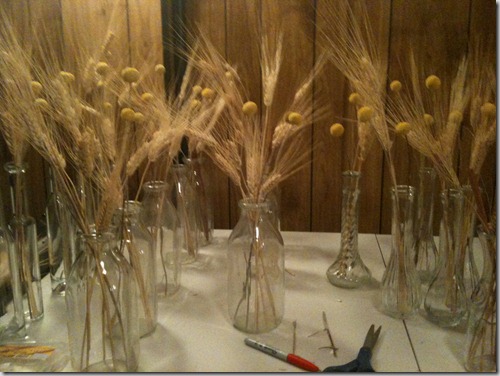 Although I only have one specific project for the wheat and craspedia in mind, I'll save a handful of stems and stalks for potential future projects, and then sell the rest. One project that I know I'll do for sure is creating another ornament with them. l'll cut off most of the stem of the wheat and put the actual "wheat" part (what is that called anyway, you know, the part at the top) inside one of the clear ornaments pictured above in the second wedding program ornament photo. Perhaps it would look something like this.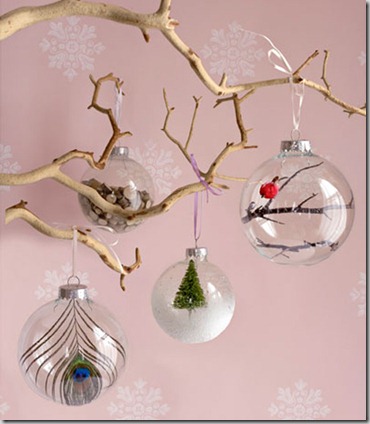 via Country Living
I doubt that the craspedia will fit in the ornament though. Any other ideas for what I can do with the leftover wheat and craspedia?
What to do with leftover wedding invitations
Like the wedding flowers, this has been something I haven't been able to find a photo for inspiration. But again, I can picture it pretty well in my head.
Our invitations were AWESOME. (There's a post coming soon about them, I promise). So, as part of displaying the invitations, I want guests in our home to be able to "interact" with them easily. So, this project will involve some sheet metal and magnets! The magnets will allow us to display the invitation in a non-destructive way and allow people to take the invitation from its display and view it when they want.
What to do with wedding and shower cards
I'm going to do this with our wedding and shower cards. Done and done.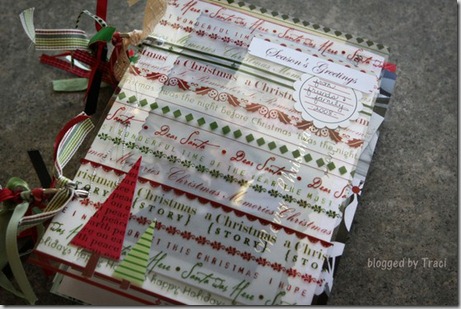 via Traci Thorson Photography
That's it for now! I'll let you know how each project goes!