Over the course of our 13 month engagement and wedding day, we certainly had our more memorable moments. Here to commemorate those moments are some yearbook style-superlatives!
Most likely to make Emily Post cringe: Printed labels on our invitations. Yep, we did it. Mail merged our invite list and printed out labels. Granted, they were printed onto lovely kraft wraparound labels, but I think we still broke a major etiquette no-no. Oh well! We wanted to make our entire wedding planning experience actually enjoyable. And handwriting 113 envelopes would not have been enjoyable.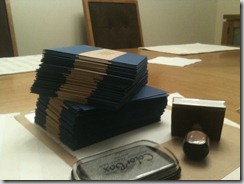 Most Surprisingly Worth-it Expense: Dance lessons. Ken and I were not comfortable at all dancing. So, we'd avoid dance floors like the plague when we'd go to a wedding or holiday party or something. But, you know what, I think that's just because we were always afraid to get out there and try. Back in April, we started ballroom dance lessons. Ken was apprehensive, but I asked him to at least keep an open mind. Can you believe that we both actually loved it! It's so NICE to actually feel comfortable on a dance floor now. The lessons were expensive, but well worth it!
Most offensive to herbivores: No vegetarian option at our wedding. None. Well, I guess if one can survive on garden salad and coleslaw they'd be okay. But our buffet was one big BBQ meatfest!  Mmmmm. Meat.
Most asinine idea we considered: Renting a Coke Freestyle Machine. Ken saw one of these in Firehouse Subs a few months back and loved it! So, we explored options to rent them. Of course, we only considered it for about 30 minutes after we realized that it wouldn't be feasible, but still, that would've been some cool shit at our wedding.
Biggest stressor. (a tie!)
1.  Inviting too many guests. The venue had picnic table seating for 160 guests. With extra table rentals, we probably could've fit another 40-50 people comfortably. So, how many people did we invite? 287! That's right. Two Hundred and Eighty Seven people. No idea how that happened. I have a very small family. Both my parents are only children, which means I have no aunts, uncles, or cousins. Ken has a bigger family, but it's still not huge. I didn't even realize we KNEW 287 people. And you know what else? There were other people I still wanted to invite. This was a huge stressor for me and sadly, I actually breathed a little sigh of relief every time someone RSVPed "no." I was worried about space, parking, and the huge added cost of renting extra tables and chairs. Luckily we only had 147 RSVP!
2.  Scheduling an outdoor wedding for November. November weather in the DC area tends to be quite pleasant. But of course, there are always cold days here and there. In fact, just two weeks before our wedding, DC had its first October snow in nearly 30 years. Temperatures in the days preceding the wedding were nearly 70 degrees. But our wedding day? 56 and windy. When we realized that it would be that chilly, we stressed the entire duration of the 10 day weather forecast. We ended up having it outside, and yes the wedding was colder than we would've liked, but, we knew it was a risk!
Most likely to have offensively bad breath: Realizing I forgot my toothbrush when I checked into hotel the night before the wedding. Yep, no toothbrush the day of my wedding. I used Ken's. I know I'm married to him and all now, but still, there are some things you just should never share.
Most unplugged: No internet, no cell signal at the wedding. We rented a campground at a nearby National Park. The National Park had no internet and not even a sliver of a cell signal. For this very plugged-in couple, our wedding was completely unplugged!
Best excuse for a guest not attending the wedding: Attending U.S. Citizenship ceremony. One of Ken's friends from college had been going through the U.S. citizenship process for the last 15 years. On November 11, our wedding day, the friend was attending his U.S. Citizenship ceremony! 15 years in the waiting! (Oh, and he had refugee status, so he was "fast tracked" for citizenship). Runner up: Due with baby (2 different couples!). Although Ken said that's not nearly as cool of an excuse because people have babies all the time. Earning U.S. citizenship is much more difficult.
Most likely to burst an eardrum: Controlled explosions at Quantico the day before the wedding. Our wedding venue was just a few miles from Quantico, VA near the Marine Corps Quantico base. Little did we know that there was munitions training scheduled the day before the wedding. So every few minutes, we'd hear this loud BOOM! Hilarious, and I'm glad it wasn't actually on our wedding day!