For as much as I obsessed about our to-do list while planning the wedding, I posted about it here very infrequently. As nearly any bride can attest, planning a wedding is just one to-do after another up until the I Do's!
Our General Wedding Action Plan
Way back, I outlined our wedding action plan, which was designed to spread out our big wedding tasks over the course of several months to make it manageable. Also, thanks to our unique wedding venue situation, we couldn't book any of our vendors until just over five months until our wedding day. That meant we had several months to research the big ticket items so we'd be ready to pounce the moment our wedding was confirmed.
If you recall, the wedding action plan looked like this:
January:
Interview photographers
Compile addresses for invitations and save-the-dates
Identify top three photographers
Firm up wedding budget calculations
February:
Research hair and makeup artists
Interview videographers
Research marriage license requirements
March:
Submit application for venue
Design Save-the-dates, test-print
Interview officiants
Research local restaurants for catering accompaniments
Take some intro dance lessons
Develop content and design for wedding website
April:
Develop potential wedding songs and playlists
Start wedding dress shopping
Interview DJ's
Have engagement photo shoot
Research cake bakeries
May:
Begin to obtain decor items
— special table for bride and groom
— layouts for ceremony and reception
— lots of jars and candles
Purchase wedding dress
Identify items for registry
Interview wedding coordinators
Finalize website
Research calligraphers
Follow up with venue if date has not been confirmed
June:
Begin to design invitations
Finalize menu items
Finalize list for Out of Towner bags
Print and mail save-the-dates
Start shopping for wedding rings
Book photographer
Book DJ
Book Hair and Makeup
Book Officiant
Book Videographer
Book coordinator
July
Purchase wedding accessories and shoes
Take more dance lessons
Book lessons for choreographed first dance
For the most part, everything went to plan for this. Of course, there were some things we decided to eliminate (like a videographer, calligrapher, deejay, and makeup vendors) after our initial estimates and interviews. And other things got delayed a few months (I didn't actually book a hair stylist until December, not June like the action plan had dictated), but 90% of the tasks were done in each month specified. Not too shabby!
Our Detailed Wedding To-Do List
Then it was time to get to the nitty gritty, so I developed and posted our detailed wedding to-do list after we were done with our big picture action plan. That detailed wedding to-do list consisted of 100-ish or so tasks, organized by "context" like Décor, Invitations, and Music.
That 100-ish tasks eventually morphed into a 248 task list that looked like this

By the way, if you're interested to see the full shebang, including the tasks in all their crossed out glory, you can check a copy of the actual to-do list on Google Docs. And read the notes about how some tasks, like the "family tree" project were eventually nixed.
List of Last Minute Wedding To-Do's
Then, as if that wasn't enough, the detailed wedding task list was getting a bit unwieldy, so I also created a "Last Minute Wedding To-Do's List" of all the things that had to be done, for the most part, in the week or two leading up to the wedding.  It looked like this: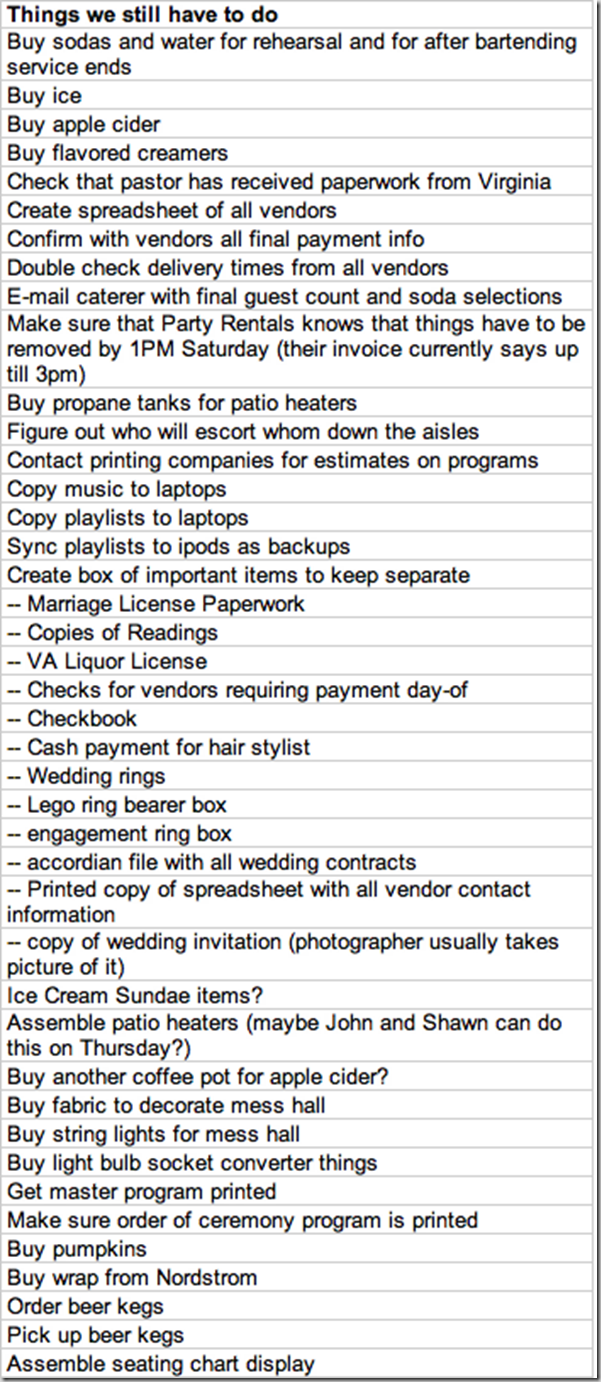 There you have it. All our to-do lists in one place. Did yours look similar? Wasn't it always so gratifying to cross something off the list?