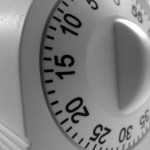 Here's something I have learned.  You, as a bride, do not need a wedding day timeline.
You know who does need one and therefore makes you think you need one?  Your vendors.  Your vendors are lost without the timeline.  The deejay needs to know when to introduce the happy couple and needs to know what time the first dance will take place and when you'll toss your bouquet.  Your caterer has to know when to serve each course, when you want to cut the cake, and what time they have to break down the bar so you don't get charged extra.
Guests probably like timelines too.  They can figure out the best time to leave.  Hmmm, okay, if they cut the cake at 8:45, we can bolt right afterwards!
This makes me sad.  We all know that we live in an overly-scheduled world.  Kids don't just go out and play.  They have scheduled playdates.  We all claim that we're so busy and so stressed that we don't have time for anything else.  We're so busy on our wedding day, that we need to schedule things by the minute.
So, instead of having a planner shuttle you from one scheduled event to another, focus on spending time with your guests.  Try to eliminate as many vendors as possible that way you don't stress about time overage charges.  Try to get a venue that will allow you the freedom of renting it for a few days, like a private residence or a campground.
The last thing you should feel on your wedding day is rushed.  And the only reason you'd feel rushed, is because other people will be telling you where to go and when.
Wait.  Me, the compulsive planner, is advocating NOT PLANNING?  Dude.  Well, no.  In the end, I know I'll have some sort of rough timeline.  But most of that will be for pre-wedding activities (when to wake up, when to shower, when to get hair done, when to start "first look" photoshoot, etc.)  But, for the ceremony and reception, I'd rather just go with the flow.
Just a thought.  We'll see how that works out!