Time for the detailed wedding to-do list.
Back in January, I created an action plan for the wedding.  It contained the broad things that we could do, stretched out over a manageable period of time, from January to July.  In fact, I attribute a relatively calm wedding planning experience thanks in part to that list. Then, I expected, that by July, things would get much more nitty gritty, so the list ended there.  And I was right.  Things are getting nitty gritty now.  So it's time to create a detailed wedding to-do list.
Here's what it looks like now.  It hasn't been populated entirely, but it was very helpful to just get all that stuff on paper (err, computer screen).  I blurred out some things that I'm keeping a secret for now, like the invitations!  I'm also sure that things will get even more detailed as time goes on.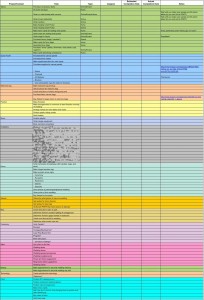 I'm trying to determine the best way to approach this.  Should I just start to do the things I can cross off right now just to get them done?  Like picking up brochures for the welcome bags and buying paint supplies for our guest "book?" Or should I do it more systematically on a timeline?
Although I don't like the idea of having things cluttering up the house, I'm thinking that I should just start to take care of those types of things now.  Less to worry about later, right?  And, if I already have it in the house, hopefully I'm less likely to change my mind about what I want to do for the wedding!
So, what do you think?  Am I missing anything major?