**Disclosure: I started writing this post back in September 2011, right after my wedding ring arrived, but just never got around to finishing it and posting it!
I started looking at wedding rings in June 2011 (plenty of time for our November 2011 wedding), and it took me nearly three months to decide on what I wanted.  I knew that I didn't want to spend more than $400, but beyond that, I wasn't sure what I wanted.
I wasn't entirely sure what I was looking for, but after trying a few on, I had identified my criteria more clearly:
1) I wanted a band that was as close to identical in height and width as the band part of my engagement ring.  For instance, I felt that wedding bands that were wider than the band part of my engagement ring looked really off balance and distracted attention away from my engagement ring.
2) I also didn't like wedding bands that were significantly "shorter" than the band part of my engagement ring. Again, I can't describe it, but it just looked very strange.
But, when I would find a wedding band that was as high as my existing ring, it wouldn't fit flush up against my engagement ring.  Because the prongs stick out, it would be impossible to fit something of the same height directly next to it.
Hmmm, dilemma.
Also, although I really liked the look of diamond bands, they were (obviously) more expensive than just plain bands.
Well, one day on one of the wedding blogs, I can't remember which, I found some beautiful rose gold bands! I was set.  I thought that a plain rose gold band would be a beautiful contrast to my existing engagement ring but not be too distracting. So, I set out to a custom jewelry place here in Northern Virginia that gets excellent reviews. They told me that they would be able to custom make me a band precisely to my specifications (identical height and width of my engagement ring) by "cheating" a bit and making the wedding band not precisely round. This way it would fit up against my engagement ring and not be affected by the engagement ring prongs.  It would range from $350-450 and I would have to leave my engagement ring with them for a few days so that they could make a mold.
Well, the more I thought about it, the more I realized that $350-$450 for just a plain band is a LOT of money, even if it is custom. So, I had a quick conversation with my fiancé. He suggested that I try Natural Sapphire Company, where he bought my engagement ring, to see if they could custom make something cheaper.  Well, they quoted me the same price as the local jeweler for a plain band.  For a diamond band that would match my engagement ring precisely, it would be $750.
Although I liked the look of diamond bands I had tried on, that was well over my budget.
I was really struggling with what to do.  I love love LOVE my engagement ring. So I suggested that my engagement ring double as my wedding band.  But my fiancé didn't like that idea.  He wanted them to be two separate rings.  Then he said,  "You know, you rarely wear jewelry" (except for my engagement ring now of course). "$750 is not a lot of money for a piece of jewelry that you will wear every day for the rest of your life, especially if it's exactly what you want. It will custom match your existing engagement ring"
Easy to say for a guy who paid $14.99 for his wedding band!
So, I took his advice and contacted his original salesperson at Natural Sapphire Company.  She was really helpful and sent me a wax model of the band. To be honest, it was kind of difficult to tell from the wax model how the ring would look and fit, but, trusting my gut, I decided to place the order for diamond band.  Seven Hundred and Fifty Dollars.  Le sigh.
But, zero regrets here! I love the way that it matches my sapphire engagement ring and doesn't detract from it one bit. It's gorgeous!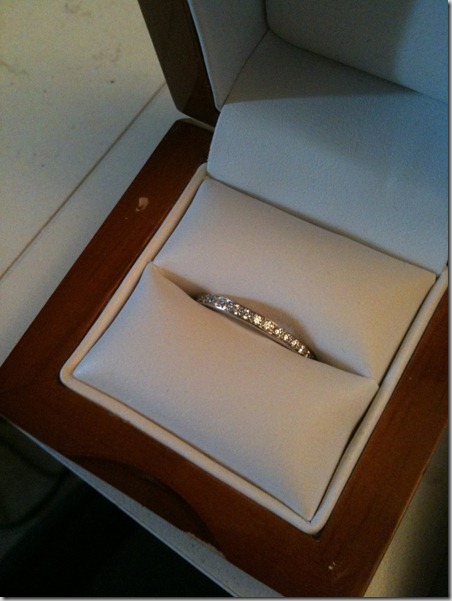 My wedding ring, the day it was delivered via FedEx!
What about you all? Did you spend more than you anticipated on your wedding rings?