We interviewed deejays last month.  With one or two exceptions, We were seriously unimpressed.  We have a somewhat complicated setup at our venue.  Outdoor ceremony location (no power nearby), outdoor but covered reception location (power is available), and then probably move to an indoor location as the evening progresses and it gets darker and colder outside.  While some deejays  knew right away the type of equipment we would need, others just speculated, and one even said he wouldn't talk about the type of equipment he would provide until we had provided him a deposit?  WTF?  A top-rated wedding wire vendor?  Shady!
Sidenote: Oh, and just throwing this out there, just like most other vendor websites, deejays websites also blow, but they have the added annoyance of playing freakin techno music on their homepage.  Can we all just make some sort of wedding pact that people NOT HAVE MUSIC ON THEIR WEBSITES?  Photographers are often guilty of this as well.

Alas, I digress.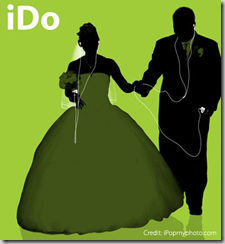 As part of our April Action Plan, I had been compiling songs for our wedding "playlist."  Most of these songs came from my fiancé's massive iTunes library.  I was going to provide a list of these songs to whatever deejay we selected.  Then, one evening as I continued to identify songs, my fiancé said, "What are you thinking about this whole deejay thing anyway?"  I knew right where he was going with it.  We already have all the music we want to play at our wedding.  My fiancé set up our entire tech-savvy house (our house e-mails us every time a door opens and shuts, we have security cameras, we can watch a movie on the DVD player on any TV in the house, etc.)
We didn't need a deejay.
We already don't want this to have the normal look of a wedding.  And a deejay is only going to make things more structured and rigid, which is exactly what we want to avoid.
As I started to write this post, I stopped for a little while.  I panicked.  What if everything breaks and we can't get it working?  We've been taking dance lessons!  It would be devastating if we couldn't show off our new moves because we couldn't get the audio equipment working!  I had already considered whether to have a Deejay or not a few months ago.  I decided that the only real downside is cost.  Is it really worth it to do all of this ourselves?
However, when I mentioned my concerns to  my fiancé, he assured me that it's a low risk project.  We have the venue for two days before the wedding, so he'll have plenty of time to set things up.  I do worry though that if he does run into some trouble with it, that he'll be frustrated or get in a bad mood over it, which is something I'm sure I won't want to deal with in the days leading up to the wedding, but I'll just do my own thing.  Plus, I figure a lot of his other tech-savvy friends will be in attendance at the wedding and will be able to troubleshoot things easily.
For those of you who had an iPod wedding, I'd love to hear specifics about how it went.  Like the type of equipment you rented, how long it took to set up, and how the wedding flowed without a dedicated person to emcee the event.