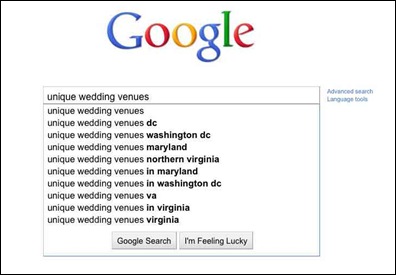 (Hint, it's not the Knot or Wedding Wire).
My first foray into wedding venue hunting, I went straight to Wedding Wire and then The Knot to find an awesome venue.  Within an hour, I had eliminated about 90% of the venues, and e-mailed 10%, mostly ones that either looked interesting and were within our budget or interesting and had no pricing information.  Whoa is me.  All those venues listed and just a few to look forward to?
Well, I am here to tell you that Wedding Wire and the Knot and Wedding Bee and all those other sites are not the end-all, be-all of wedding venues.  So, here have been some of my favorite resources:
Local/Regional/State Tourism Sites.
These sites have been invaluable in our hunt for a reasonably priced wedding venue.  For instance, back when I was looking at venues near my hometown, I found this regional tourism site and looked under "things to do" to find interesting properties, wineries, parks, etc.  To find other similar regionally-based tourism sites, I typed "Laurel Highlands" in Google and then clicked the "Find Similar" link next to the search results.  Virginia.org was also awesome in helping me locate other parks, museums, and historical sites throughout the state.  Also, don't forget to google your county or town's parks and recreation department for a listing of local parks and facilities.
Wedding Photography Blogs.
Most reputable wedding photographers will blog their recent weddings and indicate the venue that the wedding took place (Bonus!: many also list the other vendors that the couple used).  So, take a look at some of the blogs of wedding photographers in your area, see what venue photos catch your eye, and then see if they have the venue or other vendors listed at the end of their blog post.
Alternate Google Search Terms.
Searching for "unique wedding venue dc" in google will provide you with a list of boring hotels.  I don't think that hotels should ever fall into the "unique wedding venue" search results.  *yawn.*
If you're looking for an outdoor venue, for instance, try "company picnics (+your zip code),"  or "lakefront vacation property rental (+city)," or even "outdoor retreats (+state, city, etc.)."  You can also search for farms, wineries, and bed and breakfast locations near where you want to get married.  If you're looking for something basic, you can search for local fire departments that might have hall rentals, or churches that rent out halls.
Wedding Vendors are on Twitter.
So, here is something strange I have discovered.  Wedding vendors are friends with each other.  Er, well, at least they all follow one another on Twitter.  Even those vendors that fall within the same category.  For instance, photographers will follow other photographers on Twitter.  I found one wedding photographer that I loved, and then, even though she's a little out of our budget, I found that she follows a whole bunch of other wedding photographers!  And they all follow other wedding vendors, like planners, venues, videographers, etc.  So, if you haven't done so, sign yourself up for twitter and start following wedding vendors and maybe even find some hidden gems out there.
Other Vendor Websites.
Many caterers will list the venues for which they are either the preferred caterer, or venues that they have catered at in the past (so, even if a caterer is out of your price range, their website may still have some valuable information, much like this DC area caterer).  I have also found lists of venues on officiants' websites.  Also, like photographers, many wedding planners will blog their clients' weddings.  Even if you have no intention on hiring a planner, you can still find other good information about venues, decor ideas, and links to other wedding vendors.
Disclaimer: The venues found on these other vendor websites are a mixed bag.  Sometimes there are new venues that you've never heard of before, and other times they're the same old ones from the Knot and Wedding Wire.  But, it's definitely good for variety.
Sadly, not one venue that I contacted from Wedding Wire or The Knot actually worked out.  They were all way too expensive.  The "company picnic locations" search was what led to our wedding venue.
How did you find your wedding venue?