While reading all throughout the Bridal Blogosphere, I have learned many things.  One of the major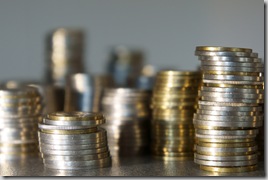 lessons is that, as you approach your wedding date, you start spending more money than you thought you would have to and that you budgeted for.
Because, after all, let's face it, The Wedding Industrial Complex will try to convince you that spending all that money is "worth it" so that you can have a "perfect" day.  Well, our wedding is now just a little less than nine months away.  And I'm convinced that we can spend LESS than we originally budgeted, not more.   I'm want a FUN day, not a perfect one!
I chuckle when I watch "Say Yes to the Dress" on TLC and brides say that they're on a tight budget, so they can't spend more than $2000 on a wedding dress.  *Blink*  What planet do we live on that a $2000 dress is considered a "budget dress?"  I went to a quasi-bridal show back in November called "The Not-So-Big-Wedding-Boutique."  Teams of wedding vendors pooled together and developed a plan for a $15,000 wedding in the Washington, DC area.  Not an easy feat, I thought since I was so early in the planning stages.  Well, the $15,000 wedding only included 65 guests!  I would like to have a budget wedding too, but really, I don't want to cut more than 70 people from the guest list!
I digress.
I have come across a small handful of blogs and websites that have inspired me to keep our budget even lower.  These brides have thrown amazing weddings for $2000, $4000, and $5000.  Hopefully they can inspire you as well, that a great wedding doesn't have to be an expensive one!
I searched high and low online for other inspirational budget weddings, but they are few and far between!  If you have a story to share about how you threw an uber-inspirational budget wedding, send me the link, or write it up and I'll post it here!  (And yes, there's no shame in admitting that your wedding was, in fact, uber-inspirational).  Likewise, if you come across similar blogs like the ones listed above, let me know in the comments!  I'm addicted to these stories!