To date, we have spent $12,704 on wedding expenses out of our $15,000 budget. $214.44 dollars of that has been shipping costs.  We estimate that we've earned about $211.89 using cashback reward programs so far. I've also earned more than 100,000 British Airways miles after I signed up for a mega bonus program a few months ago as well as many many Southwest Rapid Rewards Points. Given our projected expenses (balances to be paid to vendors, etc.) we estimate that we'll be approximately $4000 over budget. Yikes. (For those interested, I've updated the expense tracking spreadsheet in the sidebar)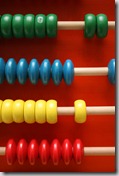 Let me tell you though, if you haven't tracked your wedding expenses to the absolute nitty gritty level that we have, it is a really nebulous exercise.  Just to give you a breakdown:
So far, we have had 93 wedding-related expenses
72 of those expenses (77%) have been less than $100
Those 72 expenses add up to $2442.84
18 of the 93 expenses have been between $100-$500.
Those 18 expenses add up to $4182.35
3 of the expenses have been between $501-$1000
Those 3 expenses add up to $2011.16
We have had 2 expenses between $1001-$3000 ($2910 was our max expense)
Those two expenses add up to $4067.85
I guess what I'm trying to illustrate with my analysis here is that it's not always the big expenses that kill your budget. Our 18 expenses between $100-$500 have been a complete budget buster.
There are many other things that leave me scratching my head when I add line items to our expenses spreadsheet.  Let me illustrate with some examples.
The other day, I bought a huge multi-pack of scrapbook paper for $14.99 (after coupon). I'm only going to use maybe 15 out of the 100 sheets. So, what do I put down as the wedding expense? $14.99 for the whole pack? Or since each sheet comes out to about 15 cents, do I just put down $2.25 in the spreadsheet (15 cents each (x) 15 sheets of scrapbook paper used)?
I bought a hot glue gun from Amazon to assemble my seating chart poster. Now, I never had a need for a hot glue gun before, so the wedding was the reason I had to buy the hot glue gun at this moment in time. But will I use the hot glue gun again in the future?  Very likely yes!  So, is that a wedding expense?  Or, let's look at it in a different way. Let's say I already owned a glue gun and glue sticks. Would I have to to deduct the glue sticks that I used as a "wedding expense" even thought I might have bought those glue sticks years ago and was only just using them on the wedding project?
Over the past few days, I've been purchasing accessories (purse, bracelet, necklace, etc.) to wear on my wedding day. Nothing "bridal" looking, but instead fun, funky jewelry and some plain old elegant pearls. All jewelry that I would wear on future occasions. So, are the accessories a wedding expense?
I've identified a difference between the cost of "getting married" vs. the cost of your wedding. For instance, should our engagement photos and the amount I paid to get my hair done for our engagement photos be considered a "wedding" cost? The more I thought about it, no. That might be part of the cost of "getting married" but our engagement photos cost have nothing to do with what we're spending for our wedding day.
What if I manage to sell $1000 worth of stuff after the wedding? Would I subtract that from the "cost" of the wedding?
What about all the gifts and money we receive? What about all the frequent flier miles earned? Shouldn't that somehow be taken into account when trying to determine how much you "paid" for your wedding?
Or maybe I am just trying to make excuses for myself as we anticipate that we'll be nearly $4000 over budget?  What this all boils down to is the need for multiple spreadsheets. So, what you'll see here on SuperNoVABride after I get married (in just a little over 6 weeks! Yikes!) is all sorts of different expense analysis. One counting supplies (even if it's a supply I'm likely to use again in the future), one breaking down "wedding day" vs. "getting married" expenses, and all sorts of other fun stuff.  What? Other people don't think that's fun?
Has anyone ever taken an accounting class? How are expenses like these accounted for in the business world?