Ken and I rented practically nothing for the wedding. We realized almost right away that we could purchase things on our own significantly cheaper than buying them. For instance:
We wanted patio heaters in case our wedding day was chilly (it was!). To rent the heaters from a party rentals company, it was $150 each. To buy them from Costco it cost $139.99 (and free shipping). Hmmm, $10 cheaper to BUY something instead of renting it? And we actually get to KEEP it or SELL it? No brainer there. Same thing for table linens. $11 each to rent the brown rectangular linens we wanted for our tables. I found them online to purchase for $8 each.
Now, we have a boatload of used wedding items to sell. This makes me so happy! I purchased a lot of used wedding items myself, mostly via Craigslist and the Weddingbee Classifieds, although there are a lot of other great sources out there.
Now that the wedding is over, what is our strategy for getting all of this stuff out of the house (and maybe a few extra dollars in our new joint savings account?)
Organizing
We were VERY organized prior to the wedding. All our boxes and bins were labeled and like items were together.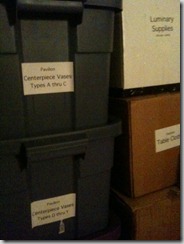 Getting things home from the venue was an entirely different matter. Obviously the day-of-coordinator's goal is to get everything picked up as quickly as possible. Therefore, now we have centerpiece vases in the same boxes as tablecloths, and photobooth supplies in the same boxes as leftover paper plates and silverware. Therefore, our first order of business will be to get everything organized into bins and boxes again and label them appropriately.
Decide what to keep and what to give away for free
Some items that we purchased for the wedding may be useful for future, non-wedding parties. For instance, we bought large industrial coffee pots for our "hot beverages bar." Two of the large 100 cup pots were found by my mom for $25 each in a Penny Saver ad. I bought an additional smaller coffee urn at the last minute from Amazon when we decided to have apple cider too. I gave one of the coffee pots away to a family friend that helped a lot in the days leading up to the wedding, but I'll probably keep the other two. They can come in handy for other large parties and gatherings, which Ken and I (and our families) have very often.  We'll separate the items we want to keep.
Other items will be best donated or given away for free. For instance, I bought huge boxes of of creamer packets for our "hot beverages bar." The box was only like 8 bucks or something, so it's not worth returning. But I figure some shelter could use it, or heck, I could even bring it to work and put it in the kitchens so coworkers can use it.
Clean, Launder, and Organize Further
I'll clean and/or launder things like the tablecloths and put each one in individual packages like a plastic grocery bag or sealed baggie. For instance, although we have about 45 tablecloths to sell, someone may only want to buy 20 of them, so I want to make sure I can just grab 25 without everything else getting disorganized and unfolded.
Photograph items.
Now that the items have been organized, cleaned, and laundered, I'll take photos of the items I want to sell, probably using my DIY lightbox, which I talked about in a previous post. I can also post photographs from the wedding itself to illustrate how that items were used during the wedding. For instance, I bought some boring, unfinished wooden crates from craft stores. Then I draped them loosely with fabric to create height and dimension on our cake table.
Create a free website to list all the items
Weddingbee, Craigslist, and other online classifieds definitely have their limitations with regards to posting photos. What some Weddingbee sellers have done, which I have found incredibly useful, was create one "for sale" post on the classifieds, and then quickly list the items, but then include a link to a website, like a weebly site, that includes all the photos and descriptions of the items. Then when an item sells, they just update the description to say "SOLD."
Attempt to use Craigslist to sell items first, then transition to sites like Weddingbee classifieds
Nearly all the items that I purchased used came from Weddingbee sellers. And Weddingbee is great, because you have a captive audience of brides and brides alone wanting to buy used items for weddings. However, I cannot begin to describe how much I hate the post office. Every time I go, no matter what time of day, the line is always SO long. So, the idea of having to ship all sorts of different items across the country makes me shudder. Therefore, I'll try to sell things locally first, then transition to other methods where I may likely have to ship items. I'll probably list things on Craigslist three weekends in a row before I transition to other sites.
Timing
Right now, we're on our minimoon. By the time we get back and start to get things cleaned and organized, I'm guessing it'll be at least a few weeks until things are ready to sell. And frankly, who's going to buy used wedding items during the holiday season? Therefore, I'll wait until after the first of the year to start listing the items on Craigslist. And that will probably work out for the best anyway, because so many people get engaged during the holidays and may start looking for things right away.
That's it! Our strategy for selling all our used wedding items. I'm anxious to find out how much money we can make back by selling our items!