Back in June, my fiancé and I went to a wedding reception that didn't have assigned seating.  *Gasp*
That's like the cardinal rule of weddings all over the interwebs.  Skimp on all other time-consuming tasks if you have to, but never, ever skip assigned seating.  They say your guests will feel more comfortable not having to hunt for seats, and people who don't know anyone else at your wedding will feel awkward trying to figure out where to sit.
But lo and behold, at the wedding wedding reception we attended, no one's head exploded from a lack of seating chart.  No one meandered around disappointingly looking for a seat like a dorky kid at his first day of a new junior high school.  No feuds erupted among guests that didn't get along (and there were plenty of those … the bride and groom are from different cultural backgrounds).  People just sat down and started chatting.
That sealed the deal for me.  I was not going to waste my time creating some damn seating chart and trying to track down guest RSVPs just because I needed to know where people would sit.
(A Long) Side Story: Our Catering Tasting and Visiting our Venue again
A few weeks ago, my fiancé and I visited the venue again.  My mom and dad were in town and had not seen the venue yet, so we took them there.  We also invited the woman we're hiring as our "month of" coordinator.  While there, she and her assistant mentioned all the extra tables we were going to have to rent.  The pavilion provides 20 picnic tables that seat 8 people each (therefore seating 160 people).  We're expecting about 125-150 guests, so I thought we were in good shape.  I was planning on renting two or three extra tables, including a small round one for me and my fiancé, and some regular, non-picnic tables and chairs for our immediate family.
Well, the coordinator promptly pointed out that the tables would only seat six people each.
"SIX!?!" I exclaimed.  "No way.  These definitely seat 8 people."

"No," she said calmly.  "In fact, in all likelihood it would be better if only four people sat at each table, but we can do with six."  She said that because the benches were attached to the tables and because of the bar in the middle (pictured below), it would be way too uncomfortable for eight people to sit at each table.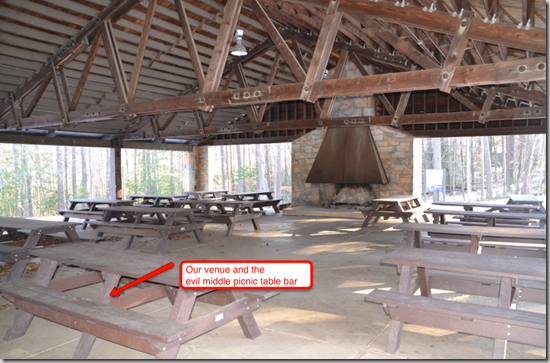 Hundreds of dollar signs ran through my head.  Extra table rentals, extra linens and tablescape decor, and less open space to dance!
So, I said, "No, I definitely think we can get 8 people to sit at each table."
But nope, six it was.  She said we just wouldn't want our guests to be uncomfortable.  I was really devastated.  And totally embarrassed for missing such an important detail that was now going to cost us money.
Fast forward two weeks.  We were having a tasting with a BBQ caterer who has done several weddings at that venue.  The caterer came to our house, and we invited our coordinator.
We were all talking about general venue stuff, and the coordinator asked the caterer if they provide the tables they use to serve the food, because we were going to need all the picnic tables plus rent several more tables.
The caterer, who knew our estimated guest count because we had provided it to him for the food proposal, clarified with us how many people were going to be there.  We told him, 125-150.  The conversation then went like this:
Caterer:  Well, you won't need any extra tables.  Those tables seat 8 people each and there are 20 in the pavilion.

Me: (like a brat and looking at the coordinator):  See!  I told you they seat 8 people!

Coordinator: "No, they only sit 4 or 6 at the most."

Caterer: (incredulous).  Those are 8 foot tables!  That gives each person two feet on each side!

Coordinator: Yeah, but that bar in the middle affects the space

Caterer: I've catered at least ten events there, and eight people sit at those tables comfortably all the time.  Again, that's two feet of space for each person!

Coordinator: Okay … (but still not sounding convinced)
With that simple, 30 second conversation, I felt so relieved.  Once again we weren't going to have to rent 10 extra tables and sacrifice dance floor space.
Nice Side Story. Now What about Assigned Seating?
So, how does this all relate to assigned seating?  Well, after my initial relief about the picnic tables, I started thinking.  If we don't have assigned seats, then people may start to seat themselves only 6 to a table, and then the seating issue might get a little awkward and it could appear that we don't have enough tables.
So, to avoid that, with much disdain, I have decided to adopt the assigned seating mindset again.  Although, if we had regular tables and chairs instead of picnic tables and benches at our venue, you could be sure that I would not have assigned seating.
Lessons Learned
So, what are some lessons to take from this?
Trust your gut. Yes, wedding vendors have a lot of experience.  But, trust your gut.  I was going to end up shelling out probably several hundred dollars extra for table rentals just because I trusted my coordinator over my gut.  But my coordinator did not have experience with this venue, the caterer did.  Reach out to others who may have the experience if you're second guessing one of your vendor's decisions.
You do not need assigned seating.  Period. The wedding I went to in June was just fine.  LIBudgetBride just got married in June and had a well-executed, non-assigned seating wedding.  I hear that seating charts a huge hassle (and now that I have to do it myself, I'll be able to speak from experience in a few months), and it's not worth the time and effort, especially since it's something that can't be completely done until very close to your wedding date.