Having a big DIY wedding? Want to make sure that you plan everything the best you can? After you decide on your wedding venue, if you can, go back for a second visit. When you're there, bring the following items:
1) Pen and Notebook (or better yet, a Smart Pen!)
2) Measuring tape or laser measurer
3) A measuring wheel. Seriously, this was invaluable for us at our campground venue since everything was so spread out.
4) Camera. Take photos of everything. And not just a few quick shots. Take a panorama of photos of the entire venue. Zoom in, and take another panorama. Take a wide angle shot. Take close up shots of the tables and chairs. Shots of the kitchen facilities. Shots of the ceiling. I can't even begin to tell you how many times I referred to the photos of our venue, for any number of reasons. For instance, I sent pictures of the pavilion to tent rental companies when I inquired about having plastic walls installed on the sides. Ken used pictures of the ceilings when he was trying to figure out where he could hang a lighting fixture. I used the pictures of the ceilings to figure out how I could possibly drape fabric between the beams. Even if part of a venue seems inconsequential, TAKE A PICTURE OF IT.
5) Sample decor items to see how they look. For instance, order one or two colors of some tablecloths or runners, or bring some sample centerpieces to get an idea of how they fit with the venue.
Record the following information at the visit
Dimensions of the room. When you measure the dimensions, be sure to take note of any nooks or things that might jut out, like a fireplace or emergency exits.
 
Length or diameter of tables (if they're provided). This will be invaluable when you're playing with floor plan ideas. We used Microsoft Visio to plan our layouts.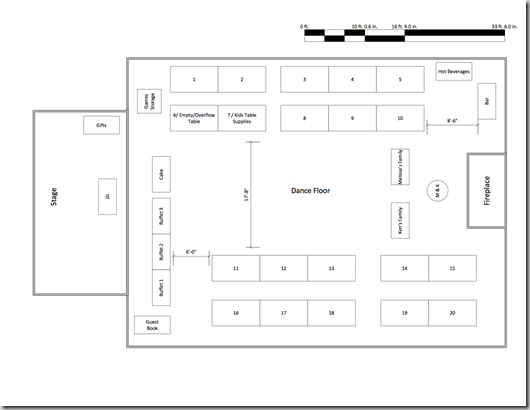 Dimensions of dance floor. And don't fret if it's too small! I read a few months back that a huge dance floor is not necessarily a good thing. A smaller dance floor will feel more intimate, and plus will encourage folks to dance and interact, because the smaller dance floor will create the illusion of more people dancing.
 
Distance from seating area to nearest restrooms. This might not be a necessity for everyone, but at our venue, the restrooms were actually quite the walk from our reception. Perhaps 200 feet or so. We wanted to be able to communicate this to our older guests before they game.
 
Location of power outlets. This is CRUCIAL. It can completely drive your floor plan. Are you having a slideshow? Well, you need an outlet to plug in your television. Are you having a deejay or an iPod wedding? Either way, you'll need to know where all that equipment can be located.
 
What do you think? Am I forgetting anything?