So, although I wasn't scheduled to start purchasing decor for the wedding until May, I couldn't help myself, and bought some items for "proof of concept" designs in March.  Remember in this post when I talked about how many votive candle holders to buy?  Well, that was part of one of my proof of concepts (proofs of concept?  whatevs).  I'll give an overview of the actual projects next week, but for now, here's what's been arriving at my door:
Lots of Burlap (here it is in its post-washed state.  Lesson learned, I don't think I'm going to wash burlap for future projects, no matter what online tutorials tell me.)  Actually, this one didn't just "arrive at my door."  I bought it at JoAnn Fabrics.
Multiple varieties of candles and candle holders from Quickcandles.com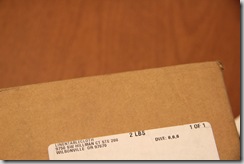 One tablecloth from Linentablecloth.com (again, this is just for a proof of concept)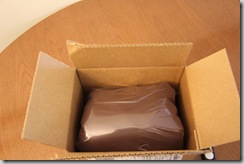 My first thought?  Wow, this is going to be a wrinkled tablecloth!  It's folded up so tiny!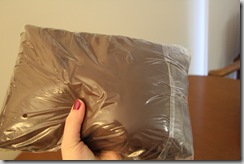 You'll see it unfolded next week.  And yep, it's brown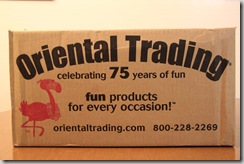 And what's in this box?  You'll see.  Let's just say, I LOVE the internet and the way it gives you an opportunity to buy anything at any time of year.