I am really pleased with my decision to do my own makeup on my wedding day. As trivial as it sounds, it was a decision I really struggled with for a long time. But after my terrible hair and makeup trial in August, I realized that I would probably be unhappy if I didn't do my own makeup. 
A few caveats. I consider myself to be knowledgeable about makeup. I've taken classes at MAC, subscribe to YouTube makeup tutorials, and own probably about $1000 worth of makeup. I'm comfortable using four shades of eyeshadow in one look and am not afraid to ask artists at the MAC makeup counter for help and tips. So, it's not like I go barefaced every day and then all of a sudden decided to DIY my wedding-day makeup. As an added caution, I even watched several DIY wedding day makeup tutorials.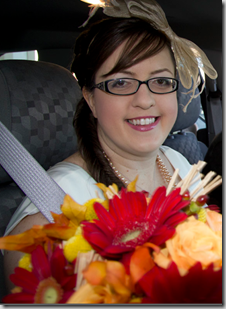 My biggest concern was having makeup that lasted. For instance, my makeup looks very different at the end of my work day compared to the beginning of my workday. I bought an airbrush makeup set from Dinair, but didn't like it at all, so I returned it. It made my normally-oily skin feel dry, and the coverage lasted no longer than my regular foundation. I also had a hard time getting a precise color match.  It was nowhere near worth the price tag.
So, I stuck with my tried and true MAC Studio Fix Fluid Foundation.
While I have no regrets about DIYing my wedding day makeup, here are a few lessons learned I would offer to other brides doing the same.
(Image: Personal Photo, taken getting into the car shortly after doing my whole makeup thang)
DIY Wedding Day Makeup Tips
Our engagement photos were actually a perfect testing ground for my wedding-day makeup. I realized that in all of those photos, it looked like I was wearing no blush, even though I was wearing the amount I would on a regular day. So, I knew that for blush to appear in the photos, I should go a bit heavier on my wedding day. So I did, using this technique.
Set aside about 10 minutes during your reception to do a detailed touch-up of your makeup. I probably would've completely re-did my foundation and blush, but left my eyes alone. In the photos taken late at the reception, my foundation definitely did not look as fresh. But in fact, this may not have been a product of doing my makeup myself. I imagine that if I had had my makeup done professionally, I would also be recommending a detailed touch-up about halfway through the reception. And the benefit of having to do a touch up when you DIY your makeup is that you already know what foundation colors and techniques to use!
Give someone, like a bridesmaid or close friend or family member, your lipstick, lipgloss, and a small mirror, and remind have them remind you to freshen your lips up every 30 minutes. Especially if you, like me, have very thin and/or light-colored lips that tend to just disappear when you smile. And again, this would go for any bride, not just one that DIYed their own makeup.
While not necessarily makeup related, designate that same friend (or a different one – just as long as it's someone who is brutally honest) to make sure they tell you when something isn't right, like when you have food in your teeth, or in my case, my bangs got messed up. There are a few photos where I can tell this stupid section of my bangs is completely out of place. I just want to reach into the picture and brush it out of the way. I wish someone would've told me!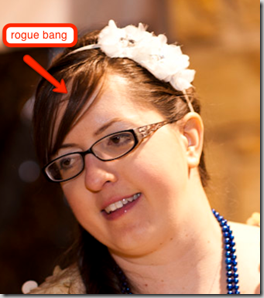 My Wedding Day Makeup!
Eyes
Too Faced Shadow Insurance Eyeshadow Primer
MAC Blanc Type Eyeshadow all over lid
MAC Scene Eyeshadow in outer corner of lid
MAC Shadowy Lady Eyeshadow in outer corner and crease
MAC Vapour all over browbone
MAC Kohl Eyeliner in Smolder on upper lash line, and a very light line on outer corner of lower lash line
MAC Mascara Prep+Prime
MAC False Lashes Mascara
Benefit Cosmetics Brow Zing in Medium
Face and Cheeks
Mac Studio Fix Fluid Foundation in NW15
Ben Nye Crème Color Palette Concealer ?? under eyes and in an inverted V-Shape on cheeks
Dermablend Body Cover Concealer for undereyes
Make Up For Ever High Definition Powder all over face
MAC Minearlize Skinfinish in Light all over face
MAC Lilicent Crème as base blush
MAC Pink Swoon Brush (I followed this tutorial for blush application)
Lips
MAC Cremestick Liner in Pink Treat
MAC Cremesheen Lipstick in Speed Dial
MAC Dazzleglass in Steppin Out
The only new items I had to purchase were the MAC False Lashes Mascara and Mascara Prep+Prime (I wanted to make sure I had a high-quality waterproof mascara for that day. Something that typically is not a priority for me), and the brow coloring, since that's also something I usually don't trouble myself with during my daily makeup routine.
So, there you have it. I saved myself about $250 by doing my own makeup. So, if you're comfortable doing your own makeup on a regular basis, I'd highly recommend doing it yourself on your wedding day.