Yesterday I talked about how I'm organizing all the STUFF I'm starting to acquire for the wedding.  Well, in typical SuperNoVAbride fashion, before actually buying anything, I developed a spreadsheet to help me compare costs.
Well, actually, it was a spreadsheet partially "borrowed" from my fiancé, which he developed when trying to compare costs of LED light reels from various online Chinese wholesalers (long story).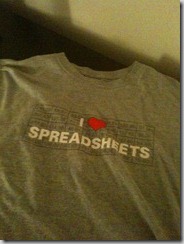 (A t-shirt my fiancé's family gave me for Christmas a few years ago)
My issue was this:
I would go to one website, and they would be selling six vases for $30 and free shipping.
An Ebay seller would be selling 25 vases for $90 plus $5.50 for shipping
Someone on Craigslist was selling 10 vases for $40, and all I'd have to do is go pick it up.
At quick glance, I can't tell which one is a good deal, and which one is the best deal, or if one of them is a total ripoff.
In another instance, I was looking for dried wheat stalks for centerpieces.  I looked on various websites, collected the price of wheat (in terms of ounces) and the shipping costs various websites charged.  This spreadsheet (thanks Fiancé!) has been invaluable helping me make sure that I'm not overpaying for items, and which items I should scoop up right away because they're a great deal!
So, I'm sharing the template that I developed with you all.  It's in my template library on Google Docs called Cost Comparison Spreadsheet (Weddings)  I hope you find it useful!