We've had a relatively stress free wedding planning experience.  My shower, however, was somewhat of a drama show for a few reasons.
First, I didn't want a shower.  I didn't really like the idea of being front and center in front of a bunch of women and having to be "on" the entire time I opened gifts while everyone watched my reaction.  Second, my family is not the most well-off financially, so the thought of them hosting a shower for me and having all those expenses was kind of unsettling.
But, my sister insisted, and I obliged with one condition. I said she could do whatever she wanted, but I wanted no games. No cutesy little gift bingo, no toilet paper dresses or hats of bows.  Nothing. I hate that shit. It's part of what makes me dread both wedding and baby showers alike.  I just wanted people to come and eat good food and be in good company.
Well, my sister asked me about every little detail along the way, which drove me completely insane. What color NAPKINS do I want??  I don't even care what color napkins I'm having for the wedding!  What color ribbon on the favor tags? That's just a few examples, but there were dozens of phone calls exchanged. (So, advice for anyone who is throwing a shower or party for someone who doesn't really want one, don't bother them with details!)
Then came the invitations. Traditionally all showers that I have ever attended have been women-only events. So those included on invitations were my future mother-in-law, future sister-in-law and her 2 year old daughter, and my fiancé's cousin, grandmother, and aunt. Well, apparently they were not very pleased that their spouses or significant others weren't invited. I felt a little weird, and actually kind of baffled that they had never heard of having a shower where only women were invited. I asked my family if they minded if spouses could attend, and they said of course they didn't mind, as long as the spouses  didn't mind being the only men at the shower!  So, they were going to come.
Then, one week before the shower, they decided not to come.  My fiancé asked me if I would be disappointed, and I said no, that I understood. They really just couldn't afford to come. I just asked that they be the ones to RSVP to my sister instead of having me RSVP for them.
My future mother-in-law emailed my sister, (which I was kind of disappointed about, I thought she would call) to say that they couldn't come.  So I still had to be the one to explain the situation. My sister offered to let his family stay at her house so they wouldn't have to pay for a hotel.  To say the least, my family was really disappointed that they wouldn't come.
So, I asked my fiancé to see if his family  would reconsider. They now had a free place to stay and we offered to pay for gas. He talked to them again, but going to the shower was completely out of the question. Even though I initially said I didn't mind that they weren't coming, I was then starting to get disappointed.  The shower was clearly something my sister had put a lot of work into, and she wanted my future in-laws to see it and share in it.
Well, even with their absence, I am happy to say that my shower was a big success! My sister rented a tent and had it in her big backyard. I wasn't uncomfortable at all opening gifts because I sat like in the middle of the tent instead of the front, which made it more cozy and intimate instead of sitting in the front like I was performing some show. There were plenty of other men that attended so my future in-laws probably would not have felt uncomfortable at all.  My sister agreed and didn't have games, but she did rent a karaoke machine, which I would classify as a "game," but others had fun with it despite some initial shyness. The food was amazing and the weather was great!  In fact, while Hurricane Irene  was hitting DC, we were four hours west in Pittsburgh for the shower.  In fact, some of Irene's outer bands were hitting just 45 minutes east of Pittsburgh. We had nothing but sunshine, and the proximity of the hurricane made it perfect and breezy though!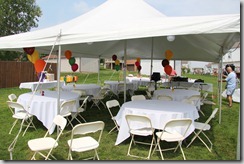 So, aside from that little bit of drama, here are some lessons that I took from my shower that I think might be valuable for other brides to be!.
1) People will almost never shop online for a gift. We registered at Bed Bath and Beyond, Crate and Barrel, and Amazon. I felt terrible for registering at Bed Bath and Beyond, because Amazon has the same items at a fraction of the price! So, our Amazon registry is significantly larger than our BBB registry.  No matter.  People apparently hate buying things online.  I'll never understand it since I've been buying things online since 1999, but whatever.  So, I'll move things from my Amazon list to my Bed Bath and Beyond list for the wedding and ignore feelings of guilt that my guests are paying way too much money for the item.
2) People will buy you gifts that are not on your registry. I would say that about 25% of my gifts were not from my registry list. This really leaves me confused. I would say that 90% of the items on our registry were less than $40, so it's not like we had really expensive gifts that people just couldn't afford. I'm not sure why people do this especially when they have a list of items that they couple have specifically indicated they would like to have, but, who am I?  In fact, I went to great lengths to register for items that aren't crap!
3) Mingle with your guests on a more intimate and personal level. While people were eating, I moved around from table to table and sat down with my plate of food.  Although I never ate much of the food on my plate, I spent time with each person at the shower! It was lovely.
4) When having events outdoors, whether it's your shower, wedding, or just a plain old party,  always, ALWAYS have various types of bug repellant. The bees were crazy at the shower, especially since all the food was outside. And my sister didn't have anything to try and keep them away. She sent her husband to buy some citronella tike torches from Lowe's during the party!   For parties that my fiancé and I have hosted at our house, we use a mix of different repellants.  Specifically, we use these incense sticks, which work phenomenal around the perimeter of the house.  Then we have citronella candles at various places like seating areas, and non-toxic bug repellant mixtures around food. (I use lavender oil-soaked rags in open jars) Then we always have bug spray available for guests to use.  At a recent wedding we attended, they also started giving out these bug wipes which worked great! I just rubbed a little bit on my neck and the bugs stopped attacking me.
5) If you're not into games either, figure out another nice way to get people talking. I'm sure you've all seen the trend (and a very nice one I might add) of displaying previous generations' family wedding photos at your wedding. Well, at my shower I was showing off photos of my mom's wedding shower. It was quite the hit, especially among the older guests who were also in attendance at my mom's shower!
So, there you have it! My wedding shower story!