T-2 Days: Part 1; Part 2; Part 3
T-1 Day: Part 1; Part 2; Part 3; Part 4
Wedding Day: Part 1; Part 2; Part 3; Part 4; Part 5; Part 6; Part 7; Part 8; Part 9; Part 10; Recap Intermission; Part 11
As I mentioned in this post, my wedding recaps starting at Part 11 are less detailed , because, after writing 45-single-spaced pages of recaps within about 4 weeks of our wedding day, I lost steam.
We had survived our first dance, complete with a twirls and a dip! We went back to mingling with our guests, which was just fantastic. Ken and I spent about 90 seconds total of the entire wedding sitting at our sweetheart table. And I wouldn't have had it any other way. When I look at a wedding photos of other couples and they're quarantined at the table away from their guests with their wedding party while dinner is served and toasts are given, I just kind of shudder. We spent nearly every moment talking with our guests.
Someone, I can't remember who, mentioned it was time to cut the cake. Cake smooshing is an awful no no for me, so Ken and I agreed long ago that there would be no cake smooshing.
We went up to our totally wrong cakes (oh well, what could we do), and cut into them using the cake cutting set my sister, who was married nearly 15 years earlier, let us borrow. We cut, put pieces of the cake onto a fork, and fed it to each other. Nicely, cleanly, calmly.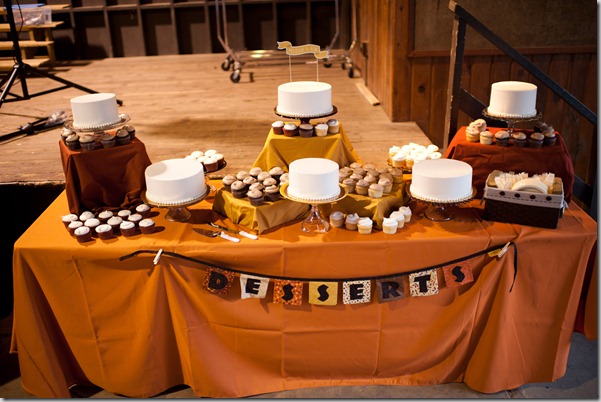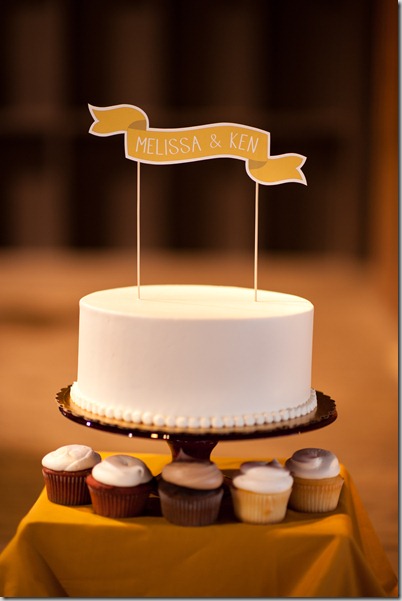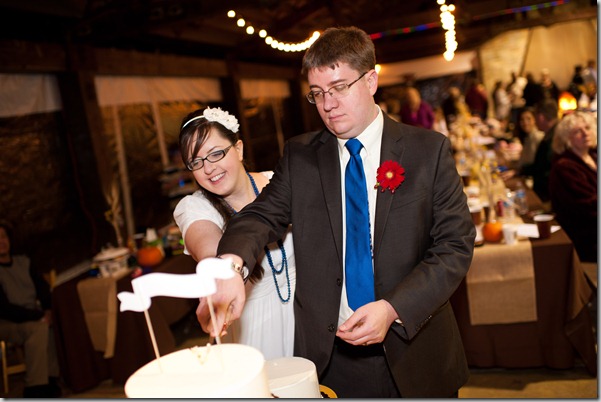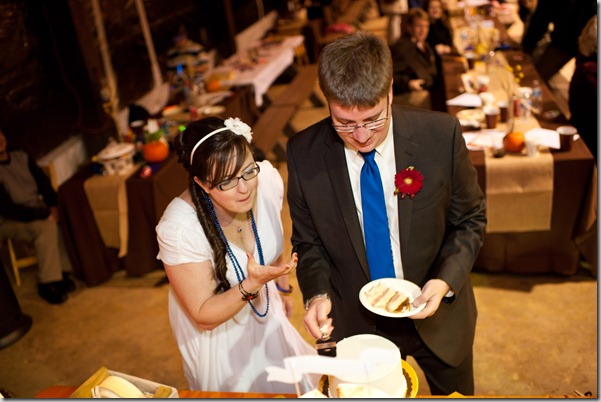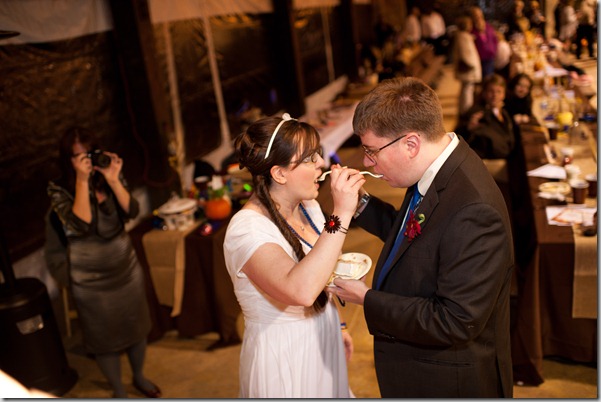 Then something unexpected happened.
Our guests started BOOING US! Yep, that's right. Our guests actually let out playful boos encouraging us to do a real cake smooshing.
I quickly caved to the peer pressure, and Ken and I did a reluctant, cake smooshing. Our guests' disappointment was no more. They cheered it, even if the cake smooshing was pretty half-assed. Ken said, "I can't believe you just did that!" meaning he couldn't believe that I caved to the pressure! I cleaned off Ken's tie with a napkin because some icing had gotten on it.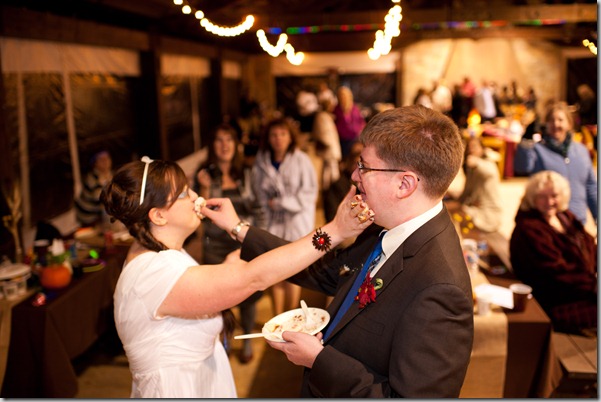 Guest mingling resumed fairly quickly after, and then it was time for the father daughter dance.
To be honest, I wasn't all that keen on the idea of a father-daughter dance. I don't like how the tone of them is generally so sad. This isn't 19th century England when a woman gets married and sees her parents maybe every 5 years after getting a husband. A wedding should be a celebration, not some sad moment for a dad who has to "say goodbye" to his daughter or some nonsense. But, I obliged and we had a father daughter dance. And my dad cried. And I was kind of uncomfortable the entire dance and, like during our processional, I kept telling my dad that it was a happy day, not a sad day.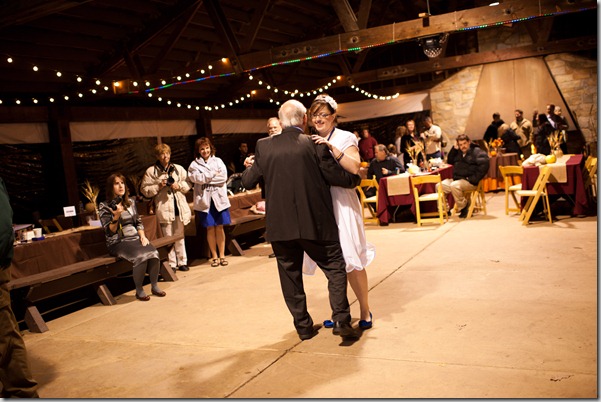 I should point out that Ken never really agreed with my assessment of a father-daughter dance as having such a sad tone. Instead, he said it's more reflective, not sad.
After the father-daughter dance, some of our guests started to depart. We had a relatively early ceremony, at 3:00PM, and the reception started soon after at 3:45, so I guess it made sense that folks would be ready to go by 8:45, since that was already five hours of partying.
But, we continued to mingle with the remaining guests, and hug our departing guests as they left.
Around 9:00 or so, Ken and I announced that we were going to head to the Mess Hall, the indoor location at the campground, because the pavilion was getting colder by the minute, even with the fireplace and patio heaters. About 30 of our guests, mostly out-of-town guests followed.
The indoor festivities continued. Kids had a blast with the photobooth, and family members that hadn't seen each other in a long time really used that time to connect.  Ken and I also took a few moments to warm up by the indoor fireplace.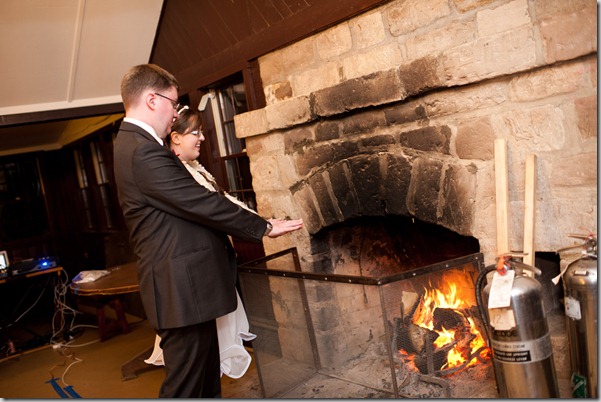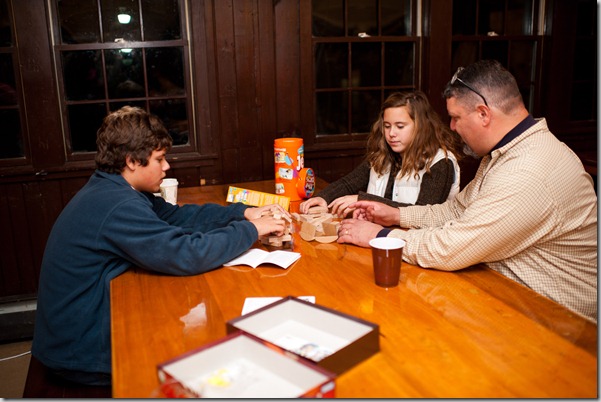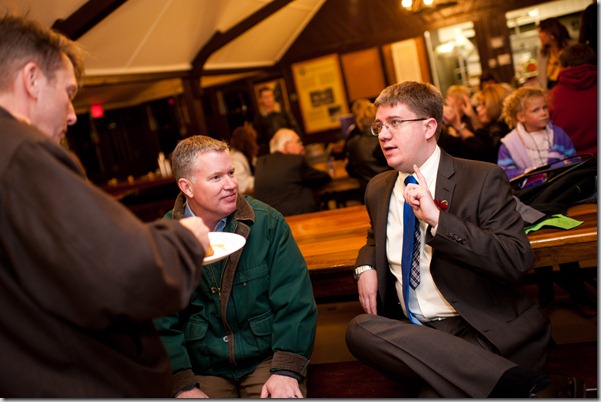 When I walked into the Mess Hall around 9:00PM, I realized that I was STARVING! In the days leading up to the wedding, nerves and excitement had really affected my appetite. Even the day before, surrounded by all the amazing food family and friends made for our rehearsal dinner, I couldn't stomach more than a few bites. Besides the bite of cake consumed at the cake smooshing, the only food I had eaten that day was my sad excuse of a breakfast I forced down at the hotel more than 13 hours earlier.
Luckily the family friend who had made most of the food for the rehearsal dinner had reheated a lot of the rehearsal dinner leftovers for the remaining guests. I got a plate and dished heaping amounts of food onto it. I sat down in the Mess Hall and ate. For the first time in months, I felt truly relaxed. The leftovers tasted utterly amazing for some reason (I mean, it was perfectly good food, but I savored it like it was some gourmet meal).
There were a lot of mixed feelings as the wedding day winded down. Mostly "Wow, we're married! The wedding day is just about over!" excitement-type feelings, and "Oh, the wedding day is just about over." sadness-type feelings. It had been a truly incredible day. But it was just that. A single day. 13 months of hard work and patience for that one day, and it was almost over.
Bittersweet relief.
Most importantly, I was now married to the love of my life.
The photographers left. And someone, we're still not sure who, used Ken's camera to take this photo of us in the Mess Hall when just a few guests remained. I think it sums up that Bittersweet Relief feeling exactly.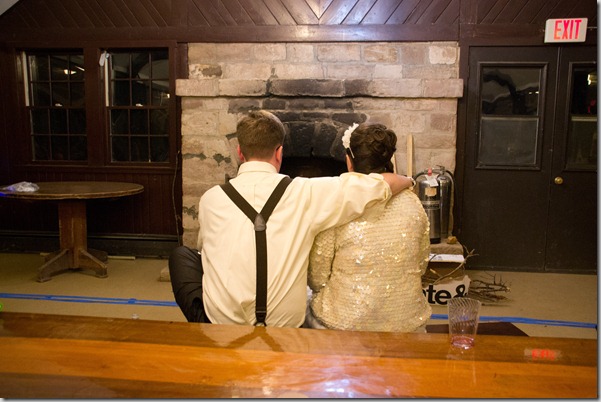 (Personal Photo)
Shortly after this photo was taken, Ken and I got in his car and drove back to the hotel. It took me about 10 minutes to get all the hairpins out of my hair. It was a relief. It was like the signal that the wedding day was over.