T-2 Days: Part 1; Part 2; Part 3
T-1 Day: Part 1; Part 2; Part 3; Part 4
Wedding Day: Part 1; Part 2; Part 3; Part 4; Part 5; Part 6; Part 7; Part 8; Part 9; Part 10; Recap Intermission
As I mentioned last week, my wedding recaps will be less detailed from this point forward, because, after writing 45-single-spaced pages of recaps within about 4 weeks of our wedding day, I lost steam.
Folks were eating dinner at the reception, and Ken and I continued to walk around, mingling among the guests. Sometimes we talked to our friends and family together, sometimes we were by ourselves talking with them.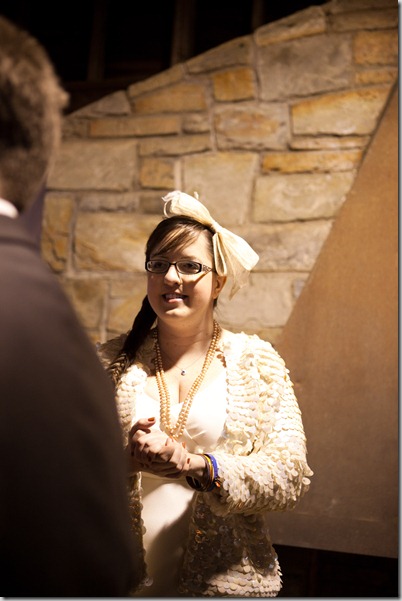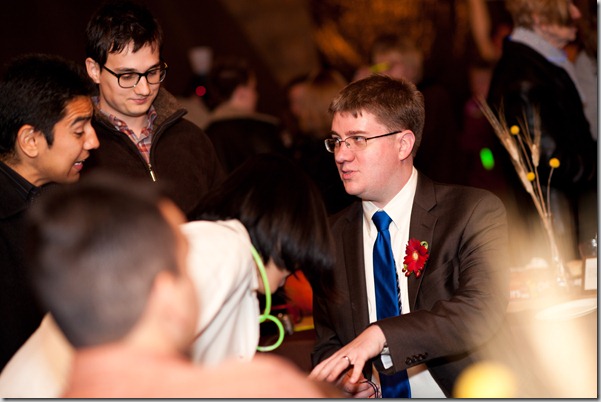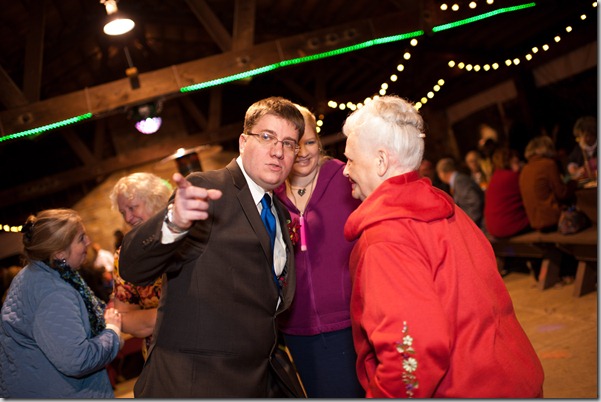 Ken and I had bought board games with the intention of folks playing them at the wedding in case they wanted to get to know their table-mates, or in case they didn't like to dance or whatever. If you had asked me right after the wedding, I would've said that the games were a mild success. However, after seeing the wedding photos, I can't believe how many folks were actually playing the games. It was amazing! I'm so glad our guests took advantage of it.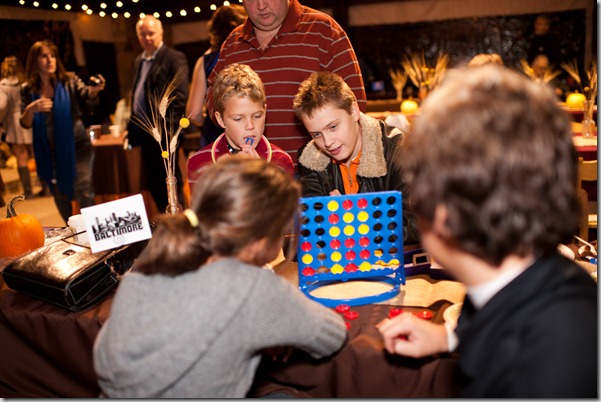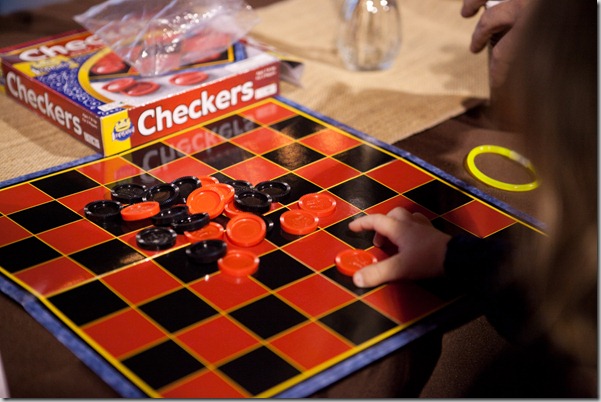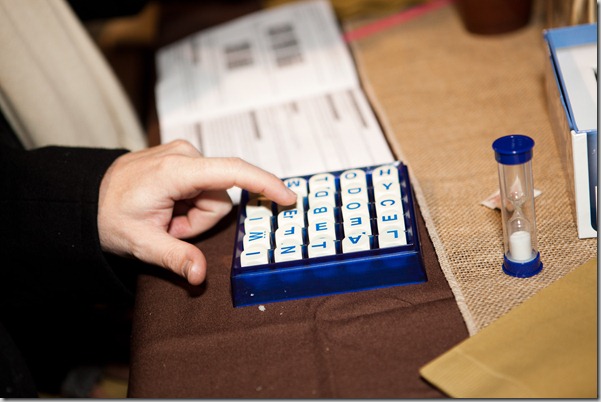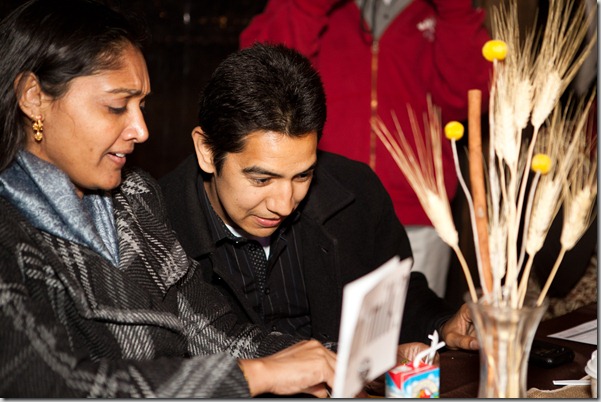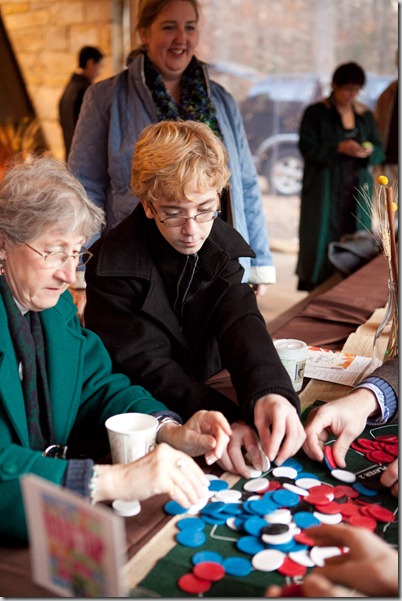 The kids also had a great time with the glow necklaces, glow sticks, and other toys.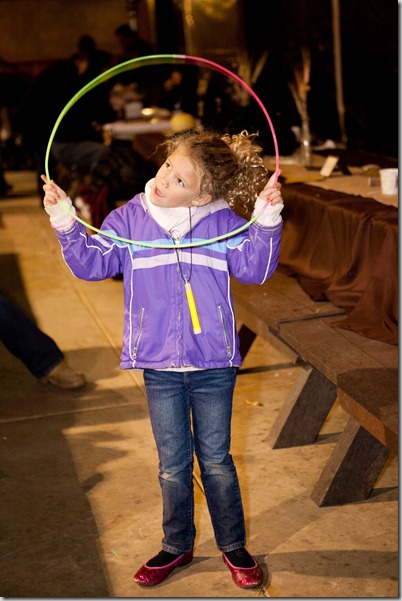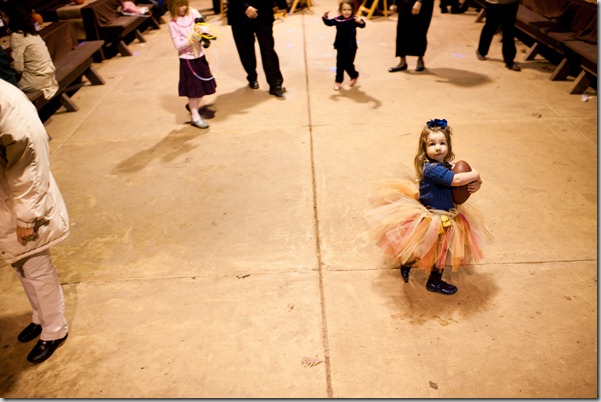 I was also thrilled that the s'mores were such a big hit,including a big hit with me and Ken who ate s'mores before any real food.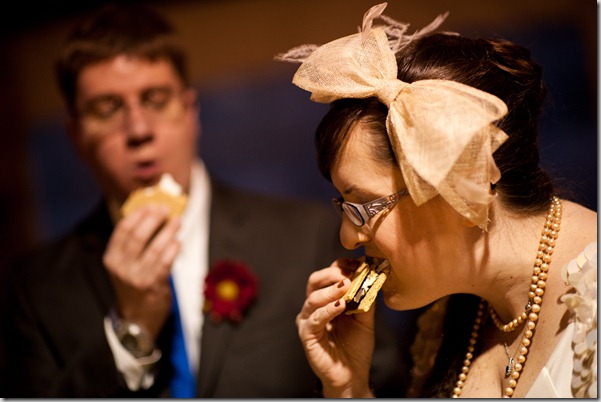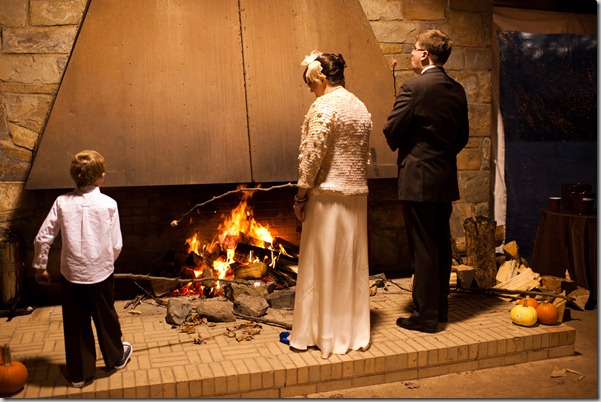 Somehow, Ken and I never managed to get any food before the caterers packed it away. I'm not sure if it was already put away before the first dance of if that didn't happen until afterwards. But either way, Ken and I never had any of the catered food at the wedding! Although Ken says he thinks he may have had a hot dog. But I definitely didn't have any. No matter, I wasn't hungry anyway.
It was getting time for our first dance, which meant it was time for me to change into my "reception" dress that had an extra special alteration that I was going to reveal during our first dance! (I had decided earlier in the day not to change into the "reception dress" right away. I just loved my ceremony dress too much to take it off!)
I grabbed my sister, and we walked to the Mess Hall, where the closest restrooms were located. I grabbed my "accessories and makeup" bin, which I had tucked away near the freezer in the Mess Hall, and took it with me to the restroom. My sister helped take off my ceremony dress, I went pee for the first time since getting dressed at the hotel nearly 6 hours earlier, and changed into my reception dress. I also changed my headband, pearl necklace, and bracelet.
My sister and I walked back to the pavilion and Ken announced it was time for our first dance!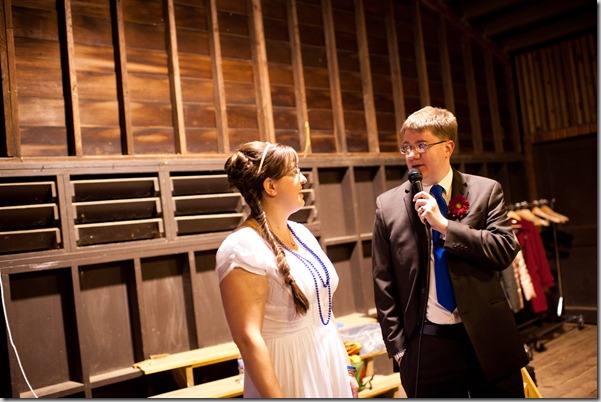 We had taken a bunch of dance lessons, so we were really excited to show off our moves. It was really cute, I could tell Ken was pretty nervous about the dance, but he did great. Complete with twirling me and dipping me!
But right before the music was about to begin, I revealed the special dress alteration. LED lights in the hem of my dress! Well, as Ken would say, technically it was electroluminescence wire (aka EL Wire), but who's keeping track. I had found a fabulous seamstress in the DC area who was willing to sew the lights in for me! Finding someone willing and able (and who could understand me) was not an easy task!  The string light had been sewn into the hem, when I got dressed, I just tucked the cord and battery pack into my Spanx under my dress!
Right before the music began for the first dance, I reached the side of my leg, where the battery pack was concealed under my dress, tapped the on button by feeling for it, and my dress lit up! There was an audible gasp from the guests! I LOVED IT! I especially liked how it was subtle, and not all in-your-face-bright lights like the LED wedding dress recently featured on Modern Family.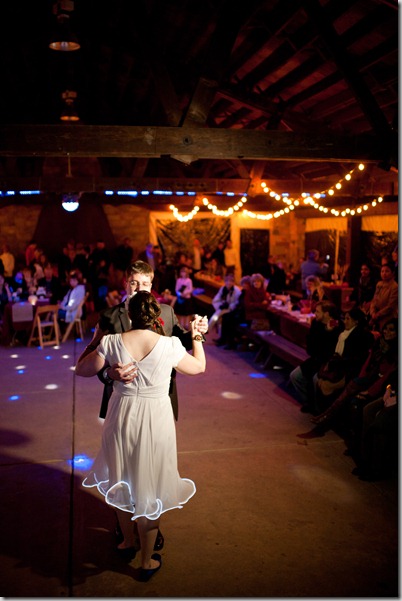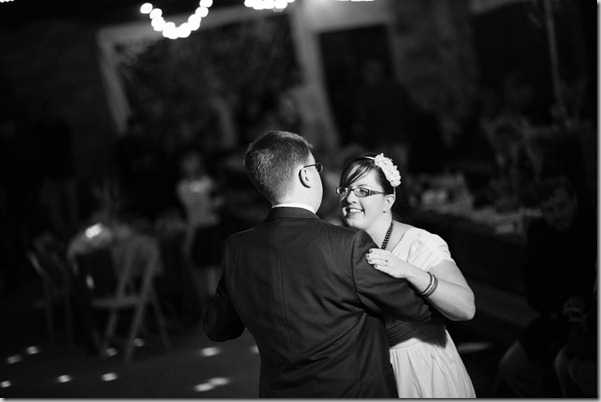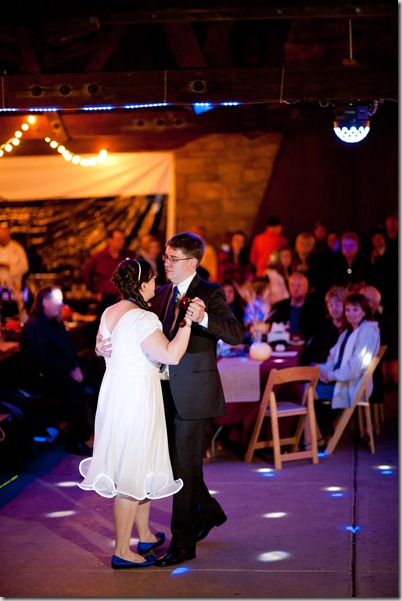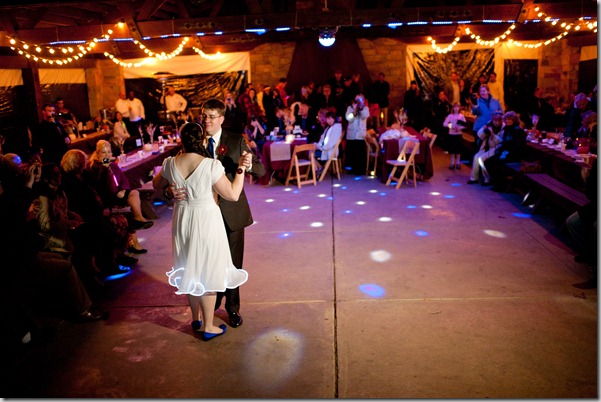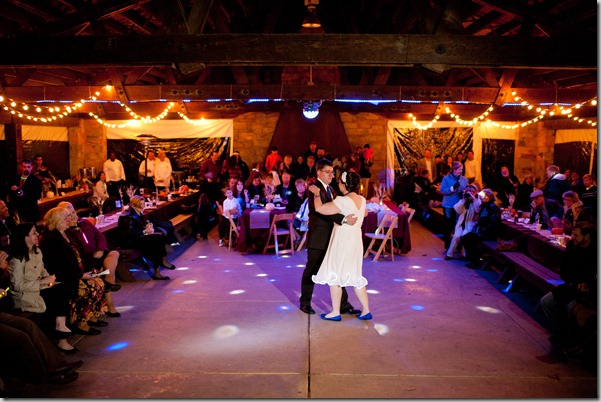 And I would just like to point out that the EL Wire project was ALL Ken! I came home one day in September, two months before the wedding, and was like, "You know, I wonder if it would be possible to sew LED lights into my wedding dress." Ken said something like, "Yeah, that would be cool," and I just figured he thought it was another crazy bride brain idea and didn't say another word.
Well, about two hours later, he said, "Okay, I think I have it all figured out!" He had figured out the best type of lights, the size of the battery packs, and picked out options for brightness, color, and blinking options. I had no idea he was even working on it!
The first dance was over!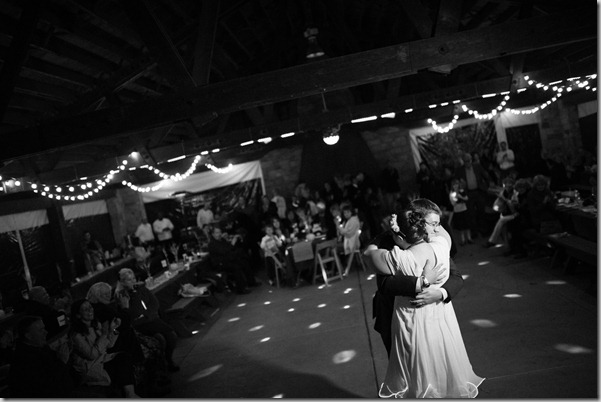 Ken took out his iPhone and changed the playlist to "dancing." (Yep, he even figured out the self-deejay stuff to the extent that he could control it with his phone). We danced a bit of the first song on the "dancing" playlist (I've Gotta Feeling by Black Eyed Peas), and some guests joined us for it.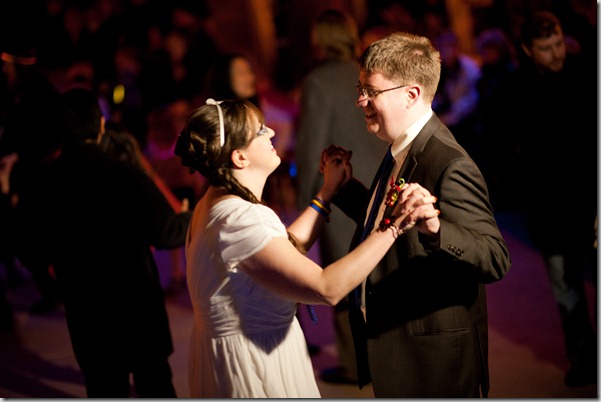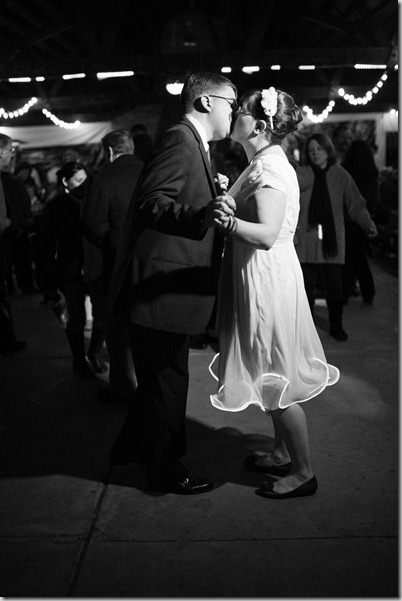 After that, we were back to mingling with the guests!