T-2 Days: Part 1; Part 2; Part 3
T-1 Day: Part 1; Part 2; Part 3; Part 4
Wedding Day: Part 1; Part 2; Part 3; Part 4; Part 5; Part 6; Part 7; Part 8; Part 9; Part 10; Recap Intermission; Part 11; Part 12
I wish I could say that our first few days of marriage were spent in some blissful, post-wedding state, but they weren't. Ken was a little hesitant that I was going to be writing about this. He didn't want our final wedding recap to end on such a downer. But, as I see it, it was just like 36 hours of a downer after the wedding, and then things went right back to normal, so it's all good!
I'll spare a lot of the details, but here's the short story. My grandmother was still in the hospital and we weren't sure how long she'd have to stay there. Knowing my family couldn't afford a hotel for several days, I offered to let them stay at our house. Big mistake. They overstayed their welcome.  Well, they only stayed for two nights, but, my parents are loud and argue a lot. Ken and I thought we'd be spending those days after the wedding just lounging around the house and relaxing, but that didn't happen.
So, now let me back up a little bit. Our wedding was on a Friday, and strangely enough, Ken and I, like the night before the wedding, did not sleep well on our wedding night. I thought I would've slept like a baby all through the night, but we were both up and awake by about 4:45AM on Saturday morning. We talked and talked about how amazing the wedding was, but also did some Monday Morning Quarterbacking (er, Saturday morning?).
We had a lot to wrap up over at the wedding venue. We had to get everything cleaned up and packed by 1PM. Luckily our day-of-coordinator and her team packed up a lot of the things the night before, but we still had a bunch to do.
So, we had breakfast at the hotel, and that's when I extended the invitation to my parents to stay at our house. Saturday actually was fine. After we got checked out of the hotel, we went to the venue and finished cleaning up and packing. We got out of there JUST IN TIME for our 1PM check out time. It was a lot easier getting everything to the venue with professional movers and a large moving truck. But this time we just had a moving van plus all our family vehicles, so it took quite a bit of creative packing to find space for everything.
Ken and I, plus our immediate families, all drove back to our house, about 20 miles north of the venue, and unloaded all our wedding stuff. Our house was a complete mess. But having my family there on Saturday actually wasn't so bad. We went to visit my grandmother in the hospital in the evening, and then my family helped get all the catering and cake leftovers packaged up in plastic containers. So that was pretty helpful.
On Sunday morning, I took my sister, nephew, and cousin to the metro so they could go to the airport for their flights, but my parents stayed because my grandmother was still in the hospital.
Sunday is when things started to get annoying. My parents were just so loud and were fighting. I thought they could at least tone it down since they were staying with us AFTER OUR WEDDING, but it's like they are incapable of doing that.
Ken was getting mad at me for not asking them to go to a hotel after they started to get annoying, but I was just so torn about what to do. After all, it was an extremely extenuating circumstance. No one could've predicted that my grandmother would have fallen ill the day before the wedding. And my parents really couldn't afford to stay in a hotel for an undetermined amount of time. And I felt a little resentful of how Ken was treating the situation, because his dad has had to stay with family members at inopportune times too after illnesses (like with us for a week right after we moved into our house, and with Ken's sister days after she had a baby. The timing wasn't great, but we all did what we had to do).
Ken and I ran a few errands, and when we got back to the house around 6PM on Sunday, we laid in bed to take a nap. We didn't wake up until about 8AM the following morning. I guess we were tired! that's about 14 hours of sleep for those of you counting.
On Monday, my parents were still there and still arguing loudly.
No one handled the situation well. I should've been more forthright with my parents, or probably never even extended the invitation for them to stay with us. My parents should've known better than to actually accept the invitation, and since they had accepted, they could've at least been on better behavior. And Ken should've realized how terrible of a situation he was putting me in. Having my parents there was stressful enough. But that just added to the stress exponentially.
Our wedding was on a Friday, and Ken and I were going back to work on Tuesday (we weren't leaving for our mini moon until the following Sunday).
My parents finally left on Monday and my grandmother was released from the hospital. Ken and I were finally able to enjoy silence in the house. We opened our wedding gifts and just lounged around the rest of the day.  Everything went back to normal as soon as my parents left.
We both went back to work on Tuesday. That entire day was spent in a complete fog. My sleep schedule was still all messed up. I was starving when I got to work, and went down to the cafeteria in our building for some breakfast. I ended up getting a turkey sandwich with roasted red peppers (or something like that). I'm a strictly breakfast food for breakfast kind of girl, and here I was starving for a sandwich at 9AM. I went back to my desk and savored that crappy little pre-made sandwich. And I just ate throughout the entire day. My appetite had been MIA for about two weeks leading up to the wedding, so any bit of food just tasted amazing now that I could actually stomach it.
We left for our Vegas minimoon the following Sunday, 9 days after the wedding. We had a fantastic time. We went to the Neon Museum (I highly recommend it!), Gold & Silver Pawn Shop (of History Channel's Pawn Stars fame), Red Rock Canyon, and the Vintage Auto Collections.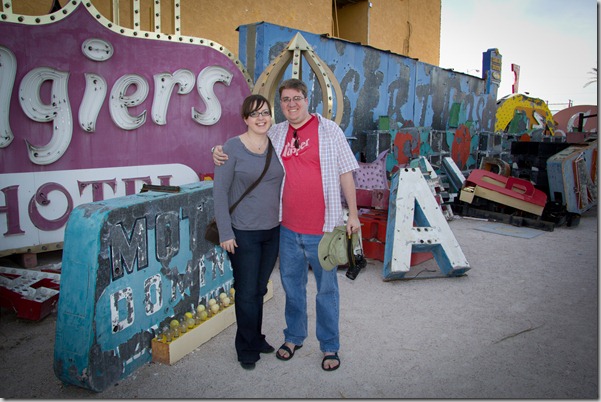 So, there you have it. The first few days of our marriage weren't the most perfect in the world, but what can you do? The fact that we recovered from it so easily I think says a lot about our marriage!