I have a bit of a confession to make that I fear might make other brides hate me.
Our seating chart was not difficult. At all.
Remember back when I was pissed off when I realized that our original plan to have open seating was dashed? And how angry I was that I'd have to waste so much time in the weeks leading up to the wedding to figure out a seating chart?
Well, creating that seating chart took a total of about 30 minutes. 45 minutes, tops. How? I'm not sure. But here are some things I think that helped.
1) We didn't even bother starting the seating chart until a week before the wedding. Our RSVP-by date was exactly three weeks before the wedding, but by that date, we had only received 47% of our RSVPs. By waiting until the last possible second to start the seating chart, I didn't have to speculate who still might come and who still might need seats. We waited until we had received all the RSVPs we thought we'd receive and then started it.
2) We had rectangular tables instead of round. This, I think, was the biggest reason our seating chart was so easy. When we couldn't figure out how best to "split up" folks that knew each other, we just put two rectangular tables together instead of having space between them. That way, everyone was still sitting at the same table (even if it was actually two tables). In fact, we ended up having not having an "single" rectangular tables.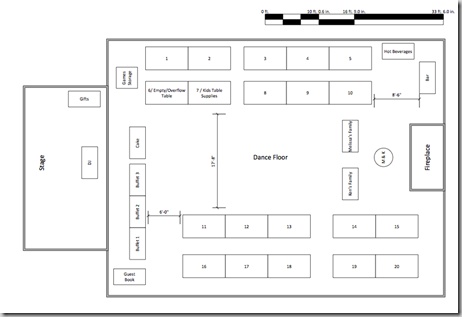 3) We made a floorplan of our venue, making it easy to visualize where our guests would be sitting. This was also extremely valuable as it allowed us to quickly rearrange tables (electronically) as necessary when we wanted to combine tables or separate them. This worked beautifully in conjunction with a spreadsheet that we created. Each column was a table number, and each cell under the table number had an individual's name. When we wanted to move someone to a different table, we just dragged that cell to a different table number column.
What about other couples? Was your seating chart easier than you expected?