Yesterday, I provided the comprehensive list of ALL our wedding expenses, coming in at a grand total of $23,598.91 (including shipping costs for items, as well as including "negative" transactions such as returns and refunds).
So, do I think our wedding cost $23,598.91? Nope? But, that is how much it cost us to get married.
"Now Melissa," you're probably saying right now, "I think you're just splitting hairs here. I think you're just trying to make yourself feel better about going more than $8000 over your intended budget."
Because denial is a river in Egypt. No, seriously. Da Nile. (I took this when I used to live there nearly 10 years ago!)
Maybe I'm in denial or just trying to make myself feel better about it. But I think that this analysis could be helpful to other couples who really want to avoid "pre-wedding" costs, and just focus the necessary expenses on the actual wedding day.
Here are the line items from our wedding expense spreadsheet that I would deduct from the wedding day cost, and why:
| | | |
| --- | --- | --- |
| Expense | Amount | Reason excluding from "wedding day" expenses |
| Ken's Shave for Engagement Photos | $20 | Was for engagement photos, not related to any actual wedding-day expense |
| My hair and blowout for engagement photos | $64 | Was for engagement photos, not related to any actual wedding-day expense |
| Hair and Makeup Trial (1st one) | $80 | You may remember, I had one hair and makeup trial that I hated, then decided to DIY my makeup, but got another hair trial. I could've avoided trials altogether. |
| Hair Trial (2nd one) | $70 | Could've avoided trial and just trusted the stylist to do it right on the wedding day |
| Local bakery for cake tasting | $6.88 | I wanted to taste their cakes, but didn't want to tell them it was for a "wedding cake," because I didn't want the markup. So, I just bought some cupcakes to try. I now wish I had gone with this bakery after our bad experiences with our "real" wedding cake bakery |
| Some sample centerpiece items from Dollar Tree | $4.20 | Bought some little vases to do some table mockups, but never ended up using them at the actual wedding. |
| Other sample centerpiece items from Oriental Trading Company | $24.97 | Bought some pumpkins and other things to also try for our centerpiece mockup, but were not actually used on the wedding day |
| Quick Candles | $103.41 | More items for centerpiece testing, but never actually used them on the wedding day, mostly because we weren't allowed to use candles (we didn't learn that until after our wedding date was confirmed) |
| Used cobalt blue vases from Weddingbee Classifieds Seller | $27.50 | Bought these, but never used them at the wedding |
| Burlap and thread to make burlap table runners | $89.39 | Bought this with the intention of having a local seamstress (found via craigslist) make 25 table runners for $125. Well, she flaked, and 2.5 weeks before the wedding, we had to take back the fabric from her because it still wasn't done, and buy runners from an Etsy seller. So this burlap was never actually used on the wedding day. |
| Parking meter during engagement photo session | $1.25 | Not actually relevant to the wedding day |
| Engagement Photoshoot | $300 | Not actually relevant to the wedding day |
| Shower thank you cards | $10.50 | Not actually relevant to wedding day. The stamps for the shower thank you cards are hidden somewhere in the cost of the stamps for the save-the-dates and invitations, because I only had 18 to send out, and there were several stamps left over from the save-the-date mailing |
Okay, that is not as many expenses as I thought it would be (not like Tuesday's post about wedding expense distribution that just totally floored me). Seriously, I was just doing these calculations for the first time as I am writing this post, and I thought that the cost of our "wedding" would've been much less than "getting married." But, in fact the cost of our "wedding" was really only $802.10 less than our overall cost of getting married. But still, $802.10 is not an insignificant amount of money!
What about some other savings that, using a very liberal definition, were not related to the actual cost of our "wedding."
Save the Dates (including the magnets, envelopes, stamps, and labels): $131.91
Wedding magazines and books (huge waste of money. Blogs are much better!): $106.50
Dance lessons. Well, since we actually "used" our dance knowledge at our wedding, I guess this technically is a "wedding" expense instead of a "getting married" expense. But again, using a liberal definition: $760
Engagement session prop. If we wouldn't have had engagement photos taken (or sent out save-the-dates), we wouldn't have needed our little prop. $51.95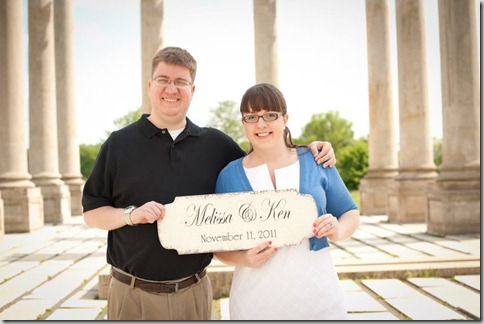 Additional savings: $1050.36
So, including those "liberally defined" expenses, that brings the total to $1852.46.
That would be our total sum of costs included in the "getting married" (but non "wedding day) expenses category.
Taking our grand total wedding expenses (see yesterday's spreadsheet) of $23,598.91 and subtracting those "non wedding day" expenses of $1852.46, we can figure that our wedding day itself cost us $21746.45. Or, excluding the "liberally defined" expenses, our total wedding day cost would be $22796.81.
Still, that is wicked over our desired $15,000 budget.  Oh well. Live and learn.
Yes, live and learn indeed
I have to admit, I am pretty ashamed and embarrassed to be admitting these figures to you all. Although I've been communicating this information fairly dispassionately over the last several days, there's a huge feeling of irresponsibility that comes with knowing, let alone communicating with the blogosphere, how much we went over our desired budget.  So, I am here to shout it to the world.
Ken and I spent $8598.91 MORE than we wanted to spend on our wedding.
*throws up a little in mouth*
Ken and I spent $8598.91 MORE than we wanted to spend on our wedding.
I'll talk more about this when I discuss our "wedding budget lessons learned" in a few days.