As I've mentioned a million times on here, we LOVED our wedding venue. But before we found Prince William Forest Park, one of the biggest things that just boggled my mind about other wedding venues and wedding caterers was just how much they charge for alcohol! We had received a quote from one caterer for $39.95 per person JUST FOR ALCOHOL! And not even top-shelf type stuff. Just beer, wine, and booze. We didn't even want to spend $39.95 per person for food!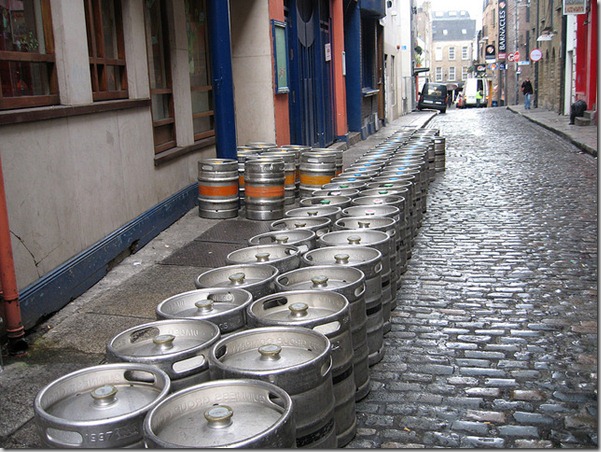 But, luckily our venue allowed us to bring in our own alcohol. We just needed to apply for an ABC liquor license through Virginia, which was super easy! We spent $95 for a two-day license since we would be having alcohol at the venue on both the wedding day and the rehearsal the night before.
Our venue did not require bartenders, but we did end up hiring some through our caterer for a couple of reasons:
The bartending services offered by our caterer included not just the bartender, but also sodas, waters, juice, ice, and cups.
The total bartending service was $100/hour. Once we realized that we would have to purchase about $170 in two liters of soda alone (plus waters, juice, cups, and figuring out how to transport all that ice, etc.) we determined that the bartending service would be a very wise investment for 5 hours.
Therefore, the only thing we'd have to bring was the alcohol. We decided on beer and wine. Plus, we also offered coffee, hot water for tea and hot chocolate, and hot apple cider (which was a HUGE hit). We brought our own large industrial coffee urns and insulated cups for the hot beverages.
We were expecting 117 adults and 38 children at the wedding, but we purposely overestimated how many folks would be drinking alcohol at 150, just to be sure we didn't run out!
This is what we purchased:
Two half kegs of beer. We got two half kegs instead of just one big one so that a line wouldn't form at any one keg. We served Yuengling
Seven cases of wine. We purchased 3.5 cases of Charles Shaw Chardonnay and 3.5 cases of Charles Shaw Cabernet from Trader Joe's. I had read somewhere online that you should limit your wines to one red and one white because it will decrease the chances of you running out of any given type of wine. So, instead of having a mix of merlot and cabernet, for example, we just stuck with the cabernet.
This is what we used for our approximately 6 hour reception (drinks started at 3:45PM, and most folks had left by about 9:45PM)
One full half-keg of beer. But that keg was almost completely empty. If the wedding had gone just another half hour, we would've had to have tapped the second keg.
About 2.5 Cases of Cabernet (28 bottles)
Almost 2 Full Cases of Chardonnay (20 bottles)
We returned 1 unopened case of Cabernet and 1 unopened case of Chardonnay to Trader Joe's after the wedding. Unfortunately, the box of the other unused case of Chardonnay had been unopened, leaving us with 12 bottles of Chardonnay that we couldn't return. Bummer!
Some Tips and Lessons Learned
Always use bottles from opened cases of wine first. We purchased 3 unopened cases of white wine and 3 unopened cases of red wine. For the 7th case, we split it between red and white, so that box was an open box (does that make sense? We just took an empty case box at Trader Joe's and filled it up half with red and half with white). Since you can always return unopened cases, make sure you use opened cases first!  If you hire bartenders, be sure to instruct them not to open any case until it is needed.
Figure out what to do with leftover beer. The place where we rented the beer kegs from would not provide a refund even though the second keg was never tapped (and rightly so). Ask around of your friends, family, and coworkers if they are planning on having any parties or events within a few days of your wedding. That way, if you're left with a ton of unused beer, they can use it for their event. Better than it all going to waste!
Your guests won't mind drinking from plastic or acrylic wine cups. Seriously. It is OKAY!
However, for the beer cups, consider a color of Solo cups other than the frat-party-red. We opted for some lovely autumn color plastic Solo-style cups from Party City. Of course the red color is fine, it just always reminds me of college parties
If your venue rental extends beyond your bartending service time (like ours did), make made sure to have your own supply of wine cups, cocktail napkins, etc. (since those were all provided by our bartender, when the bartender left, so did the supplies!). That way guests can continue to drink after the bartender leaves.
On a similar note, use your own table or table rental for the bartender to use instead of the bartender bringing their own table. Since we planned on serving alcohol even after the bartender left, we didn't want the bartender to be taking their own table with them! This way, everything on the bar table could stay put and we would just put out our own cups!
How Much did we Spend on Alcohol
Of course, you can always check out our comprehensive list of wedding expenses, or you can just check out the relevant expenses below!
Expenses
$95 – ABC Liquor License for Two Days
$398.38 – Two Half Beer Kegs, including refundable deposits for taps and tubs
$290.18 – Seven Cases of Wine from Trader Joe's
$500 – Bartending Service for 5 Hours (included all ice, sodas, juices, bottled water, and cups)
$90 – 18% Tip for Bartender
$55.00 – Estimation of extra cups and napkins and ice we purchased for after bartending service ended. This is an estimation because the cups and napkins for the bar were mixed in with our other purchases of things like plates, napkins, and forks for the cake, as well as the cups for the hot beverages.
Credits
-$180 – Deposit returned for beer kegs
-$74.44 – Two unopened cases of wine returned to Trader Joe's
Total
We spent $1174.12 on alcohol-related expenses for our wedding, or approximately $10.57 per the approximately 110 adults that attended our wedding. Much better than $39.95 per person!!
What other tips am I missing? Were other folks able to bring their own alcohol to their venue?