This is the final installment. You can check out Part 1 and Part 2 (I mentioned the reasons in Part 1 that I never talked about our wedding venue hunt on the blog. But now that the wedding is over, I'm spilling all the beans!)
The morning after we discovered Prince William Forest Park cabin camps online, we called their office to see if we could arrange a visit. We were in luck! A group was checking out of the camp that afternoon, so we could come see it at 2PM. SCORE! But of course, I was still trying to keep my expectations in check. 
We arrived at the Park after about a 25 minute drive from our home in Alexandria, VA. We were meeting with a Park Ranger at the building called the Mess Hall. He arrived, and we walked in to the Mess Hall. We were immediately BLOWN AWAY:. We walked into a full industrial kitchen, with walk-in refrigerators and deep freezers.
The dining area of the Mess Hall itself was rustic and beautiful, and there was a huge stone fireplace at one end of the room.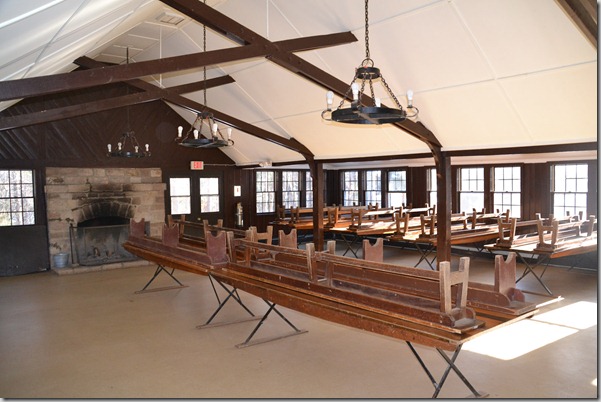 We asked the Park Ranger if they had any catering restrictions. There were NONE. We could use whatever caterer we wanted, We could even self-cater if we wanted. We didn't need a bartender to serve alcohol. We would just need to apply for a $50 liquor license through Virginia.
Then he took us to see the cabins. There were several cabins with no heat, but those can't be used in winter. He took us to see one of the four cabins that can be used in the winter. It's a heated dorm-style room with mattresses and communal bathrooms. There would be room for more than 100 of our guests to stay if they wanted!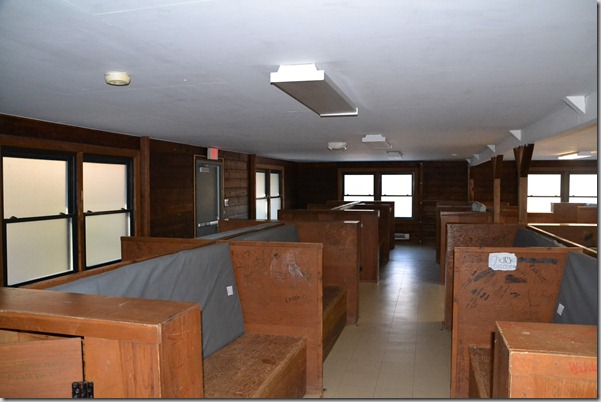 Next, he took us to the pavilion.  It was HUGE!  Like the mess hall, it had a large, gorgeous fireplace at one end. We were falling more and more in love with the camp. So many options and amenities, and it was just $540 per night!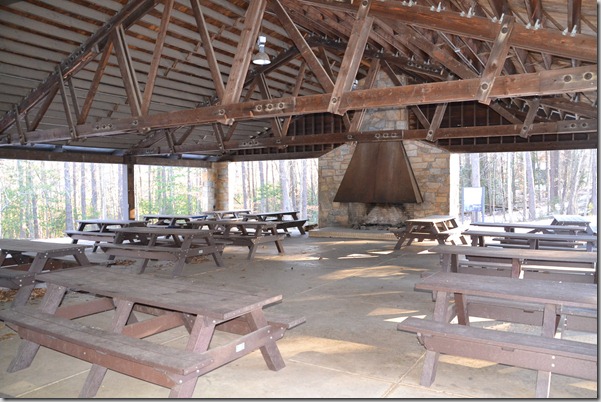 Next, he took us to the "council ring" which he said that was a common ceremony space for folks who rented the cabin camp for weddings. It really was a perfect space. There was even a long path that led to the council ring, which I could totally see as an "aisle."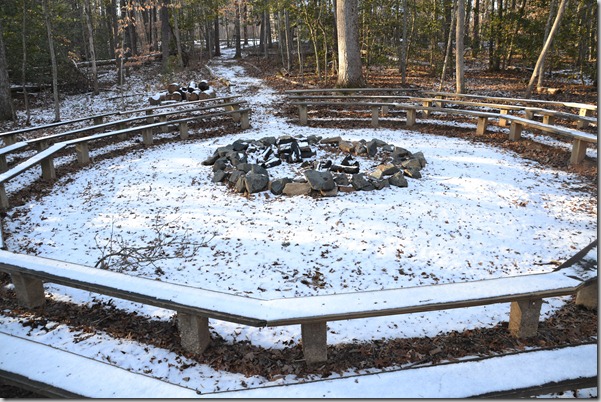 To take the cake, he walked us back past the Mess Hall and cabins, on to another path, and showed us a gorgeous lake at the Cabin Camp.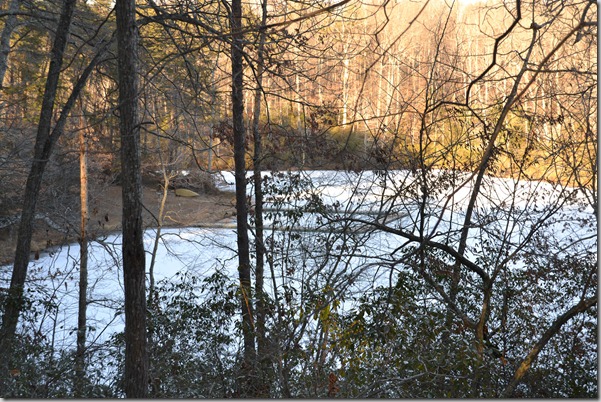 Ken and I were sold! How had we never heard about this place before?
As I mentioned in my previous post, we had read something online that could be a downside to the venue. At this point, we had already decided that we wanted our wedding to be on November 11, 2011 … 11/11/11. This was largely because when we were going to book Glen Echo Park as our wedding venue, all their October dates were already booked. And since we wanted an autumn wedding, and since foliage peaks the first and second week of November in this area, we decided on 11/11/11. 
BUT. Prince William Forest Park had a strict application process. You couldn't just submit an application and reserve a date. They accepted applications for certain time periods only within particular windows. So for instance, for November dates, we would submit our application some time between March 1 and May 1, and we would be informed by May 31st if our date would be approved.
The Park Ranger wasn't entirely familiar with the policy, so he told us to call the Park's office the following Monday. When we called, the office confirmed our fears. 
It was currently January, and we'd have to wait until March 1 to submit an application. They would accept applications for that time period between March 1 and May 1. There were a few reasons they do this, one of which is to maximize the amount of time the cabin camps are booked.
So for instance, if Ken and I wanted to book the cabin camp between November 9-12, but someone else in that time period booked it for November 7-12, it would go to the other person because they were booking it for 5 nights.
This was a big bummer. If we decided to go with this place as our venue, we wouldn't have a confirmed wedding date until like six months before the wedding. This meant not being able to book other vendors because we wouldn't have a confirmed date. It would mean not being able to send out Save-the-Dates until after then. (That was another reason why I never talked about my wedding venue hunt on the blog. I didn't want anyone to know the specific dates we booked the venue for, so that they wouldn't squeeze in during that same application period for an extra day and bump us out of our desired dates.)
But, we decided it was worth the risk. At that point, the venue was more important to us than the date, so if for some reason we couldn't get November 11, we would just select some other open date that they had.
We also realized that, although we couldn't BOOK any vendors until after our wedding date was confirmed, we could certainly research them. We developed an action plan, and we decided that we would identify the top three vendors in each category through interviews. That way, once our wedding date was confirmed, we could go to the top three vendors, and hopefully one of those top three would still be available for booking.  We would have the Save-the-Dates designed and addresses collected and ready to go.
We submitted our application for Prince William Forest Park on March 1. We requested the dates November 9-12, with our actual wedding date planned for November 11. We figured that would give us plenty of time to get things set up on Wednesday November 9 (check-in time was 3pm)  and have our rehearsal dinner there on Thursday November 10 too. All told, it would cost us $1620. That was less money than most traditional venues wanted for just a few hours, with a lot fewer amenities!
We faxed in the application at like 12:01AM on March 1. Then we waited.
And waited. And May 1 came and went. May 1 was the end of the "application period," so we knew we would find out any day. When did we finally find out that our November 11 wedding day was confirmed?
Oh, at 8:30AM on friggin MAY 31st.  The last possible day they said they would inform us is when they informed us. I guess I should've expected that. Just over five months away!
Those waiting months between March 1 and May 31 were really annoying. It was like our family and friends forgot our situation EVERY SINGLE TIME WE TALKED TO THEM. So for instance, two weeks after we submitted our application, my mom asked, "Did you hear anything about the wedding venue?" No mom, they have until the end of May to tell us." Two weeks later, same question, same answer. My family, Ken's family, our coworkers, our friends. We understand that they were just anxious to find out the details, but heck, so were we! We were just trying not to think about it so much, which made it really difficult when people were asking us about it every two goddamm minutes.
So when we finally learned that our wedding date was confirmed, it was sweet, sweet relief. June was a busy month for us and we moved quickly! First and foremost, we booked our wedding photographer. Then we sent out our already-designed save-the-dates. We had already interviewed other vendors, like deejays (before we decided to iPod our wedding), videographers (before we realized that they were too expensive), and other vendors.
In the end, it worked out perfectly!