Over the next several weeks, heck, probably the next several months, I will recap our wedding wedding week through a series of posts I will publish on Wednesdays.  Here's your first full recap, starting Wednesday November 9! Check out all our wedding recaps here.
Wednesday November 9 – The Story of Our Movers
On Wednesday November 9, we were able to check into our venue, Cabin Camp #5 at Prince William Forest Park. We had rented the venue for three nights so that we would have plenty of time to get things set up and organized for our Friday afternoon wedding.
One of our fairly last minute decisions was to hire movers. We had about 75 boxes of stuff that needed moved, as well as other odd shaped items, like chalkboard sign A-frames and wooden stake signs.  We already knew that we needed to rent a U-Haul truck to move everything all in one trip. The truck itself was going to cost us about $20 plus $0.99 per mile. Since our house to the venue was 48 miles roundtrip, we were looking at about a $70 expense. We figured it might be a worthy expense to pay a bit more and have someone actually move the stuff for us, that way we weren't exhausted by the time we actually arrived at the venue.
Wedding stuff in our guest bedroom. We actually had to disassemble the bed months ago to fit it all in there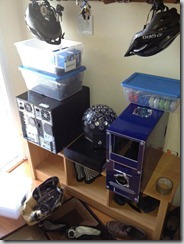 Electronics equipment for the wedding ready to be moved by the front door (this is only a small fraction of the electronics equipment we used at our wedding). The helmets stay.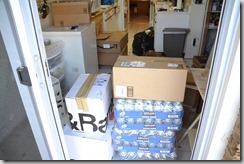 Even more wedding stuff in our breakfast nook in our kitchen
After researching a few moving companies, I called College Hunks Moving Junk, and they ended up being GREAT. Seriously. I called them less than a week before we needed moving services and they were able to accommodate everything. They charged $124/hour plus a $124 flat fee that included things like the truck and packaging materials.
Our campground check-in time was 3PM, so we asked the movers to arrive between noon-1pm (they required a 1 hour window).  I used Wednesday morning to run some last minute errands.
Wednesday Begins! T-2 Days till the Wedding!
Wednesday morning, we woke up at 6:10AM, our normal wake-up time on a work day. I had mentioned a few days earlier that I had a last minute idea to decorate the mess hall at the campground, using this as the inspiration. So first, I went to the fabric store and purchased about 40 yards of muslin and about 30 yards of tulle.
After the fabric store, I went to Target to buy some gladware containers, some apple cider that we were going to serve at the wedding, and a few cleaning supplies for the campground, like lysol wipes. Actually, "some" apple cider may be an understatement. I bought about 12 gallons of it. Then, I went to Home Depot to buy a push broom, anticipating that there might be a lot of leaves in the pavilion that we'd need to clear out.
While I was at Home Depot, the movers called to say that they were about 30 minutes away. That was at 10:50AM. While I appreciate that they were running early, it was problematic for us. 1) Ken was still getting things packed for them, and 2) Since our check-in time wasn't until 3PM, we had to be careful. We didn't want to arrive at the venue at like 1:30 and then have the venue groundskeeper tell us we couldn't start unloading for another 1.5 hours, especially paying movers at $124/hour. So, I just told them flat out that that was way too early for us. They were understanding and said they would wait to arrive until later.
I wrapped up at Home Depot and headed home. I had to do a few last minute seating chart rearrangements, and while I was working on that, the movers arrived right at noon. It was GLORIOUS. Ken just showed them the guest bedroom that housed most of our wedding stuff and they started moving it. I continued to work on my seating chart while they did all the work! Already the movers were a great investment.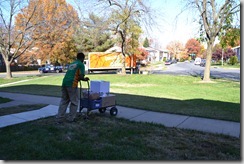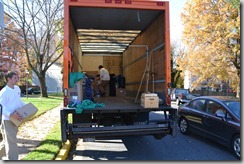 They finished loading the truck at around 1:45, and we headed to our campground venue. I drove ahead of them so I could check in with the campground host, and Ken followed the movers in a separate car to make sure they didn't take off with all of our wedding stuff.
We arrived at the venue around 2:20PM. I was a little worried because we were early, but luckily we were able to check in with no problem! As I signed all the check-in paperwork, the movers started unloading all our stuff into the Mess Hall.  The movers were done by 3PM.
Let's recap this. Truck loaded, transported, and unloaded by three professionals in 3 hours. It probably would've taken Ken and I at least twice the amount of time to do that. Plus, we weren't exhausted by the time we got to the venue. In fact, we were quite relaxed! That was a great investment of $496!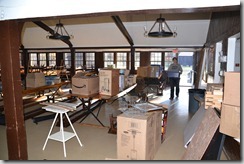 That's me, starting to arrange things after the movers left!
Next recap post will be a continuation of Wednesday November 9, T-2 days!