The wedding was on Friday! It was AMAZING. My grandmother
remained in the hospital
, which I was very happy about, knowing that she was well taken care of, even if that meant she missed the wedding.  Here's a sneak peak of our ceremony: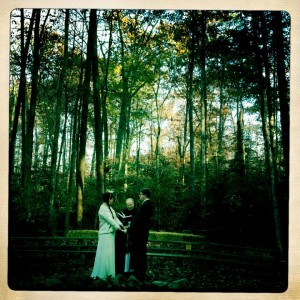 I wanted to give you all a quick recap. Let's start with what went wrong on our wedding day.
What went wrong on our wedding day
The cake.
Our biggest disappointment by far. Terrible, and not at all what we ordered. But, in the grand scheme of things, if the cake was our biggest disappointment, that's fine by me. At 6PM on Thursday night the bakery was calling our coordinator asking us again what we wanted, even though we had spelled it out very specifically on our contract that we sent to her more than three months ago. (The bakery was the only vendor we had found through the coordinator). The bakery is very reputable and has great reviews on Yelp and Wedding Wire. They will not be getting a good review from us. However, apparently the cupcakes were delicious, although Ken and I never had a chance to have one.
The officiant forgot to sign our marriage license. Oops. He left a bit early and didn't realize he had to do it (since he typically officiates weddings in Maryland only). He has five business days to send in the license to our county, so we aren't too worried. Ken's stepdad sees the officiant every day (they work at the same school), so he'll get the paperwork today.
I lost a sixpence coin in my shoe. We had a sixpence coin that had been in our family for generations. My great grandmother, grandmother, mother, and sister, have all worn it in their shoe on their wedding day. The ceremony time was fast approaching, and my sister said she'd go find some tape so we could tape it in my shoe. I said no, that's okay, it would be fine. By the end of the night, I realized it was gone. I am SO FUCKING MAD AT MYSELF. I have a good idea of the general location where I lost it. We were taking our "first look" photos outside, and a bunch of leaves got stuck in my shoe. I took my foot out of my shoe and shook the leaves out. We went back to the area on Saturday morning to look for it, but it's such a huge area, and we weren't able to find it.  I may buy a metal detector and go back next week to look for it.  But, I still can't be sure of where I lost it. (Update: We found it! We purchased a metal detector and went back to the venue the week after the wedding. We found it within like two minutes of looking for it! Ken remembered almost the exact spot where I was standing when I shook the leaves out of my shoe! So relieved!)
I forgot to bring my personalized wedding hanger. I was so excited to have pictures of my dress taken on that hanger. We had given an extra house key to our day-of coordinator so that she could pick up anything we forgot. I asked her if she would pick it up, then I would just have the photographer take photos of my dresses as I changed into my reception dress.  She picked it up, but when it came time to switch dresses, I wanted to change so quickly that I forgot to tell the photographer. Bummer!
Video footage (semi) fail. We had Ken's brother-in-law use Ken's HD video camera to take video footage at the wedding. The footage cut off at our kiss! Ken is much more disappointed about this than I am. We had, after all, made the decision more than six months ago not to hire a videographer. So the fact we have ANY video footage is fine by me!
Not getting enough sleep.
We were both so tired on Thursday night, the night before our wedding. Then
everything with my grandmother happened
and I was wide awake. A mix of nervousness, worry about my grandma, and mulling the chilly weather led to me getting about 90 minutes of sleep the night before the wedding.  Luckily I wasn't too crazy tired and was just going on adrenaline. But, I definitely would've preferred to get more sleep.
Biggest mixed reviews:
Our day of coordinator.
Our venue LOOKED amazing, so in that respect they were great.  They also got things cleaned up very quickly. However, there were a few important things that a coordinator should take care of that she didn't do automatically (like making sure our vendors got their checks, or that the officiant had signed the marriage license!) There will be a more in-depth post about this at a future date.
The weather. It was chilly! Of course, the days immediately preceding and following the wedding were in the 60s. However, folks dressed appropriately and the fireplaces became an excellent area for folks to congregate. But, the weather was sunny and the foliage was beautiful, so we can't complain much!
No-shows. We had 143 people RSVP. However, I think far less than that actually attended. Ken and I actually took photos of our guests at the beginning of the ceremony! (More on that later). When we counted the guests we could see in the photos, we only counted 87 guests. I think there were significantly more than that at the reception, but still, annoying.  Many of no-shows, however, were Ken's cousins. One of Ken's cousins had just had a baby via scheduled C-Section two days earlier. On Thursday night, she had been transferred to a different hospital after some complications. So, many of Ken's family had to be with her.
Biggest Hits
There were just so many hits that our guests mentioned to us, I'll just list them quickly here and talk more in detail about each at a later date!
Seeing family and friends we hadn't seen in a long time!
Our flashlight favors for the adults and glow toys for the kids!
All the festivities we had set up for the kids. The parents at the wedding told us how thankful they were for this! One couple told us that "if the kids are happy, then the parents can have a good time!" The kids were happy indeed!
LED lights sewn into my reception dress. I was so excited to find a tailor willing to do this! I had it revealed right as we started our first dance!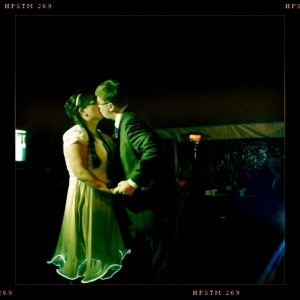 S'mores and games
Uniqueness of our wedding and venue
BBQ food. Delish!