Regular visitors of SuperNoVABride know that I am no fan of DIY projects, especially those that are overly laborious for just the tiniest details. But, I have completed a handful of DIY projects that I'm pretty happy with and that didn't take too much time at all!
So, I'm featuring my DIY projects all this week! First up, our table "numbers."
We'll have at least 20 tables at our wedding and I knew I wanted something unique for our table numbers. So, I thought of 21 different interests that Ken and I have, whether a shared interest or individually. We would then represent those 20-21 things in some way to represent the different tables.  Here's our list of things:
Photography Table
Egypt Table
Pittsburgh Table
Baltimore Table
American University Table
University of Maryland Table
Semester at Sea Table
Nice, France Table
Apple Table
Lost Table
Battlestar Galactica Table
Movies Table
Travel Table
Fish Table
Heritage Table (germany, hungary, etc.)
Road Trip Table
HTML code table
Country Music Table
Tivo table
Dr. Pepper Table
American University in Cairo
While we went back and forth with how to represent those interests, but we settled on postcards.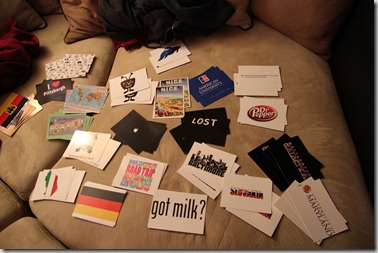 We bought 3 postcards for each "interest." Two for the tables (that way our table card displays will show the postcard from both sides instead of just one), and one extra postcard for for the seating chart. (more on the seating chart later this week!). I ordered most of the postcards from Zazzle.com, and the rest from Snapfish.com.
We purchased some rustic-looking table number holders from Etsy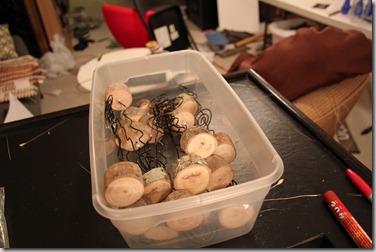 And we'll put two postcards in each table number holder (that way you don't see the "address" side of the postcard, instead we'll put them back to back and put them in the holder)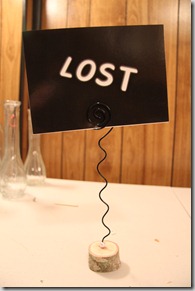 Then, below the table numbers we'll have small tent cards describing each of the postcards. For instance, our "Lost" table will say:
LOST is one of Ken and Melissa's favorite shows. Ken started watching it when it debuted in 2004, and Melissa watched the first several seasons on DVD to get caught up and watched the final two seasons with Ken!
And our "Hungary" table, for instance, will have a tent card that says:
Did you know that Melissa is part Hungarian? Melissa's great-grandparents came to the United States from Hungary in the early 1900s!
We really like our table number idea for a few reasons:
It will help our guests get to know us better! For tables that my family sits at, we'll put cards that describe Ken a bit more. For tables with Ken's family or coworkers, we'll put table "numbers" that are more about me!

We wonder if this will help our guests mingle among tables. For instance, they may be intrigued about our other bits of trivia at tables other than our own!
What do you think? This was an easy peasy DIY project. Right up my alley!