For those of you who follow me on Twitter, you know that my Saja wedding dress is late. It was supposed to be in stock by "late August." It has still not arrived. Although I loved the Saja dress that I ordered, which I first talked about all the way back in March, I knew that it was time to start exploring other options.
If I had not ordered the Saja dress, my second choice would have been the JCrew Cecilia, which I tried on at the JCrew store in Georgetown back in June. Knowing that that dress is regularly in stock, I decided to cancel my Saja order.
Well, long story, which is chronicled in the e-mails below, but Saja is refusing to refund my 50% deposit ($297.50), because they say that "All sales are final."  Funny. I haven't actually ben SOLD anything! I've filed a dispute with my credit card company for merchandise/services not rendered by agreed-upon date. I had to file a credit card dispute about two years ago after a house cleaning service overcharged us, and it was a very simple process. I'm hoping that this experience will be similar.
To summarize my experience:
I placed the order for my wedding dress on July 14, 2011, after e-mailing back and forth with the store manager, who said that the dress would be back in stock in my size by "late August."
Late August comes and goes. I e-mail the store manager on September 6 asking about my dress. She said she's expecting it "any day now."
On September 15, nine days after being told my dress would be in "any day now," I decide to cut my losses and cancel the dress
That evening, the store manager e-mails me, telling me "don't panic," and that I will definitely have the dress by the BEGINNING OF OCTOBER! She also tells me that my deposit is non-refundable since all sales are final.
We have several e-mail exchanges back and forth, including the fact that the contract I signed says that dresses may take up to 18 weeks to be delivered. Upon which I tell her that that therefore makes the contract unenforceable (you know, based on my vast legal knowledge from watching The People's Court and Law and Order) since she knew that 18 weeks would be well past my wedding date. And anyway, I have so much conflicting correspondence from them, including the e-mail that says late August, my receipt that says the pickup date is September 10, another receipt that says delivery takes 8 weeks, and all the subsequent e-mail correspondence with them over the last few days (which the store manager has claimed would be Late august, then "any day now," then "early October," then "18 weeks," and the most recent claim was "late September."
They have no idea when that dress is coming in.
In the meantime, I've ordered the JCrew Cecilia from Ebay and another white dress from Macy's. I'm just waiting to hear back from my credit card company about the dispute.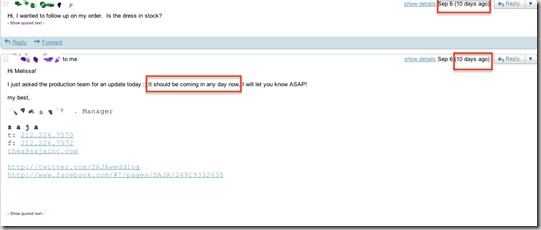 After posting to Saja's facebook page and complaining about them on Twitter, the store manager tells me that my use of public forums is "ill-advised."

And I should mention that the promptly deleted my complaint from their facebook page. I'm no social media expert, but something tells me that there are better ways to handle a dissatisfied customer who takes their complaints to social media.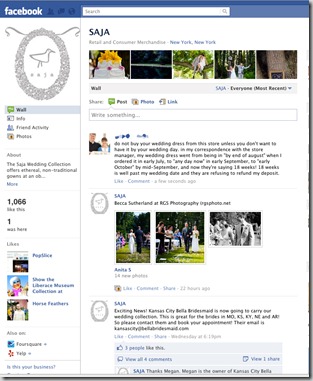 So, there you have it. One thing that really aggravated me is how she told me "don't panic" and that weddings are "stressful" and "emotional." At no time was I panicked, stressed, or emotional. I decided that they were no longer worthy of my trust and that that I should explore other options.
The fact that wedding vendors treat all brides as like fragile, emotional basketcases drives me absolutely batshit crazy. More crazy than the actual planning of our wedding ever has.
Any other brides out there had to deal with a late and/or non-existent wedding dress?
Update November 20, 2011. My credit card company sided with me on the dispute! My deposit was refunded.