About a month ago, my fiancé and I went shopping for his wedding band.  After a few visits to some jewelry stores, he had it narrowed down to a comfort-style Tungsten band.*
The rings ranged anywhere from $200-$350, which was well within our budget for his wedding band.  But, because we're compulsive and not impulsive, we didn't buy anything and we went home to research tungsten.
As it turns out, tungsten is one of the cheapest metals on earth.  In fact, when you pay for Tungsten jewelry, in essence all you're paying for is the labor required to make the jewelry.  But, what's really cool about it is that it is heavy.  So, it's not cheap feeling at all.  There are a few downsides, like it can't be resized.
With our new knowledge in hand, my fiancé did some comparison shopping.  What he found was a Tungsten ring that looked identical to one of the bands he had tried on at one of the jewelry stores.  The only difference?  It wasn't $300.  It was $14.99.
So, my fiancé ordered two different sizes (Every jewelry store we went to sized him as something different).  We ordered it from Amazon, which has an excellent return policy, so that we could make sure it was good quality.  When the ring arrived, we were really wowed.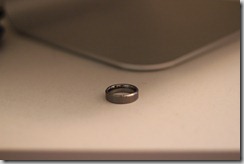 We decided to gather opinions about this ring.  So, my fiancé brought the ring with him to work.  He then proceeded to ask the very classy question, "How much do you think we paid for that?  No seriously, you won't offend me, just guess!"  An woman he works with who is very into expensive jewelry guessed at least $400.
When we asked our wedding coordinator / neighbor, who describes herself as a "Tiffany Girl" said she thought it cost at least $800.
Revealing the price, it sets off a shitstorm of opinions.  These opinions range from "Wow, I would've never guessed!  That's a great ring for that price!"  to "I just couldn't buy a wedding band that is $14.99.  It feels like you don't value your relationship."
When I told my grandmother, I think she may have assumed that we were so poor that that's all we could afford, and then proceeded to offer him my deceased grandfather's wedding band.
Opinions have definitely leaned towards the "But it's a wedding band.  You HAVE to pay more than $14.99 for a wedding ring!"
Well, we disagree.  In fact, my fiancé is keeping both the sizes he ordered, so that if he ever, ahem, outgrows the smaller one, he can just use the bigger one.
So, what do you think, lovely readers?  Do you think we don't value our marriage because we're only paying $14.99 for a wedding ring?  Should we pay $300 for the same ring just to demonstrate that it "means more" to us?
* By the way, if you have never tried a comfort band, they really are incredible.  It's hard to describe it, but his ring really is incredibly comfortable.