Okay, okay.  You tell me all this boring stuff about weddings.  How to use credit cards to maximize cashback rewards on my wedding purchases.  And how to iPod my wedding for real.  Now, I just want to find some good old fashioned wedding porn and create me some inspiration boards!
Well, today you're in luck here at SuperNoVABride.  No there won't be any inspiration boards to get your creative juices flowing (we're all practicality here).  Besides, there are a boatload of wedding blogs out there.  We all know what they are.  We look through their archives, their categories, their most commented-on posts, and their top posts of all time in an attempt to find inspiration for our wedding.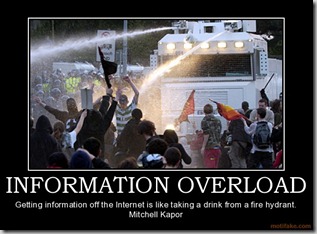 Image Source
But isn't there a more systematic way, and less excruciatingly time consuming, way of finding good wedding information?  Because, if you are anything like me, I was exhausted and completely overwhelmed with ideas.  And, I wasted a whole lotta time.
First Steps
Assuming you're in the very early stages of wedding planning, first up, complete the following steps:
For each of these accounts, make sure you install the browser bookmarklet or add-on that will allow you to quickly bookmark, pin, stumble, clip, etc. from whatever webpage you're on.
5) Create a simple "project list" spreadsheet.  This will be for later.  The spreadsheet can just contain a few columns like Project Name, Project Type (centerpiece, bouquet, cake, etc.), and link.
Finding Wedding Inspiration
Some of these things may seem duplicative, but I find that it works.
So, I recommend that you start with Stumble Upon. as a way to find great wedding inspiration.  Although it's been around for quite a while, I only recently discovered Stumble Upon.  It is amazing and it has introduced me to great gem articles on the internet.  So, I recommend using Stumble Upon to find some great articles on the wedding blogosphere and the crafts blogosphere.
When you stumble upon a site or page that contains an idea or article that you like:
Remember to click "Like" on stumble upon.  That will save it to your favorites on Stumble Upon and will help improve future sites that Stumble Upon finds for you.
If it contains a picture that you really like for whatever reason (inspiration, an idea for a friend, etc.), do the following things:
Pin it to your pinterest board
Save the page to Delicious or to whatever shared bookmarking site you signed up for.  Resist the temptation to just save it and move on.  Make sure you enter specific tags.  For instance, don't just tag it with "wedding."  Tag it with "wedding" "Guest Book Idea" or "wedding," "flowers" "centerpiece" etc.  The more specific you are now, the easier it will be to locate all your great finds.
If the article doesn't contain an inspiration-worthy photo, but it does have a good informational article, you can skip the pin and just bookmark it instead
Organizing your Wedding Inspiration Finds
After you've been doing this for a while, and you've pinned and bookmarked probably a ton of sites that you've found through Stumble Upon, it's probably time to step back and start to identify some themes in what you have pinned.
Your bookmarks will largely serve just as reference for you to go back to or share with your friends and family.  Like I said, some of it seems duplicative, but I definitely recommend saving it in a few different places.
So, go back through and review all your pins bookmarks.  As you review it, keep two things in mind:
If you want to use one an image from one of the pins to create an inspiration board, use your "Clip to Polyvore" bookmarklet to save the pin image to polyvore.  Then it will be available on that site to make a very easy inspiration board.
If, while reviewing your pins and bookmarks, you still really like the idea as something you would want at your wedding, add the project name, type, and link to your "project list" spreadsheet.  This will help you keep organized what is A) Simply a picture for inspiration vs. B) Something you actually want to do for your wedding.
After a while, you'll have a good collection of articles and images to serve as the baseline for your wedding inspiration!  (And plenty of ways to go back and easily find them!)
I find this a much better method than aimlessly searching through Wedding Bee or Style Me Pretty for inspiration.
A few other thoughts.  Don't just limit your searches to "wedding" when finding other Stumble Upon interests or other pinboards or anything really!  The reason I recommended "wedding" and "crafts" is because there is plenty of non-wedding things you can use as inspiration for your wedding.  To that end, in addition to the wedding magazines you probably already subscribed to, I recommend subscribing to others, including Better Homes and Gardens, Do It Yourself Magazine, Martha Stewart Living, and Ready Made Magazine.
How do you organize all of your wedding inspiration finds?