I've seen quite a few mentions on blog posts and on Twitter in the past few months about couples  asking guests not to take photographs at their wedding.  Why?  Well, a few reasons.  First, professional photographers claim they can no longer capture emotion on guests' faces because guests' faces are either blankly staring at an LCD screen, or their head is looking down at the LCD screen to inspect the photo they just took.  And the lights from guests' cameras can affect the photographs that the professional takes.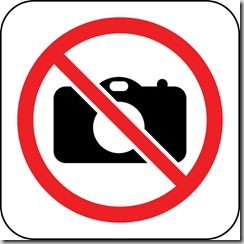 Here goes.  Asking guests not to take photographs at your wedding, in my opinion, is not only a terrible idea, but insanely rude.  Did you ever stop to think that guests want to capture their own memories of your day?  From their own perspective?
I mentioned a few months ago that we actually purchased ten digital cameras to have on hand for our guests at the wedding because we want all of them to take pictures.  My fiancé and I are huge photography fans (albeit amateurs), and we love photos.  The more photos, the merrier!  In fact, I get really disappointed when I'm not allowed to take pictures.  I almost walked right out of the Picasso Museum in Barcelona last year  when I found out I couldn't take pictures inside.  If I can't take pictures, what's the point?  So, I would have a similar reaction if someone told me I couldn't take pictures at their wedding.  (*side note* Of course I did end up going through the Picasso Museum to see the art, but I'm still pissed that I couldn't take pictures)
Contrary to popular belief, your wedding is not just about you.  It's also about your guests.  As Meg from A Practical Wedding says "Your wedding day is not just your day, it's the day of everyone who loves you."  It's about thanking them for being there to celebrate your big day.  And, if they bring their camera, it's because they want memories of being there with you to celebrate!
And no, it's not the same if you promise your guests that you'll send them the link to your wedding photos.  For those of us that love taking pictures, we want the photos to be from our perspectives, not someone else's perspective.  How we experienced the wedding, or whatever event, not how someone else experienced or viewed it.
So, you don't want your wedding photos to be full of your guests taking their own wedding photos?  Get over it!  Photography evolves continuously.  If you got married 75 years ago, you maybe would have one formal wedding portrait, if you were lucky.  If you got married 40 years ago, your wedding photos would probably be yellowed and discolored from age and the poor color processing that was used at the time.  Until very recently "photojournalistic" style wedding photography was rare, so your pictures would have consisted of formal, posed photos.  So, with a few exceptions, there wasn't much "capturing emotion" in those photos either.  During your father daughter dance, you were told to turn and smile for the camera during the dance.  Not much emotion in that!
And until very recently, you were lucky to end up with any more than, say, 100 or so photos (like from my sister's wedding in 1997), because professional photographers were much more careful and selective about the shots they took because film and was very expensive.  And getting prints of your wedding was also very expensive.  Be thankful, not resentful, that you have so many people taking photos on your wedding day!
So, what I have to say is, get over it.  You should feel lucky that you have so many people who want  to capture memories of your big day.  Professionals and non-professionals.
As a final anecdotal note, I question how much of a problem this really is.  At the last two weddings I attended, sure, there were folks taking pictures.  But maybe only about 10% of the guests.  There are plenty of others who will be there for your professional photographer to capture their emotions.