So, I have been having some really good, creative ideas for our wedding.  In a blogosphere filled with mason jars, burlap, and vintage chic everywhere, I have been really torn about whether to share my ideas.  Because I want them to be mine and not part of some wedding trend.  But, maybe that makes me a not-nice person.  So, since imitation is the sincerest form of flattery, here I go with one of my original ideas.  A creative guest "book."
Initial Ideas
When I travel, one of the things I like to buy are tapestries.  I have several throughout the house, including these two.
The one on the left is from Egypt, the other is from India.  I have another one from South Africa, but it is HUGE and haven't been able to find a good spot for it.  Anyway, initially I liked the idea of guests signing pieces of fabric, and then making a quilt out of it.  I had seen this idea a few places in magazines and on blogs, and I liked it.  But I had a few issues.  1) I don't know how to make a quilt, and 2) I think signing fabric may be annoying since it's really difficult to keep it taut as you write on it.
Wedding Guest "Book" Artwork
So, I had another idea.  A guestbook tetraptych (similar to a triptych, but with four panels instead of three).  I'm going to buy three canvas panels and place them on easels at our wedding (the fourth canvas will be created after the wedding).  One easel will say "Sign Me," one will say "Decorate Me," and the third will be a mixed media display.  The fourth canvas, created after the wedding, will be a photo collage.
"Sign Me" Canvas Panel – This one will have a variety of colored art markers available for people to sign their names and perhaps leave a brief message.  A more traditional take on the guest book, but we can display it in our home
"Decorate Me" Canvas Panel – This panel will be blank, but have a light outline of a grid pattern on it.  Initially was just going to have a blank  canvas, but then when I googled this idea, another post came up (so much for creativity), and they had a really good idea.  Each guest can decorate one of the squares on the grid.  We'll have a variety of paints, charcoal, and markers available for our guests.
"Memories" Canvas Panel – This panel will contain a bunch of items (perhaps decoupaged on it, but I'm not sure), including ribbons and wrapping paper scraps from my bridal shower, our save-the-date cards, the bridal shower invitation, our wedding shower invitation, etc.  There will be a few blank spots on the panel and I'll add more things after the wedding, like a copy of our favor cards, table placecards, a leaf from our woodsy outdoor venue, etc.
Grid Photo Collage Panel – After the wedding, I'll create a collage of some of our favorite photos and have it printed on a canvas panel the same size.  The photos will include the ones we took right after our engagement all the way up through our wedding day.
Then, there you have it.  We have a nice lovely series of four panels to hang in our home.  This is kind of how I envision it (although maybe slightly wider panels)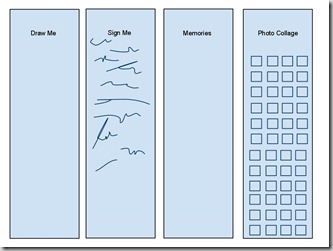 What do you think?  What are some other things that I can put on the "memories" panel?