Although I've mentioned it in a few weekly roundups, I haven't written a post yet about wedding dresses.  That's because I have never been all that excited about wedding dresses, and my efforts to find pictures of dresses that I find at least somewhat appealing have failed me.
Seriously.  I go through an entire issue of The Knot without folding down a single page.
Wedding Dress Criteria
So, let's start with the basics.  My main priorities are:
Something that I can wear with as normal of a bra as possible(i.e, no strapless, no backless, no halter).
Something with movement.  I had searched for "grecian goddess" type dresses extensively.
And an additional preference:
Something with sleeves, but does not look boring or conservative.  This preference could be negotiable.
Let's look at what I don't want
Mermaid or Trumpet Style anything
That's about it.  I'm pretty open on the options of fabric.  I don't know whether I'll love or hate any of the usual suspects, like lace, tulle, satin, chiffon (wait, isn't that a food?), etc.
Boobs and Strapless Dresses.  Oh the Humanity
So, here's my main wedding dress dilemma.  I'm chesty.  And I can't wear anything strapless because I have never, ever, found a strapless bra to be supportive enough (in my lifetime, I have probably tried on about 25 strapless bras).  I chuckle at those strapless dresses or shirts you can buy with "built in bras."  When I try those on it's like a joke.  The weight of The Girls just completely overwhelms any sort of built-in bra.
And okay, so maybe wedding dresses are different.  Maybe they'll build in some amazing miracle strapless bra that can hold up The Girls.  Two issues remain.  1) Spillover, and 2) Always feeling like I want to hike up my dress, even if it does fit me well and shouldn't slide down.  You all know what I mean by spillover, right?  Not a look I really want to go for on my wedding day (see picture below).
(source: Glamour.com)
But, strapless dresses seem to have a monopoly on the bridal market these days.  People are quick to tell me that I can have cap sleeves put on a dress, or that I can wear a bolero, but really, I just want a dress with some damn sleeves.  My ninja googling and internet search skills have failed me.  I have found plenty of dresses with sleeves.   And in fact, I submitted a request to the awesome Broke-Ass-Bride to find some dresses with sleeves, and she answered my request!  While a lot of the dresses I've found are lovely, they're just not "the one."
A Search for Wedding Dresses with Sleeves (or at least straps)
Here are some of the dresses I have bookmarked over the last several months.  These are in no particular order of preference and do not take into account the minimal amount of money I'm willing to spend on a dress.  In fact, some of them are pricey designer dresses.  But these are just a smattering of dresses, from a design perspective, that have caught my eye over the last several months.
Source: Kleinfield
Source: The Knot
Source: The Knot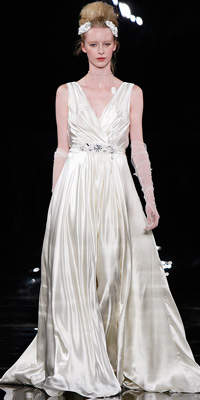 Source: InStyle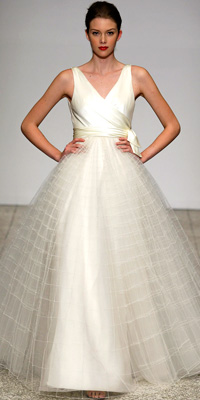 Source: InStyle
Source: Aria Dress
Source: Nordstrom
Source: Net-A-Porter
Redesigning an Heirloom Wedding Dress
Then I started to consider having my grandmother's impeccably-preserved wedding dress (pictured below) re-designed into something that I wanted.  That way I could get exactly what I want – sleeves, but not too conservative.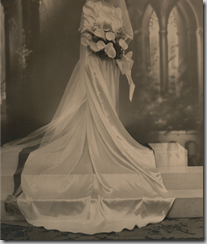 But, I had a few major concerns about this idea.
What if I had it designed, and then hated it?  I would be devastated about "ruining" my grandmother's dress, and;
It sounds expensive to have a dress professionally designed and made!  (Although to be fair, I have not done much research on it)
So, my search continued.
White Party Dresses as Wedding Dresses
More recently, I realized just how much I started to despise anything even remotely "bridal" looking.  I think I had come to the conclusion that all wedding dresses looked so much the same and it agitated me to no end. Strapless, shades-of-white, overpriced articles of clothing that I didn't even like.  Gah!
So, I started looking for just white party dresses.  To give you an idea of what I found, here are some things I bookmarked (some of them aren't necessarily white, but I just like the style).
Source: Nordstrom
Source: Matches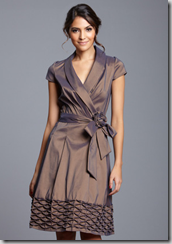 Source: Ideeli (closed sale)
And then, The Perfect Dress?
Then, the other day, I'm not sure how I came across it.  I think I was looking for something, I think I may have been using the search term "bohemian wedding dress" and came across the designer Saja.  And holy crap, I fell in love with the following dress:
Source: Saja 2011 Collection
Okay, it doesn't have sleeves, but at least it is not strapless, and the straps are thick so they balance out my top-heaviness.  I think it also fits well into our outdoor, woodsy, picnic-table autumn wedding that we're having.  As an added bonus, it's not overly bridal-looking.
And then, a few days later, I came across a blog post about a photoshoot of a "Tangled" inspired wedding.  I think that the hairstyle pictured below would look lovely with that Saja dress!  (wooo for my long hair and bangs!).
Source: Smetona Photo via Wedding Chicks
And, these blue shoes?  Awesome!
Source: Zappos
For once, I finally feel like my wedding dress stuff may be coming together.  But, a few concerns remain.  Although it will not be a deciding factor, I worry about how my family would feel about a shorter wedding dress.  Another person, after showing them a picture of the dress, pointed out to me that I should want to "stand out" on my wedding day.  But, does "standing out" mean that I have to wear something that I don't like?
I plan on wedding dress shopping alone.  I do not shop well with others and find that people get offended if you do not agree with their opinions.  So, I'd rather just not deal with that.  Maybe once I narrow it down, I'll invite some folks, including my mom.  But I think I'd rather just have it be a surprise!
Now, I just have to see if the wedding dress looks as nice on me as it does in the photo.
Did it take anyone else a really long time to find a wedding dress they liked?