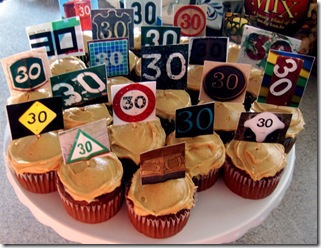 This week, I turn 30 years old.  EEK!  I'm also getting married at this age!  Time is just zooming by.  And so is life, for that matter.  I don't want to look back on this year and realize how much time I "wasted" by focusing on such frivolous wedding details.  I want to enjoy the next year, not stress over wedding planning to the extent possible, and just focus on marriage (and having a really fun wedding as a secondary thought). 
I know I like to poke fun at some over-the-top blog posts in my weekly roundups, but I can actually "hear" the stress in these brides' voices as they write about various bits of wedding drama, ranging from the inane (I can't believe my maid-of-honor just got pregnant and will need a different dress!) to the serious and sad (my future in-laws won't come to the wedding because we're not having a [insert religion here] ceremony). 
I really don't want that to be me.  But is it actually possible to plan a wedding and not endure excessive stress?  I think I can! 
(image source: Jamieofalltrades)
And how will I do it?
Plan, plan, plan and continue tracking my action plans
Visualize all potential projects to ensure that I have the adequate resources to see them through.  Estimate time to completion and track actual time spent on each project. 
Complete tasks as far in advance as possible.  I'm currently taking online Photoshop and Illustrator courses through Lynda.com to help me learn how to design our save-the-dates and invitations!
Not spend every waking moment thinking about or doing some sort of planning.  In fact, my fiancé and I are planning to start another blog related to all our home projects!
Even in the weeks leading up to the wedding, take at least one or two days a week to not do anything wedding-related
Continue to share my experiences with other brides through this blog and provide valuable tips and advice (and not just the same recycled timeline shit you see everywhere else)
That sounds like a very happy 30th birthday year present.  Did anyone else have a low-stress DIY wedding?  How did you do it?  Also, how old were you and your fiancé when you got married?