I'm trying to create a strategy to determine what type of decor I will want for our wedding.  For now, I'm thinking tons of candles in vases of various sizes.  But for some reason, I'm really struggling with what else I want.  Paper lanterns perhaps?  String or fairy lights?  Who the hell knows.
My fiancé and I intend to hire a "month of" wedding planner.  Luckily we know one from our neighborhood that is also in need of a new website design, so we may be able to work out a bartering strategy.  Perhaps it would be a good idea to bring her to our venue to get thoughts.
Anyhoo, the reason I am starting to think about decor is primarily because I want to allow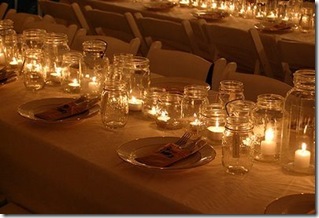 myself plenty of time to start to acquire items as cheaply as possible.  The dollar store sells all sorts of glassware that I could use as candle holders.  But the real gem is, of course, Craigslist.
Brides who no longer need their decorations and want to sell it at a discount.  But since I'm kind of all over the place with what I want as decorations, I can't focus my searches well.  I think what I may need to do is engage in a really clear visualization of our wedding day.  From start to finish.  What we want things to look like and where we want things placed.
In a few weeks my parents are coming to our house for a weekend visit.  I'm hoping that our venue is free one day that weekend so that I can bring my parents to see it, and potentially ask our planner if she can come too.  Seeing it a second time will allow me to pay more attention to the nitty gritty details that I may have missed the first time around, mostly due to the fact that I was so overwhelmed with the place the first time we saw it last month.
Crazy.  All this so I'm not distracted by all the prettiness of wedding decor that newlyweds are selling on Craigslist.
I also don't want these items cluttering up the house for a long period of time, so I'm trying to figure out when I should start to actually buy things when I see something that I like.  For now, when I see something, I just say, "well, it's too early to buy it now!"
Action Plan
Do a complete wedding day visualization of venue.
Make sketches and jot down ideas
Re-visit venue and pay close attention to details to determine other decor ideas (and potential quantity of decor items) and potential logistical restraints
Develop wish list of decor items, as well as necessary supplies that may need to accompany the decor (e.g, extension cords, batteries, tape, thumbtacks, etc.)
Designate an out-of-the-way storage space in the house to store wedding decor items.  Photograph the items before storing them to better remember what you have already obtained
In March, start actively monitoring craigslist and freecycle and contact sellers with items of interest.  Don't forget to monitor other cities (i.e., my hometown city of Pittsburgh around the time when I'm planning a trip to see my family there).
Make monthly trips to thrift stores like Goodwill and Salvation Army.
When did other brides start to purchase decor items for their wedding?  Also, does anyone have any familiarity with using wholesalers?