Links I'm Loving
I was all excited about getting an awesome pair of sapphire blue pumps for my wedding day, but realized that pumps aren't exactly conducive to a grassy area wedding.  So, flats it is!  If anyone finds any blue flats, let me know!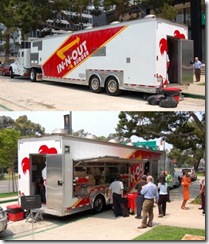 I'm glad that $2000 bride pointed me to this link from March about food truck catering.  This is definitely an option we're considering.  
I have a very technically-inclined fiancé, who has been writing programs for LED lighting systems that he's been buying.  He says it's for the wedding, but really I think he just wanted an excuse to buy reels of LED lighting and write a computer program to make them change colors and flicker to the beat of music!  So, needless to say, I think a monogram like this is definitely a DIY option for us 
If I could find a wedding dress that looks like the one Scarlett Johannson or Heather Morris were wearing at the Golden Globes, I would be in heaven!  Or one in white like Angelina Jolie wore.  What can I say?  It's all about my desperate attempt to find a wedding dress with sleeves! 
We are a little concerned about the comfort of our guests since we're planning an outdoor wedding in November.  However, luckily there are several indoor options at the same site in case it's too cold for our guests (and us!) 
I have given zero thought to my wedding day hairstyle, but given that it's long, I do like these long waves ideas (or perhaps a half-up, half-down style).  Oh, and a headband would ROCK.
Any time I ask my fiancé for registry ideas, he replies "Hard Drives!"  We'll likely "trade-up" for our existing appliances (and maybe even get some hard drives.    Registry selection is on our planning schedule for May 
Since our venue is a very large campground site, I like the idea of these rustic-looking signs to point our guests in the right direction.  Backyard summer project?  Yep! 
Eek for blue wedding shoes!  And more blue wedding shoes! 
My fiancé and I have been interviewing wedding photographers and we don't think we'll opt for any of their album offerings.  We think we can do it much cheaper on our own too. 
I'm leaning towards simple candles all along the picnic tables at our reception.  Simple, inexpensive, and classy. 
I'm trying to think of what would make me go all Bridezilla.  I'm thinking it will probably have to do with any self-catering that we do.  Or maybe that would just be stress, not bridezilla tendencies 
Shit I'm not going to worry about for my wedding
There are some things that I come across in the wedding blogosphere that just make me go "hmmm, no wonder why brides stress themselves out so much over their wedding."  In other words, things that seem to take too much time compared to the benefit. 
Embossing anything on my own.  And to be honest, I'm not even sure what embossing is! 
DIY Envelope Liners?  A) Why does one need envelope liners, and B) If you do need them, why not just buy pre-lined envelopes.  Is your paper design choice really so important that you would spend so much time doing this? 
"Cake Toppers" and "Dilemma" do not really belong in the same sentence. 
Wedding Fitness Goal Progress
Ugh, I gained 1.2 pounds between last week and this week.  I haven't been counting weight watchers points precisely, more just "estimating" in my head.  No good.  Back to tracking every bite.  On the upside, I got in a good bit of exercise. 
January Wedding Planning Goal Progress
Interview Wedding Photographers – In progress (e-mailed several more photogs, We've now interviewed three photographers with only one prospect out of those three.  We have another interview scheduled for tonight as well as Monday evening and a few more appointments I'm waiting to hear back for confirmation). 
Make Wedding Photographer Decision – Deferred.  We'll identify our top three, but unfortunately can't book any until we get venue confirmation in May
Compile Addresses for Invitations – Not Started
Firm up budget calculations – In progress.  I still can't figure out why I can't get the budget to below $12,000.  Ugh!  I really want it below $10,000.  I think I'm estimating high on catering.  I can't even begin to estimate how much it will cost in groceries to feed 125 people.  Regardless, it's still cheaper than wedding caterers! 
Develop wedding planning timeline – Done.  See Wednesday's Post! 
Finances and Administrative
Wedding Related Expenses This Week: $0.00
Total Wedding Related Expenses (all time): $106.50 on magazine subscriptions and planning books
Total Budgeted Difference (we have a $15,000 budget): $14893.50
Estimated Hours Spent on Wedding Planning (not including blogging) This Week: 5 hours (didn't do much planning this week)